Oct 14, 2011 — by Eric Brown — from the LinuxDevices Archive — 17 views
Nexvision announced a Linux-based network video camera reference design with remote access and analytics based on the Texas Instruments 1GHz, DSP-enabled DM8148 DaVinci processor. The CAMSMOOV also integrates an FPGA, as well as a camera with up to four camera processing boards supporting up to [email protected] H.264 video at up to 12 megapixels, plus sensors and a variety of wired and wireless I/O.
The last time we checked in with Marseille, France-based Nexvision was in 2008, when the company announced the CamHD IP video camera design, incorporating the Texas Instruments (TI) TMS320DM6467 DaVinci processor. (The Linux-based hardware/software product was also equipped with an Altera Cyclone III field-programmable gate array.)
This time, the company has moved up to TI's TMS320DM8148 DaVinci system on chip (SoC), announced in March. The DM8148 supports a single 1080p60 frames per second (fps) video stream or three simultaneous 720p30 video streams, according to TI. Alternatively, it can run multiple lower resolution streams at three Watts.
The video-focused DM8148 combines a 1GHz ARM Cortex-A8 processor with a TI C64x+ DSP (digital signal processor). In addition, the SoC includes an Imagination Technologies SGX530 3D graphics engine, an HD video coprocessor, and a video processing subsystem, says TI (see block diagram here).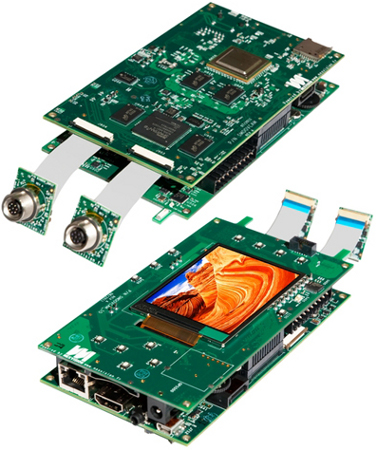 CAMSMOOV
Nexvision's CAMSMOOV (above) is billed as a network video camera reference design with onboard analytics derived from the DM8148's built-in DSP. The reference platform runs Nexvision's own Linux 2.6.37 distribution, and features an onboard streaming server as well as Nexvision's Remote Media Center (NexRMC) software.
Features are said to include full frame-rate video encoding, video streaming, and full duplex audio streaming. The reference platform provides 2D and 3D image preprocessing, including 12-bit color exposition, 3D temporaral filtering, multiple exposure blending, 360-degree panoramic video, and multispectral band image sensor fusion, says Nexvision.
The CAMSMOOV also includes a third-party accessible video analytics framework, says the company. Analytics features are said to include motion, fire, traffic, and license plate recognition. Other features include human-shape detection and intelligent behavior recognition.
The CAMSMOOV adds an unnamed FPGA to the DM8148, integrated with a NexVision IP video pre-processor front-end that offers a 3D video enhancement and noise reduction chip, says Nexvision. The FPGA is said to include its own DDR3 SDRAM, in addition to the CAMSMOOV's main banks of 512MB to 1GB of DDR3 SDRAM.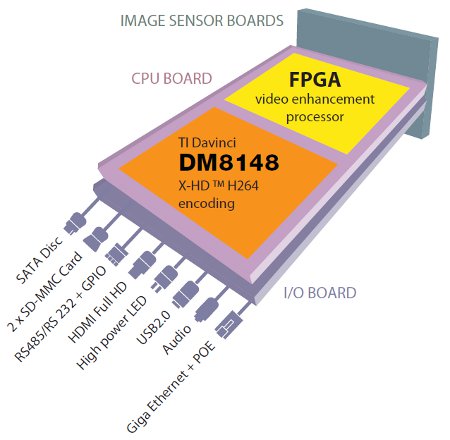 CAMSMOOV simplified block diagram
(Click to enlarge)
The dual-lens camera subsystem offers up to 12V/Lux-sec. sensitivity, and the lens provides a 60 to 185 deg. field of vision, says Nexvision. Up to four camera video input boards can be mixed and matched, with the video inputs combining to provide H.264 MP-compressed video images up to 1080p @60fps.
The board options include specialty boards such as the CAMPANO line, which offers high-sensitivity processing at 4096 x 500 pixel resolution, says the company. There's also a SWIRCAM board that provides short-wave infrared imaging as well as high-power LED lighting (see spec list below).
Video outputs, meanwhile, include mini-HDMI, D1 composite, and VGA, says Nexvision. Storage and expansion features are said to include both microSD and SD sockets, a SATA port, and dual mini-PCI Express (PCIe) slots.
The CAMSMOOV is further equipped with a gigabit Ethernet port, as well as wireless features including Wi-Fi, Bluetooth, GPS, and even ZigBee short-range wireless. A wide variety of sensors, including temperature and pressure sensors are also available, says the company. A mini-USB 2.0 OTG port is provided in addition to serial, JTAG, and I2C/SPI interfaces, says Nexvision.
Additional I/O is said to include GPIO and audio interfaces. The 5.51 x 3.15 x 1.57-inch (140 x 80 x 40mm) multi-board reference design offers extended temperature support and consumes about 15 Watts, says the company.
Features and specifications listed for the Nexvision CAMSMOOV include:
Processor — TI DM8148 DaVinci (1GHz Cortex-A8; TI C64x+ DSP; SGX530 3D graphics)
FPGA — integrated with NexVision IP video pre-processor front-end; 2 x dedicated DDR3 SDRAM banks; 4 + RAW (16/8-bit) video I/O
Memory — 512MB (expandable to 1GB) DDR3 SDRAM; 32MB NOR flash
Memory expansion — microSD slot; SD slot
Expansion — 2 x mini-PCIe
Storage — SATA port for HDD up to 2TB, SSD up to 256GB
Camera:

60 to 185 deg. lens with C/CS or M12xPO.5mm thread diameter
prog. scan color CMOS for 2-, 5-, 8-, or 12-megapixels
up to 12V/Lux-sec. sensitivity
1-4 sensor boards:

CAM12M — 12-megapixel up to 180fps shoot & preprocess, [email protected] frame rate
CAM2M boards — up to 1080p (1920 x 1080); 340fps shoot & preprocess
CAMPANO boards — up to 4096 x 500, multisensor, high sensitivity
SWIRCAM — short-wave infrared, 320 x 256, 100fps with TEC cooling and white LED lighting on low light conditions

Networking — gigabit Ethernet port with PoE support
Wireless:

802.11b/g/n
Bluetooth + ANT
ZigBee
GPS

Other I/O:

Mini-USB 2.0 OTG
RS-232/485 (3.5mm terminal block connector)
RS-232/JTAG (for system debug on separate board)
I2C/SPI (internal 1.27mm connector)
Mini-HDMI
D1 composite analog output (PAL/NTSC)
148.5Mhz output for VGA LCD
audio line-out (mic on board)
audio DIO (I2S links on FPGA and Bluetooth)
12 GPIO switch buttons plus scroll wheel
optocoupled input on powered contacts

Sensors — 3D accelerometer; 3D gyroscope; 3D magnetometer; pressure, temperature
Other features — LEDs; RTC
Power — 6-12V DC or 18-57 AC-DC; 15 W consumption; battery charger; optional induction charger; PoE support
Operating temperature — 32 to 122 deg. F (0 to 50 deg. C); optional -40 to 185 deg. F (-40 to 85 deg. C)
Dimensions — 5.51 x 3.15 x 1.57 inches (140 x 80 x 40mm)
Availability
The CAMSMOOV appears to be available for order now. No pricing information was provided. More information, including a more detailed spec sheet may be found at Nexvision's CAMSMOOV product page.
---
This article was originally published on LinuxDevices.com and has been donated to the open source community by QuinStreet Inc. Please visit LinuxToday.com for up-to-date news and articles about Linux and open source.