Oct 23, 2007 — by Eric Brown — from the LinuxDevices Archive — views

Trolltech's popular Qtopia graphical application framework for Linux-powered devices has gained a commercial font plug-in from long-time font specialist Bitstream Inc. The plug-in's integrated "Bitstream Font Fusion" rendering engine is faster, uses less memory, and offers higher quality than Qtopia's native… fonts, Bitstream claims.
The new Qtopia Font Plug-in is said to provide Qtopia developers with the full complement of Font Fusion features, offering advantages over the FreeType scalable font system currently built into Qtopia. According to Bitstream CEO Anna Chagnon, "[Bitstream's] Qtopia Font Plug-in not only requires less memory, but performance increases three-fold, which is a direct, noticeable advantage for users of embedded Linux devices."
The Qtopia Font Plug-in takes up only 65-147KB in ROM and consumes 16-40KB of RAM for Latin fonts, and 27-34KB for stroke-based Asian fonts. The vendor claims the plug-in renders 2,400-3,300 characters per second on a 100-MIPS (million instructions per second) processor, and offers smooth anti-aliasing. Additionally, Font Fusion's native TrueType hinting is said to improve small-point-size type, even on low-resolution devices. Unicode and international font support reportedly includes compact Asian, industry-standard Asian, Arabic, Cyrillic, Greek, Hebrew, Indic, Thai, and over 50 other languages.





Bitstream Font Fusion capabilities
(Click each image to enlarge)
Bitstream describes the Qtopia Font Plug-in's built-in Font Fusion as an object-oriented font rasterizing engine designed for consumer electronics and mobile devices. Font Fusion's Core Font Engine is backed up by a Font Manager that supports multiple fonts and font fragments simultaneously, and a Cache Manager that manages memory resources to improve performance. Bitstream claims that Font Fusion's lossless font compression lets developers make trade-offs between memory savings and performance. For example, developers can reportedly squeeze a 37,000-character, stroke-based CJK font to under 1MB.
Bitstream is no stranger to Linux, having released a set of ten Vera fonts to the open-source community back in 2003 in an agreement with the GNOME Foundation. Since then, it has released a font plug-in for Symbian, but has been satisfied to let open source development groups define the Linux font scene. Historically, Linux has suffered from limited font support, but the landscape has improved recently, especially with the evolution of the XFree86 project's XFT2 and the FreeType project's FreeType 2.
Commercial font packages for embedded and mobile devices are also offered by several other font vendors. For example, Ascender Corp. offers font families targeting digital STBs (set-top boxes) and various mobile devices; similarly, Agfa Monotype licenses fonts intended to display legible text on the small LCD screens of memory-constrained devices.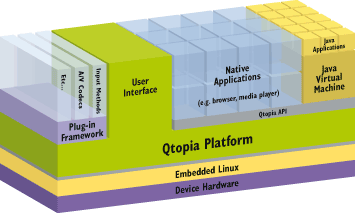 Qtopia Platform software architecture
Trolltech's
Qtopia application stack
for Linux devices reportedly has been designed into a large number of different Linux-powered
mobile phones
and
VoIP devices
. The company announced last month that it will
release its entire Qtopia Phone Edition
as open source under the GNU GPL this month; nevertheless, the stack will be dual-licensed under both GPL and a Trolltech commercial license, and will continue to accommodate third-party, proprietary plug-ins.
Availability
Bitstream's Qtopia Font Plug-in is available immediately, according to the company. Neither pricing nor licensing terms were disclosed.
---

This article was originally published on LinuxDevices.com and has been donated to the open source community by QuinStreet Inc. Please visit LinuxToday.com for up-to-date news and articles about Linux and open source.