Sep 24, 2008 — by LinuxDevices Staff — from the LinuxDevices Archive — 3 views

Good OS (gOS) has achieved a major new release of its Ubuntu-based operating system. Targeting OEMs that want quickly customizable Linux netbook OSes, gOS 3.0 integrates closely with Google Gadgets, as well as with Google Mail, Calendar, Reader, News, Applications, Picasa, and so on.
Good announced gOS 3.0 in August, at the LinuxWorld Expo in San Francisco. The release succeeds a Rocket release earlier this year.
The last time we looked at gOS on a netbook, we were pretty horrified, to be honest. No effort seemed to have been made to adapt the heavy, Ubuntu-based OS to the limited resources and small screen of netbooks. In fairness, the product category was quite new at the time.
The new release seems much more polished, although we only tried it on desktop hardware, and briefly at that.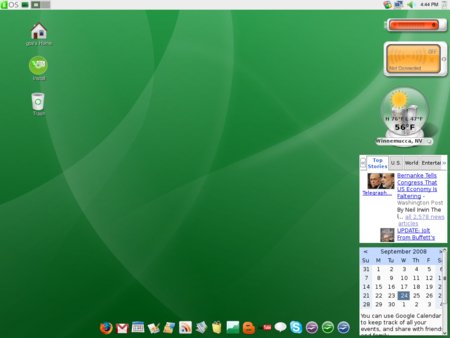 gOS 3.0 desktop at 1280 x 1024
(Click any to enlarge)
Mostly for OEMs
Speaking from Taiwan, Good Founder David Liu said gOS 3.0 primarily targets netbook and touchscreen device vendors interested in pre-installing a customized version of Linux, without having to do a lot of development work. "Linpus [as used on Acer Aspire] and Xandros [as used on the Asus EEE PC] are two examples of hardcore integration, where companies spent a lot of time customizing and integrating. On the other hand, Ubuntu Netbook remix, and gOS Gadgets are great initial bases. Companies will take us to market faster."
Liu said Good has several OEM customers already, in addition to shipping on several Everex-branded 7- and 10.2-inch netbooks shipping globally. He said OEM pricing is very competitive. "In terms of the price point, compared to most distros, we're on par or even lower cost than some."
Asked about the potential size of the market for OEM netbook OSes, Liu replied, "Honestly, the market is pretty big. There are a lot of OEMs in Taiwan, and everyone will have a different idea about what they want, in terms of their marketing plans and product plans."
At the same time, normal users are free and even encouraged to download gOS, and offer feedback or even participate in its development. A Google Group formed around the release has about 370 members who have posted more than a thousand forum comments, Liu said.
Gadget fever
gOS 3.0 comes standard with a Google Gadget install application offering more than 50 Gadgets. Running directly on the desktop, the Gadgets can be quickly toggled on and off all at once via an icon in the system "tray." Meanwhile, a "Gadget Browser" makes the process of adding new Gadgets to the desktop very simple indeed.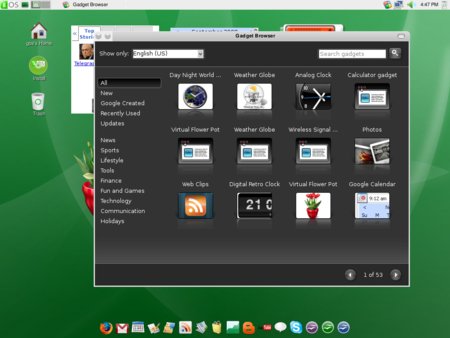 Adding Gadgets
(Click to enlarge)
Good thinks Gadgets might be the perfect way for companies such as Netbook OEMs to easily customize their devices. Gadgets can be written using standard Web technologies such as XHTML, CSS, Javascript, and so on, and Good itself is ready to help author custom Gadgets, it says. Liu commented, "We launched our beta about six weeks ago, timing it with the beta release of Google Gadgets for Linux. Then the Google team did a new release a few weeks ago, and our final 3.0 release is based on that."
Liu said he is pleased with how well gOS 3.0 works with touchscreens. "Some netbooks are trying to do touch, and with gOS, it actually becomes part of the experience, rather than just a mouse replacement."
On the other hand, the Good development team — comprising half a dozen core team members, Liu said — still has a ways to go transitioning to the lightweight LXDE GNOME alternative. Liu said, "We've included some of the [LXDE] applications, but it's more of a work in progress. Our goal is to transition into using lightweight software, whether it's LXDE or E17 [Englightenment 17]. Everyone can agree that GNOME is really complicated."
For now, a ps listing reveals lots and lots of GNOME software, along with an interesting "ggl-gtk" process siring the Google Gadgets. Other interesting software includes Mozilla Lab's Prism, Google Picasa, Skype, GIMP, and Open Office.
Availability
gOS 3.0 is available for download, here. It can be run as a Live CD or installed to the hard drive.
---
Do you have comments on this story?
---
Talkback here
NOTE: Please post your comments regarding our articles using the above link. Be sure to use this article's title as the "Subject" in your posts. Before you create a new thread, please check to see if a discussion thread is already running on the article you plan to comment on. Thanks!
---

This article was originally published on LinuxDevices.com and has been donated to the open source community by QuinStreet Inc. Please visit LinuxToday.com for up-to-date news and articles about Linux and open source.