Mar 28, 2011 — by Eric Brown — from the LinuxDevices Archive — 13 views
The Foresight Linux project released Foresight Linux 2.5, the first major release of this rolling-release Linux distro in two years, featuring Linux 2.6.35, GNOME 2.32.1, KDE 4.6.1, and Xfce 4.8. Meanwhile, rPath released rPath X6, a specialized Linux distro and appliance-building system that, like Foresight, is based on the Conary package manager.
Foresight Linux, — which our sister site DesktopLinux once called "the distribution for those who like living on GNOME's cutting edge" — has reached version 2.5.
Although Foresight Linux 2.5 ships with GNOME 2.32.1, it should be one of the first Linux distributions to update to GNOME 3.0 this spring, according to former OpenSUSE Community Manager Joe "Zonker" Brockmeier, writing on Linux.com. That's because, like a growing number of Linux distributions, it uses a rolling release schedule, only occasionally announcing a major release, while regularly updating users with the latest features. Unlike some rolling release distributions, which track sometimes unstable development branches, Foresight only tracks the stable releases, he adds.
Foresight Linux


(Click to enlarge)
Last reported on by
DesktopLinux
in its
1.0.1 release
in 2007, Foresight Linux has not seen a major release since May 2009, when version 2.1.1 was announced.
Foresight stands out not only for its tight linkage to GNOME, but for its use of the Conary package/system management tookit, instead of the more common RPM or Debian package management systems. Conary is also used by the recently updated enterprise appliance builder rPath X6 (see farther below). ). In fact, Foresight is based in part on rPath Linux.
Among other benefits, Conary makes it a lot easier to do rolling releases, says the Foresight project. Conary also "ensures that users can efficiently search, install, and manage all the software on the Foresight system," says the project.
Foresight Linux 2.5 builds upon Linux kernel 2.6.35.11, available in a stable Long Term Release (LTR) version. The latest Linux 2.6.38 kernel will be available in the coming weeks "for the adventurous," says the project.
In addition to offering GNOME 2.32.1, the distro provides the KDE 4.6.1 and Xfce 4.8 desktop environments. The release is also said to offer the brand new stable Firefox 4.0 browser, which is covered in a Mar. 22 eWEEK review by Jason Brooks. Other updates are said to be provided for the Chromium browsers, plus Banshee, F-Spot, Openshot, Hotot, Pidgin, and Gimp applications.
rPath appliance builder goes to version X6
On Mar. 22, rPath announced rPath X6, a major release of its Linux-based "IT-as-a-service" platform designed for managing software appliances and systems across physical, virtual, and cloud environments. Based on the Conary package management system, rPath allows users to visually create a version-controlled blueprint for generating system images and managing changes up and down the stack.
rPath X6 is said to offer two major enhancements: an overhauled UI layer and a unified software and configuration automation system. With its new "Pushbutton User Experience" interface, users can manage complex software and cloud projects via a "highly visual console driven by drag-and-drop gestures and pushbutton commands," says rPath. The new interface also lets users graphically model systems as reusable version-controlled "blueprints," construct images on demand, and easily update and upgrade systems, says the company.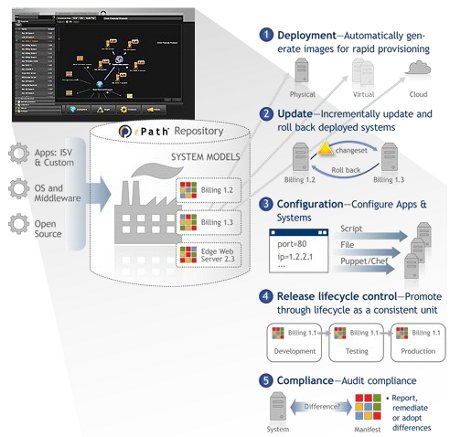 rPath X6 is billed as a "factory" for constructing systems and services out of software components and managing their lifecycle over time.
(Click to enlarge)
With rPath's new automated configuration routines, meanwhile, software stacks can be personalized more easily through editing of host configuration settings, such as network addressing, storage mapping, database naming, and application options, says the company. rPath X6 then manages these settings as metadata within a version-controlled blueprint that encompasses the entire "bill of materials" for a software system, says rPath.
The configuration capabilities are said to be interoperable with Puppet, Cfengine, and Chef.
As Charles Babcock explains in an InformationWeek story on the new release, rPath X6 is "branching out to offer a 'service factory' for the visual assembly of software stacks, storing them in a repository and deploying them to any one of several possible virtual machine environments."
Babcock also sums up some of rPath's history, explaining how rPath was launched in 2006 by Eric Troan, former VP of engineering at Red Hat, where he developed the package method of handling Linux modules. At rPath, Sloan and his colleagues found a way to package applications into virtual appliances.
"For a given application, the unnecessary parts of Linux are stripped away, leaving a smaller footprint and more efficient runtime code," writes Babcock. "It can then be cast in a virtual machine format."
Supported formats are said to include open source KVM, Citrix XenServer, VMware ESX Server, Microsoft Hyper-V, open source Xen, and Oracle's Virtual Iron-based hypervisor. As a result, rPath X6 can produce "streamlined workloads" for cloud services such as Amazon Web Services EC2, says the story.
While rPath and the appliance building application called rBuilder were previously available as separate entities, it appears that a totally revamped rBuilder is now an integrated part of rPath X6. Among other customers, Digium tapped rPath's rBuilder for its AsteriskNow software appliance, an open-source IP PBX (private branch exchange) system.
The rBuilder tool was said to reflect rPath's motto of "Just Enough OS" (JeOS), creating minimal filesystem images particularly suitable for deployment in virtualized environments. The software also featured rPath's Lifecycle Management Platform, aimed at managing application images in virtualized environments, via a web interface.
In a generally favorable eWEEK review of rBuilder 5.2.1 in July 2009, Jason Brooks nonetheless criticized the software for its fairly difficult application configuration and appliance development process. Several weeks later, in a review of Novell's SUSE Studio appliance builder, Brooks wrote that while it lacked rPath's extensive feature set, it was easier to use.
Availability
Foresight Linux 2.5 is available now for free download to new users, and the release will be available as an update to existing Foresight Linux users in the new few weeks, says the project. Release notes for Foresight Linux 2.5 may be found here, and downloads may be found for x86 architecture systems on this Foresight Linux download page.
More information on rPath X6 may be found at rPath's website.
---
This article was originally published on LinuxDevices.com and has been donated to the open source community by QuinStreet Inc. Please visit LinuxToday.com for up-to-date news and articles about Linux and open source.