Nov 10, 2008 — by Eric Brown — from the LinuxDevices Archive — 28 views

[Updated: Nov. 11, 2008] — TriPeaks announced a new version of its "TP InstantBoot" fast-boot technology for embedded Linux devices. TriPeaks also announced a reseller relationship with CodeSourcery, and plans to integrate CodeSourcery's SourceryG++ tools with an upcoming Linux distribution and development… kit.
(Click for larger view of Pioneer's TP InstantBoot-enabled Elite Kuro Pro-111FD)
TP InstantBoot has already been incorporated in several digital TVs, including Pioneer's Kuro plasma displays (pictured), says TriPeaks. (See below for more details.) The technology is said to support x86, MIPS, SH4, PowerPC, and ARM9 architectures. TP InstantBoot appears to be similar to another recently announced fast-boot scheme from fellow Japanese vendor Lineo, which recently announced its Warp 2 product.
Using a slightly modified Linux kernel and application software, TP InstantBoot creates a snapshot image from system memory and CPU register data, says the company (see diagram below). It stores the image on flash ROM, along with a bootloader and restoration code, and upon power-on, data is restored from the snapshot into the Linux kernel with the help of a driver. The boot time can be reduced to one-fifth the original length by eliminating kernel loading and initialization, as well as application software loading, claims TriPeaks.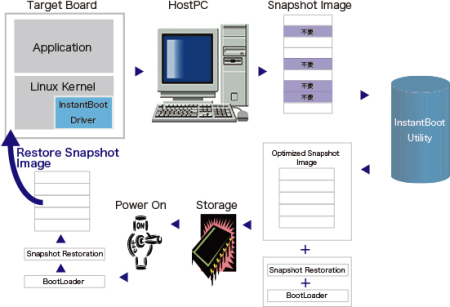 TP InstantBoot in action
(Click to enlarge)
Version 2.0 adds a compression feature that can reduce the snapshot image by almost 30 percent. It also introduces the ability to collect the system image with JTAG-ICE. Also new is a serial interface, so developers can test how TP InstantBoot is working by restoring the snapshot image from JTAG-ICE to RAM before the image is written in flash ROM. Neither of these new features work with x86-based systems, however.


The Space Cube
(Click for details)
The 1.2-second boot was timed on a Shimafuji "Space Cube" (model SEMC5701A), a two-inch cubed computer that runs Red Hat Linux on 1GB of flash. The Space Cube (pictured) runs a MIPS-based NEC VR5701 processor, with 64MB RAM, and offers numerous I/O connections, including a Firewire-like "SpaceWire" port designed for spaceflight.
The Space Cube normally boots the Linux kernel in a six seconds, whereas TP InstantBoot reduced boot-up to about 1.2 seconds, claims the company. The test was said to use Linux 2.6.6, as well as the PMON bootloader.
Digital TV design-in wins
Digital TVs incorporating TP InstantBoot are said to include the following models:
Pioneer Kuro Plasma TV — In addition to the Kuro Pro-111FD (pictured at top), Pioneer has loaded TP InstantBoot on the Pro-111FD, Pro-151FD, PDP-5020FD, and PDP-6020FD in North America, and the PDP-LX5090H and PDP-LX6090H in Europe. All models hit the market earlier this year.



Sanyo Vison SX200
(Click to enlarge)

Sanyo Vizon SX200 Series — The Vizon SX200 model (pictured at right) was released in Japan in October 2007, says TriPeaks.
JVC-Victor EXE LT305 Series — JVC-Victor's EXE LT305 (pictured below) was released in Japan in February 2008, says the company.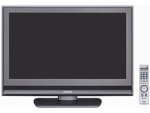 JVC-Victor EXE LT305
(Click to enlarge)
Codesourcery and a new SDK
TriPeaks also announced it had entered into a OEM distribution and reseller agreement with Codesourcery to sell the latter's Sourcery G++ development environment, which is based on the GNU Toolchain and the Eclipse IDE. Rev'd to version 4.3 last week, Sourcery G++ is based on the open source GNU tools, with added testing, refinement, and commercial support, according to the vendor. The tools support both Windows and Linux on IA32 development hosts.
TriPeaks will provide Sourcery G++ development tools for architectures including ARM, ColdFire, MIPS, Power Architecture, and x86. TriPeaks also announced that it plans to integrate the Sourcery G++ toolchain into a Linux distribution and software development kit (SDK) that it expects to release at the beginning of 2009. The distribution will include TP InstantBoot 2.0, says TriPeaks.
Stated Takashi Sakakibara, Pioneer director, Software Engineering, Home Entertainment Business Group, "The boot time of a plasma television was one of the problems that had to be improved at the point of usability. We could shorten the boot time greatly by adopting TP InstantBoot."
Availability
Tripeaks's TP InstantBoot 2.0 appears to be available now to OEMs at an undisclosed price. More information may be found here.
---

This article was originally published on LinuxDevices.com and has been donated to the open source community by QuinStreet Inc. Please visit LinuxToday.com for up-to-date news and articles about Linux and open source.