Apr 21, 2009 — by Eric Brown — from the LinuxDevices Archive — 6 views

Xandros announced a Linux-based fast-boot technology that can be downloaded and installed by Windows users on "almost any PC." The "Presto" utility can power up (and down) laptops "within seconds," offering access to web, email, RealPlayer media, and an applications store (left), the company says.
(Click for larger view of Presto Application Store)
A number of Windows-based laptops have shipped with minimalist Linux-based fast-boot environments for quick access to the Web and other essentials, but most are embedded in firmware and linked to specific chipsets or BIOS modifications (see farther below for a survey of some recent fast-boot systems). Presto, on the other hand, can be downloaded by consumers at $20 a pop, and installed on "almost" any Windows XP or Windows Vista computer, with Windows 7 support promised for the future. As a result, fast-boot capability is available for the first time for users of older Windows computers, says the company.
Presto, delivered in the form of a simple Windows installer, partitions a user's disk drive and installs it into the Windows boot manager (pictured below) without intervention, potentially allaying the fears of those who might have hesitated to install Linux on their computers. Based on the widely praised fast-boot technology built into the Moblin v2 Linux stack, which targets Intel Atom-powered netbooks, Presto also is said to benefit from the expertise Xandros acquired while working with Intel and Asus on the latter's Atom-powered Eee PC.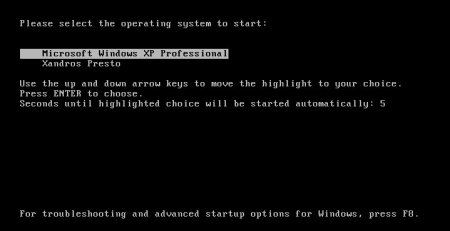 Presto prompt screen
(Click to enlarge)
Xandros is known for its Windows-like
Xandros Linux distribution
, which has been dubbed by one
DesktopLinux
reviewer as "the best Linux desktop distro for Windows users." The distro is bundled with the Linux versions of the
Eee PC
netbook.

The Presto desktop
(Click to enlarge)
The Presto desktop (above) enables quick access to email, web browsing, chat, Skype VoIP calls, and Office documents, as well as the ability to download and play media via a bundled RealPlayer for Netbooks player, says Xandros. The mini-OS also offers access to Xandros' Presto Application Store (pictured at top) for downloading software, games, multimedia, and web applications.
Specific Presto features are said to include:
Power-up on most laptops in "seconds" and power-down on most laptops in "1-2 seconds"

Read and write to the Windows NTFS filesystem
Browse the web with Firefox
Chat using instant messaging (IM)
Make free Skype to Skype VoIP calls
Listen to music and watch videos via RealPlayer for Netbooks
View and edit documents created in Microsoft Office
Supports WiFi, 3G, xDSL, LAN, and cable network access
Download games, music, and videos through the Presto Application Store
RealPlayer for Netbooks and a Helix port to Android
The integrated Moblin-based RealPlayer for Netbooks supports playback of formats including RealMedia, Windows Media, MP3, MPEG4, AAC, H.264, and QuickTime. The player was developed using Real's Helix DNA technology, which the company says is available in source code form for development via free community source licenses. The licenses are available at the Helix Community, which helped develop the players.
The latest Helix project aims to port the Helix DNA codebase to act as the primary media engine to the Google-sponsored Android mobile Linux stack. The Helix DNA client porting project "is not designed to create a top level Java application, but instead replaces the existing media engine to allow developers to create the desired user interface," says the project.
Will "sexy boots" push Linux to the top?
Fast-booting, Linux-based environments are becoming commonplace on Windows desktops and notebooks, because they offer faster access to commonly used functionality such as email, web browsing, and media playback. In addition to Presto and HyperSpace, similar technologies include Intervideo's InstantOn, DeviceVM's Splashtop, the MontaVista Linux-based Dell Latitude On, and Toshiba Qosmio. Combined, these environments could result in Linux outshipping Windows on the desktop in 2009, according to a recent blog post by Linux Foundation Director Jim Zemlin.
Stated Scott Nelson, Director, Global Business Development from RealNetworks, "Presto provides Windows users with remarkably quick access to audio and video content that is either streamed on the Web or played back locally from disk."
Stated Andreas Typaldos, CEO of Xandros, "By combining leading applications such as RealPlayer for Netbooks with our own fast-boot technical recipe, we were able to bring a rich, 'Instant On' user experience to general Windows-based laptops and PCs."
Availability
Presto is available now for download, as either a free seven-day trial version or for $20. More information and download links may be found here. The technology is also available for OEMs.
---

This article was originally published on LinuxDevices.com and has been donated to the open source community by QuinStreet Inc. Please visit LinuxToday.com for up-to-date news and articles about Linux and open source.