Jan 19, 2012 — by Eric Brown — from the LinuxDevices Archive — 2 views
Linux has vaulted to 1.4 percent worldwide desktop market share from 0.97 percent in July, according to Net Applications. Meanwhile, a new Linux Foundation survey on enterprise adoption of Linux indicates that 84 percent of organizations currently using the open source operating system have expanded their deployments over the last year.
According to the latest desktop market share estimates from Net Applications, Linux has soared to 1.41 percent share at the end of 2011, up from 0.97 percent in July. While that's a pittance compared to the 92.2 percent Net Applications lists for Microsoft Windows operating systems, and still less than a quarter of the Apple Macintosh share at 6.36 percent, it's a remarkable surge.


Worldwide desktop OS market share, rounded (Linux is listed at 1.41 percent)
Source: Net Applications
In Oct. 2008, Net Applications
pegged Linux desktop share
at 0.71 percent, up from 0.47 percent in Aug. 2007. Linux passed the one percent mark only in 2009, according to the research firm. By June of 2010, it was said to have just
inched up to 1.13 percent
. It apparently dropped to 0.97 percent by last summer only to surge to new heights by the end of the year.
Some critics have claimed that Net Applications consistently undercounts Linux share. An October Wikimedia server traffic analysis report, which analyzes the OS origin of server requests, including mobile OS requests, put Linux at 3.62 percent. From this, one must subtract Android at 1.95 percent, giving desktop Linux an apparent 1.67 percent share. This jibes more or less with a December W3Counter web access survey which gives both Linux and Android a 1.64 percent share, or a combined total of 3.28 percent.
Where is the growth coming from? On ZDNet, Steven J. Vaughan-Nichols claims to have no clue. In fact, he's surprised at the findings, considering the recent controversies over the new GNOME 3.0 and Ubuntu Unity desktops.
Meanwhile, at LinuxInsider, Katherine Noyes surveys the tuxy blogosophere over the 1.41 percent figure and finds more confusion, skepticism, and cautious optimism. One blogger noted that StatCounter Global Stats showed Linux share at the same 0.79 percent in July, but showed a growth to only 0.83 percent in December, instead of 1.41 percent.
Robert Pogson, meanwhile, was quoted by Noyes as suggesting that the growth might be due to the increase in low-cost Linux systems in the BRIC (Brazil, Russia, India and China) market.
When Linux netbooks were all the rage back in 2008 and 2009, resulting in at least one research report claiming that Linux represented 30 percent of global netbook share, Microsoft responded by dropping the price of Windows XP, while pressuring retailers and vendors to hew to the Windows line. Since then, Linux netbook share was further reduced by Windows 7, and more recently netbooks have faded regardless of OS.
Microsoft could once again take action to squash any Linux surge. In September, the company denied claims that PC vendors running the upcoming Windows 8 might be able to block Linux installations via a "secure boot" component in the Unified Extensible Firmware Interface (UEFI). The controversy re-emerged last week, with some claiming that Microsoft has revised its Windows Hardware Certification Requirements to ban most alternative operating systems on future ARM-based devices that ship with Windows 8.
Others suggest that desktop Linux has less to fear from Microsoft than it does from the growth in mobile devices such as tablets, which are beginning to eat into PC sales. When looking at total OS market share including mobile operating systems like the fast-growing Android and iOS, desktop OSes have declined, says Net Applications. At the end of the year, Windows dipped to 84.85 percent, while Linux dropped to 1.29 percent share — just above Android at 1.25 percent and well below iOS' 4.0 percent.
Yet, the surge in mobile OSes could be a good thing for desktop Linux, and not just because the fastest growing mobile OS is based on Linux, argues ZDNet's Adrian Kingsley-Hughes in a Jan. 19 blog post. The many options available for mobile operating systems, including multiple vendors and versions of Android, are making tech consumers less afraid of trying something new, he suggests.
Steady progress, server-side
In "Linux Adoption Trends 2012: A Survey of Enterprise End Users", published in conjunction with Yeoman Technology Group, the Linux Foundation (LF) suggests that Linux is spreading to more servers at the expense of Windows and Unix. Some 79.8 percent of respondents expect that Linux will rise in their organizations in proportion to other operating systems (OSes), according to the survey.
Meanwhile, 84 percent of organizations currently using Linux were said to have expanded its usage over the last year. Enterprises are using Linux as their preferred platform for both "Greenfield" deployments and mission-critical applications, the LF survey says.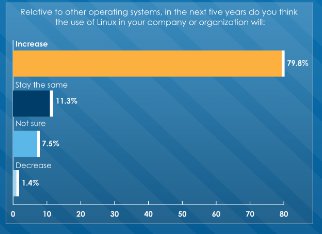 Linux is expected to keep rolling in the enterprise for next five years
Source: The Linux Foundation
Not surprisingly for an open source OS, lower total cost of ownership led the reasons for choosing Linux, at 70 percent. Yet features and technical superiority followed closely at 68.6 percent, and security was directly behind that with 63.6 percent of respondents, says the LF.
Eight out of 10 respondents say that they have added Linux servers in the last year, and plan to add more in the next year, according to the survey. The same number plan to add more Linux in the next five years, while only 21.7 percent of respondents plan an increase in Windows servers in the next five years.
More than 75 percent of respondents expressed concern about the challenge of "Big Data." Nearly 72 percent hope to meet that challenge by using Linux, while only 35.9 percent said the same for Windows, according to the survey.
Linux users said they see fewer issues impeding the operating system's success than in the past. Technical issues were cited as an obstacle by only 12.2 percent, down from 20.3 percent in 2010. "Perception by management" received the most votes as an obstacle to success, cited by 39.6 percent. However, this is 22 percent fewer respondents compared to a year ago, says the LF.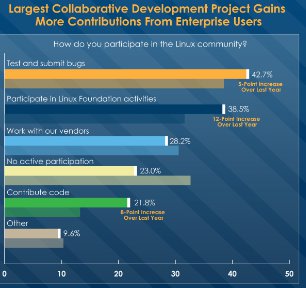 Most enterprise Linux customers contribute to the Linux community
Source: The Linux Foundation
Survey respondents cited several other concerns regarding Linux. A total of 35.3 percent listed interoperability with other platforms/applications as an issue, while 32.5 percent cited the ability to find talent to support Linux as another concern. According to the survey, 30.6 percent said driver availability was still a problem. Other concerns were said to include fragmentation, legal issues and compliance, dominance of a single vendor, and lack of native features.
Linux excels at "Big Data," cloud computing, and virtualization
Linux is seen to be well suited for several of today's biggest IT trends, including the need to support the increasing processing, storage, and analysis requirements of a growing volume of information — a phenomenon known as "Big Data" (see chart below). In addition, Linux is perceived as matching up nicely with the growth in virtualization and cloud computing, says the LF.
In the year ahead, Linux will also play an increasing role in "the social enterprise, energy-efficiency projects and an increasingly connected world," says the non-profit Linux advocacy organization.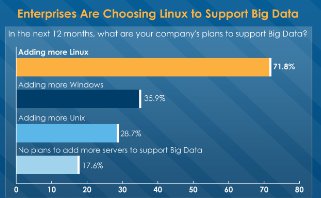 The growing need to tame "Big Data" is driving adoption of Linux
Source: The Linux Foundation
Survey results indicated there was a 34 percent increase in organizations migrating at least some applications to cloud-based computing. Some 61 percent of organizations now use some form of public, private, or hybrid cloud-based applications, says the survey.
Some 66 percent of cloud users use Linux as their primary cloud platform, up 4.7 percent from last year. In addition, the LF reports, 34.9 percent of organizations plan to migrate more applications to the cloud, up from 26 percent last year.
The survey also noted the growth in virtualization in the enterprise. Some 72 percent of organizations expect to have 25 percent or more of their servers virtualized by the end of the year, says the LF. More than 46 percent of organizations expect to have 50 percent or more of their platforms virtualized by the end of 2012, an 18 percent increase over 2011.
Although a total of 1,893 enterprise Linux users were polled, the survey results are based on responses from 428 IT professionals from organizations with $500 million or more a year in revenues or 500-plus employees, says the LF. A total of 41.6 percent came from the US and Canada, while 27.1 percent resided in Europe, and 15.2 percent came from Asia.
A Gartner report released last April said that in 2010 Linux was the fastest growing server OS, and Apple's Mac OS had the fastest growth on the desktop. A June 2010 report by IDC estimated Linux server share at 20.8 percent, with revenue share growing to 16.8 percent.
Eric Brown can be reached at [email protected].
---
This article was originally published on LinuxDevices.com and has been donated to the open source community by QuinStreet Inc. Please visit LinuxToday.com for up-to-date news and articles about Linux and open source.