Sep 20, 2006 — by LinuxDevices Staff — from the LinuxDevices Archive — 16 views

Neuros Technology is offering Linux hackers first dibs on beta units of its next-gen DVR (digital video recorder). The Linux-powered device can record MPEG-4 video from cable or broadcast TV, DVDs, etc., and transfer it to portable media players, or serve as a network music player.
The beta release of the new DVR, dubbed OSD ("Open Source Device"), gives early adopters the best price, along with a no-questions-asked return option, according to the company.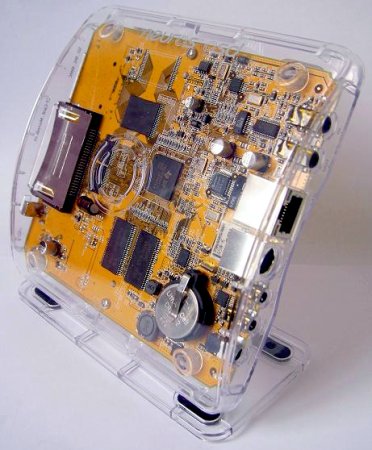 The OSD beta has a clear plastic case
(Click to enlarge)
Neuros says "hundreds" of open source community members helped finalize the OSD's design. About two dozen purchased an early hardware prototype earlier this year.
Partly to thank the community, and partly as a way of getting the device into the hands of highly critical users early on, Neuros will offer an initial "beta" production run exclusively to hackers (well, readers of this website, anyway).
The beta devices are expected to represent the final hardware design, but the devices will come with "alpha-level" firmware, Born says. Hence, the company will offer a no-questions-asked return policy. It also offers tools and hosts technical forums, to help early adopters adapt it to their purposes.
Who should consider grabbing an OSD device and getting involved with its community of hackers? Born notes, "It's not appropriate for a commercial application (we're not really setup to support that) but it's great for hackers, students, or anyone that needs a quick prototype (in addition, of course, to normal users who may not know the Kernel of Linux from the Colonel Sanders)."
He adds, "It is a very open platform. Application source code is GPL, we support the community with documentation and interaction with our internal engineers, etc."
What exactly is an "OSD"?
The OSD ("open source device") was developed primarily as the next-generation platform to replace Neuros's petite DVR set-top box, the Recorder II. It can record MPEG-4 video from analog sources such as cable or broadcast TV receivers, DVD players, and so on, and then transfer it to various sorts of memory cards or directly to portable media players such as Neuros's own 442, Apple's video iPod, or any number of Linux-based A/V devices.
The OSD can also be used in a network music player, and Neuros may offer a special remote to support this use case, Born said.
The OSD is based on a TI DM320 SoC (system-on-chip processor). The SoC has an ARM926EJ core clocked at 200MHz, along with a C54x DSP core operating at 120MHz. It also has dedicated MPEG-4 video encoding/decoding hardware that Neuros says enables the OSD to support "DVD-like" playback quality at D1 (DVD) resolutions.
The OSD available through Neuros's beta program will have 8MB of flash memory, and 32MB of RAM — twice the capacities of the first OSD prototype.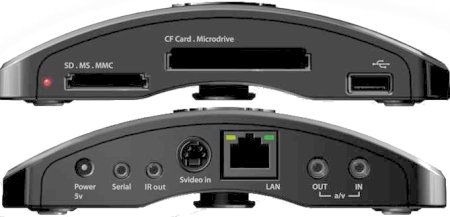 OSD I/O ports
I/O includes:
12Mbps USB 2.0 interface
SD/MMC/MemoryStick, Pro, Duo socket
CF socket supporting I/O mode
RS-232 serial console port (also used for controlling tuner boxes)
10/100 Mbps Ethernet
Infrared detector for remote control
Infrared blaster for controlling tuner boxes
NTSC/PAL composite or S-Video input
NTSC/PAL composite video output
Much more detailed technical information about the OSD's specific chips and capabilities can be found on a Wiki page on Neuros's website, here.
Neuros's open source obsession
Neuros Technology (formerly Neuros Audio) specializes in multimedia gadgets based on Texas Instruments (TI) RISC/DSP chips. Its products include a portable media player/recorder (PMP/R), as well as a digital video recorder (DVR) in a set-top box form-factor.
Neuros caught the attention of the open source community about a year ago, when it made the decision to migrate both its PMP/R and its DVR to Linux. Rather than hide in the woodshed during the transition, the company opted to solicit input from the open source community from the outset, noting that feedback is easiest to respond to early in the design stages.
Neuros CEO Joe Born explained at the time, "As engineers, most of us spent our academic careers in an environment where open peer review was just taken for granted as the most sensible way to advance science and technology. Once we transitioned to the business world, we were conditioned to accept that secrecy was a necessary evil. In fact, experience is showing us that peer review works great in the business world as well."
Availability
A "very limited" number of beta-release OSDs went on sale at ThinkGeek on Sept. 20, priced at $230. The link is here.
---

This article was originally published on LinuxDevices.com and has been donated to the open source community by QuinStreet Inc. Please visit LinuxToday.com for up-to-date news and articles about Linux and open source.