Nov 9, 2007 — by LinuxDevices Staff — from the LinuxDevices Archive — 28 views

Zipit Wireless has updated its Linux-based, WiFi-connected instant messaging client for kids and other frequent IM users. The new $150 Zipit Wireless Messenger 2 (Z2) adds a color screen, a faster processor, and expansion interfaces likely to prove popular among both kids and Linux hardware hackers.
For its price, the Z2 is surprisingly powerful. It is based on a 300MHz Marvell (formerly Intel) PXA270 (Bulverde) processor — a stronger CPU than that found in many smartphones costing twice as much. There's 32MB of RAM. Flash is limited to 8MB on-board, but expandable to 8GB via a mini-SD slot. There's a full-color QVGA (320×240) backlit screen, and the keyboard is also backlit — no more need for misbehaving children to bring a flashlight with them under the covers. I/O has been upgraded from 802.11b in the original Zipit to 802.11b/g, for speeds up to 54Mbps.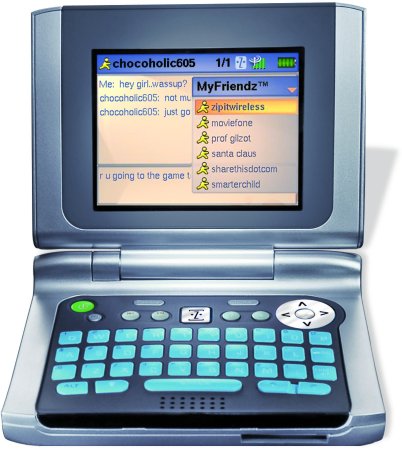 Zipit Wireless Messenger 2
(Click to enlarge)
On the software side, there's an ultra-modern 2.6.21 Linux kernel, featuring a WiFi subsystem supporting WPA2, PSK, and other modern security standards. Along with playback of local, network, and Internet-based MP3 streams, there are photo viewing capabilities for the first time.
Also new are OTA (over-the-air) firmware upgrade capabilities that the company plans to use to sell backgrounds, fonts, and themes. OTA could also be used to upgrade device capabilities in the future, perhaps adding video playback capabilities, for instance.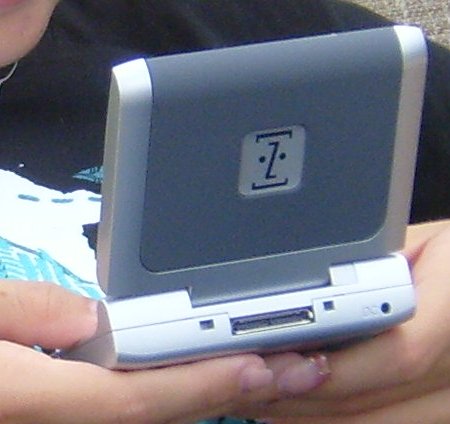 The Z2's mysterious expansion port
(Click to enlarge)
Last but not least, there's a mysterious expansion interface on the back (shown above). Zipit's creator, Ralph Heredia, would not divulge exactly what signals are routed to the expansion port, other than battery charging lines. However, he hinted that in time, the port would enable Zipit Wireless (the company) to bring out a range of accessories, while also enabling Linux hackers — with the company's blessing — to do more with the Z2 than was possible with the earlier Z1.
Background
The original Zipit launched in 2005, and sold for $100. It soon became a popular target for hackers, somewhat against the wishes of creator Ralph Heredia (story), who initially thought parents might have reservations about buying the device for their children if they read about it being "hacked."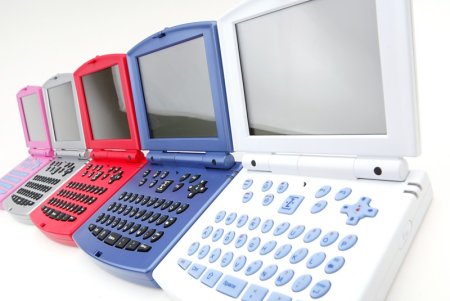 The original Zipit "Z1" came in five colors, but had a 16-tone greyscale QVGA display
(Click for details)
Now, however, Heredia has changed his tune. He told LinuxDevices, "I believe that we completely understand what the real interests are of the 'Linux' development community, and we are trying to put things in place to fully support/collaborate with them on our Z2."
Heredia said that Zipit hackers fall into two camps, the first being "extreme hackers that love to just tinker." This group has produced everything from iTunes remotes to webservers (be gentle; Google cache here), and dynamo-charged bicycle dashboards.
The other group is the "guys that want to write apps and use it for things," Heredia said, pointing to the example of LearningSoft (pictured below), which built its Indigo Learning System on top of the Z1. Heredia added with obvious pride, "We helped more with that product than was reported. I feel good that we were able to bring Zipit into the classroom, particularly in Hawaii, the state with the highest drop-out rate. Zipit is the real $100 computer."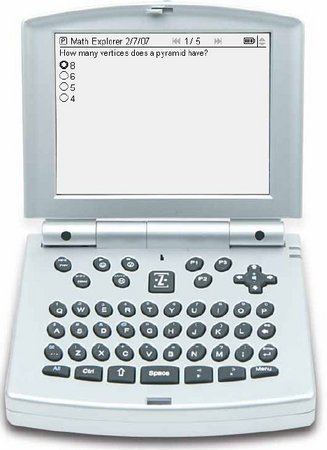 LearningSoft Indigo
(Click for details)
Why the change in attitude toward Linux hackers? For one thing, Zipit Wireless is now its own company, having spun out of Aeronix on June 1 under Heredia's leadership. "Aeronix is a product development company focused on specific market opportunities," Heredia said.
Another change is that the Linux community has proven to be a viable market for the Zipit devices. "We didn't think it would resonate as big as it did, because it's constrained. The original had no expansion, and no color screen. We were after one market, and another market latched onto it."
Heredia said that in time, the company will open up the Z2 to the community. "We are going to open it up more so people can do things, and I want to be active in supporting the community. We are putting tools in place now to support it."
Heredia is quick to add that the teen and pre-teen markets still remain top priority for the company. "Contrary to what a lot of hackers believe, we've sold a lot more to teens than to hackers," he said.
Still, Heredia seemed reticent to reveal too much about the device, in advance of the company's plans to deliver services of its own on the platform. He would not confirm the presence of a microphone, nor say whether Zipit Wireless will use the device's firmware OTA (over-the-air) update capability to offer VoIP and/or videoconferencing services in the fUture.
For now, Heredia said, the company is focused on wrapping up its TV commercials for the fast-approaching holiday season, among other priorities. Clearly, the Zipit is becoming one of the more mainstream embedded Linux design wins out there, alongside the TiVo, Sonos, Motorola phones, Sony TVs, LinkSys routers, and so on — despite competition from similar devices like the Sony MyLO.
But Zipit Wireless won't neglect the hacker market for long, Heredia said. "We're doing something special. We understand the hacker market, and we're going to establish a closer relationship with them through some of the tools that we will be releasing."
"It just isn't going to happen in the next couple of weeks," he added.
Availability
The Zipit Wireless Messenger 2 (Z2) is widely available now, priced at about $150.
---

This article was originally published on LinuxDevices.com and has been donated to the open source community by QuinStreet Inc. Please visit LinuxToday.com for up-to-date news and articles about Linux and open source.