May 5, 2010 — by Eric Brown — from the LinuxDevices Archive — views
The Linux Mint team has released a development RC (release candidate) version of Linux Mint 9 ("Isadora"), based on Ubuntu 10.04. Linux Mint 9 features a new software manager with 30,000 packages, a new backup tool, and menu and interface improvements, says the team.
The Isadora release follows up on Linux Mint 8 ("Helena"), which released an RC1 GNOME version in November, and a final KDE release in early February. Based on Ubuntu 9.10 ("Karmic Koala"), Linux Mint 8 added improvements such as new OEM installation features, an option to ignore updates, and "menu places" that can be configured by users.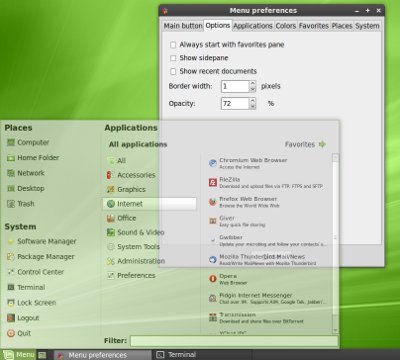 Linux Mint 9 offers interface improvements like user-definable menu transparency
Linux Mint 9 is based on
Ubuntu 10.04
("Lucid Lynx"), which was released last week. It similarly incorporates Linux kernel 2.6.32.11, and offers the GNOME 2.30 desktop environment and the Xorg 7.4 X Windows System. As with Lucid Lynx, Isadora is claimed to boot much faster than earlier versions. Linux Mint 9 also borrows Ubuntu 10.04's long term support (LTS), offering three years of security updates, says the Mint team.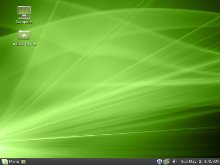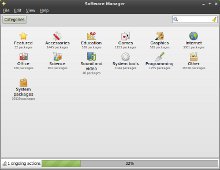 Linux Mint 9 main screen with new default background (left) and new Software Manager (right)


(Click on either to enlarge)
Mint 9 offers a new Software Manager that now features over 30,000 software packages, compared to 300 packages in the earlier version. Combining the original Software Manager with the GNOME App-Install and the new Ubuntu Software Centre, the new version supplies numerous visual improvements, as well as an APT daemon that lets users install software in the background, says the Mint team. Among other enhancements, users can now review applications directly from the Software Manager, and view user-written reviews from the Linux Mint Community Website.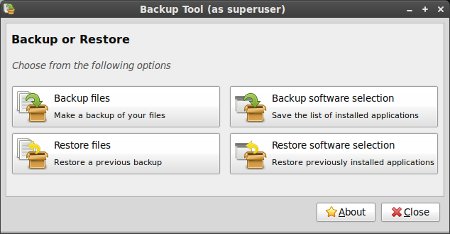 Mint 9's new Backup Tool
(Click to enlarge)
The other key improvement is a new Backup Tool, which offers features like incremental backups, compression, and integrity checks, says the Mint team. Users can now identify installed software, save the selection as a list, and then restore the selection on a different computer or on a new version of Linux Mint, says the team.
In addition to the new Software Manager and Backup Tool, other major new Linux Mint 9 features are said to include:
Menu improvements, including editable items, transparent menus, "start with favorites," and "add to" shortcuts
Desktop settings enhancements, including the immediate application of changes
Better look and feel, with new backgrounds, welcome screen, and update manager
System improvements, including a Wubi-based Windows installer, "Husse" quotes, a USB creator, default software selection, local repository and Gnome-PPP, and apt hold/unhold/held commands
Project changes, including the Community Website, CD and DVD versions, Community Editions, OEM installation disks, USA/Japan distributors disks, and 32 and 64-bit support
Availability
Linux Mint 9 RC is available, with caveats and known bugs, here, and more information may be found here.
---
This article was originally published on LinuxDevices.com and has been donated to the open source community by QuinStreet Inc. Please visit LinuxToday.com for up-to-date news and articles about Linux and open source.