Mar 16, 2006 — by Eric Brown — from the LinuxDevices Archive — 1603 views
This LinuxDevices guide provides pointers to our coverage of Linux-based cellular mobile phones, feature phones, and smartphones. For desktop IP phones, please see the separate Linux IP Phones showcase.

ZiiLabs Zii Trinity — Dec. 1, 2009 — This mid-range smartphone development platform from Creative Technology subsidiary ZiiLabs supports both Android and ZiiLabs' Linux-based "Plaszma" stack. The Zii Trinity is based on ZiiLabs' dual ARM9-core "ZMS-05" SoC, and provides 1080p video output, OpenGL graphics, HSDPA, WiFi, Bluetooth, GPS, and a 3.1-inch, 800 x 480 OLED touchscreen.

Emblaze Mobile First Else — Nov. 24, 2009 — Emblaze Mobile's "First Else" phone incorporates an "Else Intuition" UI layer based on Access' ALP 3.0 stack and the LiMo (Linux Mobile) spec. The First Else offers unified messaging, geo-tagging, multimedia, an RSS live-updated "newspaper," and a thumb-oriented, fan-like touch interface called sPlay.


Samsung Galaxy Spica I5700 — Nov. 16, 2009 — This scaled-down version of the Samsung I7500 "Galaxy" Android phone is equipped with an 800MHZ application processor and 180MB internal memory, and supports microSD cards up to 32GB. Measuring 4.5 by 2.2 by 0.5 inches, the Europe-destined, Android-ready Galaxy Spica I5700 offers a 3.2-inch touchscreen with 480 x 320 resolution, plus HSDPA, GPS, WiFi, Bluetooth, and a 3-megapixel camera.

Nokia N900 — Nov. 11, 2009 — The N900 smartphone is Nokia's first phone to run Maemo Linux instead of Symbian. Running on a TI OMAP3430 system-on-chip with 1GB of memory and 32GB flash, the N900 offers a 3.5-inch, 800 ◊ 480 touchscreen, five-megapixel camera, slide-out QWERTY keyboard, plus WiFi, GPS, Bluetooth, and accelerometers.

LG Eve GW620 — Nov. 6, 2009 — LG's first Android phone, a QWERTY slider called the "Eve," is first available on Rogers Wireless' network in Canada. LG's Eve GW620 ships with up to 150MB RAM and 2GB flash, expandable to up to 16GB via a microSD slot, and offers a 3-inch, 480 x 320 resistive touchscreen and a five-megapixel camera.

HTC Droid Eris — Nov. 5, 2009 — Sold by Verizon Wireless, HTC's Droid Eris is based closely on the HTC Hero, and likewise offers HTC's Sense UI running on top of Android. The Eris offers a 550MHz ARM Cortex-A8 based CPU, 288MB RAM, 512MB internal flash, an 8GB microSD card, a 3.2-inch 320 x 480 touchscreen, plus WiFi, Bluetooth, USB, GPS, digital compass, and a five-megapixel camera.

Vodafone 360 Samsung M1 — Nov. 4, 2009 — Like the more advanced 360 H1, the M1 is a LiMo-compliant "360" smartphone built by Samsung and offered by Vodafone to its European customers. The Vodafone 360 Samsung M1 lacks WiFi, but offers a 3.2-inch touchscreen, HSDPA, 3G, Bluetooth, and a three-megapixel camera, and runs Vodafone's "360" social networking interface.

Sony Ericsson Xperia X10 — Nov. 3, 2009 — Sony Ericsson's first Android phone offers its own "UX" user interface targeting social networking. The Xperia X10 provides from 8GB to 16GB of flash storage, a generous four-inch touchscreen, and an 8.1-megapixel camera with face recognition and geo-tagging, plus the usual 3G, WiFi, Bluetooth, and GPS features.

Droid by Motorola — Oct. 28, 2009 — Verizon Wireless' first Android phone is built by Motorola and appears to be the early market leader among high-end Android phones. The slider-based "Droid" offers a 550MHz ARM Cortex-A8 processor, a 3.7-inch touchscreen, a five-megapixel camera, voice recognition, and Google Maps Navigation with turn-by-turn voice guidance.

Huawei T-Mobile Pulse — Oct. 28, 2009 — Offered by T-Mobile UK, Huawei's tri-band 3G T-Mobile Pulse is equipped with 2GB of SD memory and a 3.5-inch touchscreen. The mid-range Pulse offers WiFi, GPS, and a 3.2 megapixel camera, and provides a touted four and a half hours of talk time.

Dell Mini 3i — Oct. 14, 2009 — Dell's first Android phone debuted in China, and is offered by China Mobile. The mid-range Dell Mini 3i device offers a 3.5-inch touchscreen, Bluetooth, and a three-megapixel camera.

Acer Liquid — Oct. 14, 2009 — Acer's first Android smartphone is also the first Android phone based on Qualcomm's 1GHz Snapdragon processor. The Acer Liquid offers a WVGA touchscreen, HSPA 3G support, WiFi, GPS, Bluetooth, and a five-megapixel camera.

Samsung Moment — Oct. 7, 2009 — Offered by Sprint, this Samsung-built Android handset is based on an 800MHz Samsung processor. Additional features offered by the Samsung Moment include a 3.2-inch AMOLED touchscreen, 3.2-megapixel camera, WiFi, Bluetooth, and GPS.


Samsung Behold II — Oct. 5, 2009 — This T-Mobile network Android phone offers a 3.2-inch AMOLED touchscreen with Samsung's TouchWiz UI running on top of Android. The Samsung Behold II provides WiFi, Bluetooth, GPS, and a five-megapixel camera.


Samsung Vodafone 360 H1 — Sep. 24, 2009 — Vodafone's Samsung-built "360 H1" smartphone offers a 3.5-inch WVGA AMOLED display, and complies with the LiMo (Linux Mobile) Release 2 spec. The 2.3 x 4.6 x 0.5-inch Vodafone 360 H1 is equipped with a TI OMAP3430 system-on-chip, 16GB of flash, a 3.5-inch WVGA AMOLED touchscreen with multi-touch, HSDPA, WiFi, Bluetooth, GPS, FM radio, and sensors.

Motorola Cliq — Sep. 10, 2009 — Motorola's first Android smartphone, offered by T-Mobile, debuts a "push" social networking streaming web service and UI stack called MotoBlur. The slider-format Cliq smartphone offers a 3.1-inch HVGA touchscreen, a 5-megapixel autofocus camera, GPS, 3G HSDPA, WiFi, Bluetooth, and various sensors.


Palm Pixi — Sep. 9, 2009 — Palm's second phone to run its Linux-based WebOS operating system is a scaled-down version of the Palm Pre, and is likewise available on Sprint. The Palm Pixi runs a new Qualcomm MSM7627 SoC, and offers a 2.8-inch, 320 x 400 touchscreen, an exposed QWERTY keyboard, and 3G support.


HTC Tattoo — Sep. 8, 2009 — HTC's Android-based Tattoo is a scaled-down version of the HTC Hero, offering the same "Sense" UI stack. The HTC Tattoo provides a 2.8-inch touchscreen, HSPA, WCDMA, and quad-band GSM/GPRS/EDGE network support, plus WiFi, Bluetooth, GPS, and a 3.2-megapixel camera.


Miutech HDPC — Aug. 25, 2009 — Miutech's HDPC (hybrid dual portable computer) squeezes an Atom-powered PC and an ARM-based mobile phone into a single package. Sporting dual displays, the Linux-ready HDPC offers a 5-megapixel camera, dual VGA video cameras, Ethernet, WiFi, cellular, GPS, and T-DMB terrestrial video.


Nuvifone G60 — Jul. 24, 2009 — Developed by the Garmin-Asus partnership between manufacturer Asus and PND vendor Garmin, the Nuvifone G60 is billed as an all-in-one phone, web browsing device, and personal navigator. The Nuvifone G60 ships with 128MB RAM and 4GB flash, offers quad-band GSM and HSDPA cellular support, as well as 802.11b/g WiFi, and Bluetooth.

HTC T-Mobile MyTouch 3G — Jul. 9, 2009 — Offered by T-Mobile, the HTC-made, Android-based MyTouch 3G provides customization options both in the UI and via various skins and accessories. The MyTouch 3G eliminates the HTC G1's slide-out keyboard, and offers a 3.2-inch, 320 x 480 screen with a QWERTY touchscreen display, as well as a 3.2-megapixel camera.


Vobis Highscreen PP5420 — Jul. 2, 2009 — Vobis Computers' "first Russian-market Android phone" appears to be an Android-converted version of the company's Windows Mobile-based Mobinnova ICE smartphone. The Highscreen PP5420 includes a 528MHz Qualcomm processor, HSDPA support, and a secondary OLED touchscreen in addition to its main 3-inch WQVGA display.


HTC Hero — Jun. 24, 2009 — The HTC Hero is notable in that it debuts the company's new UI layer called HTC Sense. Physically, the Hero is fairly similar to other early HTC Android phones, equipped with the ARM-based Qualcomm MSM7200a system-on-chip, and offering a 3.2-inch, QVGA touchscreen, HSDPA, WiFi, Bluetooth, GPS, accelerometer, and digital compass.

Palm Pre — Jun. 8, 2009 — The Palm Pre smartphone features Palm's homegrown, Linux-based WebOS operating system, which is touted for its customization, multi-tasking, syncing, and social networking features. The Palm Pre provides WiFi, GPS, a three-megapixel camera, a 3.1-inch touchscreen, and a rounded design with a keyboard that slides out on a curved slider.

GizmoForYou Flow — May 20, 2009 — This Linux hardware/software kit for building a modular touchcreen smartphone is available from open source hacker community GizmoForYou. Based on the TI OMAP35x-based Gumstix Overo Earth single-board computer, the Flow phone offers modules including GPS, 3.5G cellular, Bluetooth, WiFi, and a camera.

ROAD Handy-PC Officer S101 — May 20, 2009 — This upgraded version of the Handy-PC PDA from Germany-based ROAD is now a multifunction, Linux-based mobile phone. Based on a 512MHz Marvell PXA270, the Handy-PC Officer S101 can act as both a GSM cellular phone and a WiFi-driven PDA and web browser, and it offers a dual SIM-card option.

Samsung I7500 — Apr. 28, 2009 — Samsung's first Android phone was introduced by Telefonica's O2 network in Germany. The Samsung I7500 offers a 3.2-inch AMOLED touchscreen, 7.2Mbps HSDPA, WiFi, Bluetooth, GPS, and a five-megapixel camera.


Motorola Evoke QA4 — Apr. 09, 2009 — Motorola's EV-DO smartphone offers both a slide-out keypad and a virtual QWERTY keyboard. The Evoke QA4 runs Motorola's MotoMAGX Linux/Java stack, and is equipped with a 2.8-inch touchscreen, accelerometers, and widgets, as well as OK Labs' OKL4 embedded hypervisor.


Motorola A1210 — Mar. 25, 2009 — The Motorola A1210 appears to be an updated version of the popular Motorola Ming, and is likewise aimed at the Chinese market. The GSM/EDGE-ready A1210 offers a larger 2.8-inch screen, and an improved 3.1 megapixel camera.


Yuhua Xphone-SDK — Feb. 24, 2009 — This hardware reference smartphone design from Chinese mobile ODM (original design maker) Yuhua runs the Linux-based Android mobile stack. The Xphone-SDK runs Android on a 624MHz PXA-310 SoC, with 128MB SDRAM and 256MB of flash, and offers a 3-inch screen, tri-band GPRS/EDGE capability, 3-megapixel camera, Bluetooth, and WiFi.

General Mobile DSTL1 — Feb. 23, 2009 — General Mobile's dual-SIM, XScale-based Android cameraphone is based on a design by Yuhua (see entry above). The DSTL1 runs Android on a Marvell PXA-310 clocked to 624MHz, offers WiFi, Bluetooth, accelerometers, and a 5-megapixel camera, and is equipped with dual SIMs and dual baseband radios, enabling simultaneous reception for two different phone numbers.

NEC DoCoMo N-01A, N-02A, N-03A, and N-04A — Feb. 18, 2009 — These four new LiMo-compliant 3G handsets from NEC are available for NTT DoCoMo's HDSPA FOMA network in Japan, supporting up to 7.2Mbps downlinks. The new phones include the DoCoMo Prime series N-01A (pictured), which offers gesture recognition technology, as well as the DoCoMo Style series N-02A (5.2-megapixel camera), DoCoMo Style series N-03A (fashion colors), and business-oriented DoCoMo Smart series N-04A.

Panasonic DoCoMo P-01A, P-02A, P-03A, P-04A, and P-05A — Feb. 18, 2009 — These four new LiMo-compliant 3G handsets from Panasonic are available for NTT DoCoMo's HDSPA FOMA network in Japan, supporting up to 7.2Mbps downlinks. The phones include the double-open format DoCoMo Prime series P-01A (pictured), the DoCoMo Style series P-02A (480 x 854 resolution display), DoCoMo Style series P-03A (OLED sub-display), DoCoMo Smart series P-04A (slim and light), and the no-nonsense DoCoMo Smart series P-05A.

Google Android Dev Phone 1 — Dec. 08, 2008 — The Android Dev Phone 1 is a version of the HTC G1 offered by Google with the SIM- and other hardware unlocked. The Android Dev Phone 1 aims to provide Android developers with real hardware on which to test their applications, and is sold for $400 (or $425 with network member fee).

Kogan Agora — Dec. 04, 2008 — The "first Aussie phone powered by Android," as Kogan Technologies calls it, is sold without a contract to a global market. Both the standard and "Pro" versions of the Kogan Agora run the Linux-based Android phone spec and offer 3G and Bluetooth connectivity, while the "Pro" adds a 2-Mpixel camera, WiFi, and GPS.

Motorola MotoRokr EM35 — Dec. 02, 2008 — Motorola's MotoRokr EM35 is a slider version of the EM30 music phone, and runs MontaVista Linux. The EM35 offers Bluetooth, USB, a 3-megapixel camera, and a haptic scroll interface, as well as music playback that is said to include virtual surround effects.

Qigi i6-Goal — Dec. 01, 2008 — Offered by Qigi Future Technology and TechFaith Wireless for the China market, the i6-Goal is only the second Android phone to be announced. The phone is said to include a 2.8-inch touchscreen, quad-band GSM/GPRS/EDGE, WiFi, GPS, Bluetooth, and a 2-megapixel camera.

Koolu W.E. Phone for Android — Nov. 20, 2008 — Koolu, which offers its own "W.E. Phone" version of the Linux-ready Openmoko Neo FreeRunner, is now offering an Android version of the W.E. Phone/FreeRunner. Like the FreeRunner, the unofficially named W.E. Phone for Android incorporates a 400MHz Samsung S3C2442 (ARM9 core), 128MB of RAM, 256MB of flash, a 2.8-inch 640 x 480 TFT display, tri-band GPRS/GSM cellular, WiFi, Bluetooth, GPS, and accelerometers.

Moto VE66 — Nov. 18, 2008 — Motorola's Moto VE66 cameraphone offers WiFi, GPS, a 5-megapixel camera, an MP3 player, and MontaVista Linux. The VE66 is the first Motorola phone to support the MotoDev Studio for WebUI "widget" platform.
Motorola Krave ZN4 — Oct. 21, 2008 — Motorola's first Linux-based touchscreen phone for the U.S. market is being distributed by Verizon. The Krave ZN4 appears to be an Americanized version of Motorola's Asia-targeted MotoMing A1600, which offers GPS, handwriting recognition, business card scanning with OCR, and a 3.2-megapixel camera.

Emblaze Mobile Edelweiss — Oct. 10, 2008 — Israel-based Emblaze Mobile is selling this large-screen smartphone to the Russian market. Based on a Texas Instruments OMAP3x processor, the "Edelweiss" phone offers an unprecedented 3.5-inch, 854 x 480 touchscreen, plus GPS, WiFi, Bluetooth, HDSPA, micro-USB, and a 3.2MP camera, and runs the Access Linux Platform (ALP) stack.

HTC G1 — Sep. 23, 2008 — The first "Android" phone is manufactured by HTC, sold by T-Mobile, and runs Android software from Google. Selling for only $180, the G1 offers 1GB of flash, a 3.2-inch touchscreen haptic display, a slide-out keyboard, plus WiFi, Bluetooth, and GPS.

Panasonic FOMA P706ie — Sep. 22, 2008 — This LiMo-compliant phone from Panasonic Mobile Communications targets NTT DoCoMo's FOMA network. The FOMA P706ie offers a 3-inch QVGA display, a 2-megapixel camera, a 2GB or 8GB memory card, voice clarification, and video record and playback at up to 15fps.

CRC Openmokast — Sep. 10, 2008 — The "Openmokast" phone prototype from Communications Research Center Canada (CRC) is a physically augmented version of OpenMoko's open-source Neo FreeRunner phone, and is designed for receiving datacasting signals. Along with typical OpenMoko smartphone functions, the Openmokast supports reception of live digital radio, video, and data broadcasts.

Samsung Anycall SCH-i859 "Olympics" — Sep. 03, 2008 — This Samsung Electronics "Anycall" phone is being distributed by China Unicom, and runs the Mizi Prizm mobile Linux stack. Samsung's "Olympics" phone, also called the SCH-i859, is equipped with a Marvell PXA300 processor, a 2.8-inch, 320 x 240-resolution touchscreen, 128MB ROM, 64MB SDRAM, a 3-megapixel camera, USB, Bluetooth, and a MicroSD slot.

Motorola Rokr EM30 — Aug. 05, 2008 — Motorola's LiMo-compliant Rokr EM30 is aimed at "mass-market" music lovers. A lower-cost version of the the Rokr E8 design, the GSM quad-band phone offers the same "ModeShift" technology, which changes with the phone's mode and enables single-click shifts between modes, but has replaced the E8's haptic scroll interface with a traditional four-sided wheel.

Koolu W.E. Phone — Jul. 21, 2008 — A version of OpenMoko's Linux-based Neo FreeRunner distributed by Kooku in the Americas, the U.K., and the European Union, the W.E. Phone adds Google Apps to FreeRunner's software mix.

Motorola MotoMING A1600 — Jul. 08, 2008 — Motorola's Linux-based Ming A1600 offers GPS, handwriting recognition, business card scanning with OCR, and a 3.2-megapixel camera. It replaces the classic A1200, which may have been the best-selling Linux-based smartphone to date.

OpenMoko NeoFreerunner — Jul. 02, 2008 — Billed as a completely open source, hackable hardware platform, the Neo FreeRunner is the first OpenMoko phone intended for widespread use by non-developers. Frequent software upgrades are planned.

Motorola MotoZine ZN5 — Jun. 23, 2008 — A cameraphone that combines Motorola's "ModeShift" interface with Kodak imaging technology, Motorola's MotoZine ZN5 mashes up a 5-megapixel camera with a multimedia smartphone. It uses Motorola's ModeShift soft MMI (man-machine interface), which changes the faceplate's format and function for separate telephony, photo-videography, and media playback modes.

Tranzda Technologies NewPlus TGP-369, TFX-326, TGP-802, TFX-320, and T818 — Jun. 02, 2008 — Shenzhen, China-based smartphone design company Tranzda Technologies has five phone designs that use its NewPlus Linux phone application stack. All five include GPS, along with optional features that include WiFi, cameras, and biometric fingerprint authentication.

Motorola MobileTV DH02 — Mar. 31, 2008 — Further blurring the lines between cellphones and portable media players (PMPs), Motorola's MobileTV DH02 adds a 3G (HDSPA/GPRS) mobile phone, GPS, and a larger 4.8-inch, 480×272 display to its DH01 PMP. Like the DH01, the touchscreen-enabled DH02 can receive and record video broadcasts in DVB-H format (digital video broadcast, handhelds), and offers gesture-based UI, Bluetooth, and voice-assisted navigation software.

Motorola U9 — Feb. 11, 2008 — Announced as part of the first wave of 18 LiMo-compliant models, the Motorola U9 boasts a rounded, contemporary flip-phone form factor. The U9 supports Quad-Band GPRS Class 12/EDGE Class 12 service, and is equipped with Bluetooth, a USB port, and both a 2-inch QVGA internal TFT display and an OLED-based 1.45-inch external display.

Mizi Prizm/Mobile — Feb. 04, 2008 — This mobile-phone reference design from Korea-based Mizi Research is based on its Linux-compatible "Prizm" phone stack. Designed for low-cost phones, the Mizi Prizm/Mobile design supports CDMA, GSM, GPRS, and Edge cellular protocols, with plans for adding TV and GPS support.

Purple Labs Purple Magic — Jan. 31, 2008 — This LiMo-compliant reference design from French mobile Linux phone stack firm Purple Labs is based on NXP Semiconductors's Nexperia 7210 system-on-chip (SoC) reference design. The sub-$100 Purple Magic offers 3G cellular service and runs Linux and a telecom RTOS on a single ARM9 core, thanks to embedded virtualization technology from VirtualLogix.

Motorola Rokr E8 — Jan. 10, 2008 — The Rokr E8 is Motorola's first phone with a soft MMI (man-machine interface) that changes with the phone's mode. The quad-band GSM/GPRS phone has a 2-megapixel camera, multi-codec music player, a "full" HTML browser, and unique "haptics" system aimed at providing "tactile response" to virtual keypresses.

Wistron NeWeb PDA and Dual Net Phone-GW4 — Jan. 8, 2008 — Wistron NeWeb Corp. (WNC) is showing a hybrid GSM/VoWiFi phone that runs Linux. The PDA and Dual Net Phone-GW4 boasts a 2.5-inch touchscreen and a full QWERTY keyboard.

OpenMoko Neo FreeRunner — Jan. 3, 2008 — Open source phone company OpenMoko will ship a new version of its user-modifiable Linux-based mobile phone next year. The "Neo FreeRunner" resembles OpenMoko's original Neo1973 model, but with WiFi, 3D accelerometers, and a faster processor, as well as a consumer market focus, according to the company.

Motorola RAZR2 V8 — Aug. 7, 2007 — Motorola started shipping its first Linux-based mobile phone "bound for North America," it said. The RAZR2 V8 is a highly multimedia-oriented phone, with features such as the Windows Media Player 11 codec, a USB 2.0 interface supporting "high speed" (480Mbps) file transfers, and a "music touchscreen" on the external display.

OpenMoko Neo1973 — Jul. 9, 2007 — A project to build an open, user-extensible Linux-based mobile phone has opened its online store for business. About 1,000 OpenMoko Neo1973 phones are available initially, primarily targeting hackers and developers. Like Apple's iPhone, the Neo1973 eschews hardware buttons in favor of a touchscreen. Its 2.8-inch TFT touchscreen has a resolution of 640 x 480 (VGA)double that of the iPhone's.

Tranzda PM328 — Mar. 15, 2007 — A Linux-based phone with mapping and voice navigation capabilities has gone on sale in China. The Tranzda PM328 can help users locate nearby businesses, such as restaurants and gas stations, and then guide them to their destination with voice prompts. The Tranzda PM328 has a thin form-factor just 0.6 inches (16mm) thick, and includes a USB port and a Bluetooth radio.

Accton VM3228T — Mar. 7, 2007 — Taiwan-based phone designer and manufacturer Accton Technology Corp. is marketing a Linux- and Qtopia-based dual-mode phone design said to support both quad-band GSM and 802.11b/g networks. The VM3228T offers rich multimedia capabilities, and features seamless cellular/WiFi switch-over based on 3GPP standards, says Accton.

Grundig B700 — Mar. 2, 2007 — Less than two weeks after launching its Linux-based "single core" U900 phone aimed at the mid-range market, Grundig Mobile has introduced another Linux-powered smartphone. The B700 targets enterprise users with a full hardware QWERTY keyboard and push email, similar to RIM's Blackberry.

Gupp Phreedom — Feb. 26, 2007 — A startup in Penang, Malaysia is readying a Linux-based dual-mode WiFi GSM/GPRS phone expected to ship in Q2. Gupp Technologies's "Phreedom" phone boasts a Treo-style QWERTY keyboard, a 2.5-inch QVGA color screen, and VoWiFi (voice-over-WiFi) capabilities based on the SIP standard.

Grundig U900 — Feb. 23, 2007 — Grundig Mobile has launched a Linux phone based on a single-core, single-chip architecture, long considered to be the "holy grail" of modern handset technology. The U900 runs Linux and an RTOS (real-time operating system) on an NXP ARM9-based SoC (system-on-chip), using VirtualLogix platform virtualization technology.

Infineon MP-Elite — Feb. 14, 2007 — Infineon, Comneon, and FSMLabs demonstrated a working prototype of a single-core mobile phone, making real calls on an Edge network, at the 3GSM World Congress this week in Barcelona. The partners claim their MP-Elite phone to be the first at its price point to run Linux.
.

Motorola MotoRIZR Z6 — Feb. 12, 2007 — Motorola is showcasing its Linux and "kJava" based music phone for U.S. and European markets, at the 3GSM World Congress this week in Barcelona. The MotoRIZR Z6 is said to be based on a "new Linux operating system that incorporates kJava."

Motorola Rokr E6 (aka E690) — Dec. 1, 2006 — Taiwanese pop superstar Jay Chou launched Motorola's thin, Linux-powered Rokr E6 multimedia phone, at the ITU Telecom World tradeshow in Hong Kong. The fourth-generation music phone is just over half an inch thick (14mm), and features a 2-megapixel camera and business card reader.

FIC Neo1973 — Nov. 1, 2006 — The first phone based on the open source OpenMoko platform, the Neo1973 is an unlocked GSM/GPRS phone with built-in GPS receiver, ultra-high resolution display, and user-modifiable Linux-based firmware.

E-Ten G500 — Nov. 1, 2006 — Linux is running on E-Ten's G500, a PDA/phone with integrated GPS that ships with Windows Mobile. Along with the kernel, the EtenG500 Linux project has HaRET (handset reverse-engineering tool) and the GPE palmtop environment working, opening the door for volunteers to enhance the device's Linux stack.

Samsung/ Eidicom Qtopia Phone design — Oct. 1, 2006 — Samsung and Eidicom have created what appears to be a Linux-based dual-mode camera-phone reference design incorporating Trolltech's Qtopia Phone Edition (QPE) UI and application platform. Photos of the device and its development kit were published by Korean news outlet AVING.net.

D-Link V-Click — Oct. 1, 2006 — An unlocked, dual-mode WiFi and GSM/GPRS phone, the "V-Click" appears to be a rebranded Linux- and Qtopia-based design created by Taiwanese ODM (original design manufacturer) Wistron NeWeb Corp. (WNC). It will ship in Q1, 2007.

NEC N902iX — Aug. 24, 2006 — The N902iX phone works with DoCoMo's 3.5G HSDPA network, and is capable of peak download speeds of 3.6Mbit/sec. It has a bevy of music, security, camera, and other features that U.S. and European users can only dream of.

Trolltech Qtopia Green Phone — Aug. 18, 2006 — The "Greenphone" features a user-modifiable Linux OS, and is meant to jumpstart a third-party native application ecosystem for Linux-based mobile phones around Trolltech's Qtopia development framework and graphics stack. The phone is made by Yahua TelTech.

Samsung SGH-i858 — Aug. 1, 2006 — A new Linux-based phone for subscribers of China Mobile's "Go-Tone" GSM/GPRS service, the Samsung SGH-i858 features a large, 2.4-inch QVGA (240 x 320) color touchscreen, along with a slide-out hardware keypad. It runs version 2.5 of Mizi's "Prizm" Linux phone stack.

Motorola SCPL — Jul. 27, 2006 — The Scpl ("scalpel") is the successor to Motorola's ubiquitous Razr phone, and is due in Oct. 2006. Starting with the Sclp, Motorola will abandon the proprietary "P2K" OS used in the Razr and other currently or soon-to-be shipping models, such as the Rizr, Krazr, and RazrMaxx, in favor of a Linux-based OS, it says.

Motorola Rokr — Jul. 14, 2006 — Motorola's third-generation music phone, the Rokr E2 uses Motorola's new keypad-driven "chameleon" OS. It has lots of other neat features, too.

Neuf Twin — Jun. 20, 2006 — The first dual-mode WiFi/cellular phone available in France, Neuf's Linux-based "Twin" phone draws praise for its small size, PDA-like features, and responsive, simple user interface.

Panasonic P902iS — Jun. 5, 2006 — Panasonic is shipping another Linux-based mobile phone to NTT DoCoMo, for use with DoCoMo's FOMA ("Freedom of Mobile Multimedia Access") 3G network. The P902iS is compatible with DoCoMo's Chaku-Uta music download service, and supports 2GB miniSD cards for storage of up to 1000 songs.

Grundig G500i — May. 15, 2006 — The Grundig G500i Dreamphone is the first Linux-based iMode phone available in Europe, and the first of several planned Linux-based models from Purple Labs. Purple Labs developed the phone over the course of two years, and it is available in France today for as little as $13, with a calling plan. Read all about the process, in our exclusive interview with COO Jean-Marie Andre.

Samsung SCH-i819 — May. 8, 2006 — Samsung has shipped a new Linux-based smartphone in China. The SCH-i819 targets Chinese business travelers, and is the first Linux phone to support dual-band cellular operation with both CDMA 1x (800MHz) and dual-band GSM (900/1800MHz) networks, according to Mizi Research, which supplied the phone's Linux stack.

ImCoSys dual-mode GPS smartphone — Feb. 23, 2006 — A dual-mode Linux smartphone that also integrates a GPS (global positioning system) receiver, WiFi, and Bluetooth, the ImCoSys smartphone is a quad-band GSM design with a PDA-like form-factor.

Haier N60 — Feb. 22, 2006 — A tri-band GSM/GPRS Linux cameraphone that supports WiFi and Bluetooth through an SDIO interface. Has a QVGA (240 x 320) color touchscreen, a 1.3 megapixel camera, and an integrated MP3 player.

Panasonic P901iTV — Feb. 21, 2006 — A Linux-based mobile handset capable of receiving digital or analog television, the "P901iTV" features a pivoting 2.5-inch color LCD. It works with NTT DoCoMo's 3G network in Japan, where digital TV services will launch this spring, DoCoMo says.

G-Tek PWG500 — Feb. 16, 2006 — A very basic, simple, dual-mode WiFi/quad-band GSM/GPRS phone that can provide Internet access to PCs and PDAs connected via USB or Bluetooth, the PWG500 can also provide "seamless roaming" between WiFi and mobile networks, when used with LongBoard's FMC software.

E28 FMC phones — Feb. 14, 2006 — Linux smartphone pioneer E28 Limited has partnered with fixed-mobile convergence (FMC) infrastucture equipment pioneer Bridgeport Networks to demonstrate 3G/WiFi live-call handoff, at 3GSM this week in Barcelona. The joint technology uses Linux extensively, and offers operators a standards-based dual-mode package based on devices with feature-phone pricing.

Accton VM1188T — Feb. 13, 2006 — A peer-to-peer WiFi VoIP phone from Taiwanese ODM Accton, the VM1188T phone will enable "anyone with an Internet connection" to place "free, high-quality phone calls," Accton claims, without booting up a computer.

Samsung SGH-i858 — Jan. 15, 2006 — A Linux-based mobile phone with a "slider" style case, the SGH-i858 is a GSM phone that has been submitted to the FCC for possible sales in the US. It features a QVGA (320×240) color touchscreen, bluetooth, IrDA, TV out, and microSD storage.

Wistron NeWeb GW1 — Jan. 5, 2006 — A dual-mode cellular/VoIP phone that appears to be based on Linux and a branded version of Trolltech's Qtopia Phone Edition (QPE), The GW1 from Taiwanese ODM Wistron NeWeb Corp. (WNC) was reportedly demonstrated the 2006 Consumer Electronics Show (CES) in Las Vegas.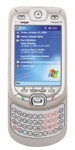 HTC Blue Angel / Xanadux — Jan. 3, 2006 — A Windows CE PDA phone that is making and receiving phone calls under Linux, thanks to work done by the Xanadux project.

NEC N902i — Oct. 28, 2005 — A four-megapixel camera phone based on a CCD (charge-coupled device), with an image stabilization feature claimed to reduce blurriness in low-light settings, the N902i has a 2.5-inch "QVGA+" (325 x 240) LCD main display supporting 262K colors, as well as a 1-inch, 120 x 90 sub display supporting 65K colors. The phone has a MiniSD card slot, for storing photos and other user files.

Panasonic P902i — Oct. 28, 2005 — Panasonic's P902i aims to appeal to music lovers, with music jukebox software and support for BlueTooth headphones. An available 1GB MiniSD card can store about 250 songs, the company says. Users can change sound quality settings on the fly, and purchase music from online providers.

Cellon Int'l C8000/Philips CT9688 — Oct. 20, 2005 — Cellon claims to be the "world's largest independent design house for wireless devices." It used embedded Linux to build its top-of-the-line smartphone platform, the, C8000, which has already shipped in Europe under a major brandnameprobably the Philips CT9688, pictured at left.

TCL e787 — Sep. 6, 2005 — A high-end dual-band GSM/GPRS smartphone that features a 2MP camera, Bluetooth, multimedia players, an Internet phonebook feature, PC synchronization, and a document viewer from Picsel Technologies.

Longcheer/Oswin Linux PDA phone — Aug. 18, 2005 — A PDA phone to be jointly developed by a Chinese mobile phone hardware vendor and a Singaporean smartphone and PDA phone designer.

Motorola A728 — Jul. 27, 2005 — A cost-optimized version of Motorola's earlier A760i and A768i (which in turn are tri-band versions of the dual-band A760 and A768, respectively). Like those devices, the A728 is a tri-band 900/1800/1900 GSM phone certified as conforming to the European Union's Radio and Tecommunications Terminal Equipment (R&TTE) Directive. Unlike the A760i and A768i, however, it lacks Bluetooth, and has only a WAP2 browser. It has been available in China since Q2, 2005, Motorola says.

Motorola A732 — Jul. 27, 2005 — A tri-band GSM/GPRS phone with several features aimed at heavy text message users, including a slide-out keypad that doubles as a finger-driven input pad that recognizes Chinese or Roman characters. The A732 is expected to ship in Q3, 2005.

Motorola A910 — Jul. 27, 2005 — A new high-end Motorola Linux phone, the A910 includes built-in WiFi, along with UMA (Unlicensed Mobile Access) features aimed at providing seamless access to GSM and GPRS features over WLAN, on supported carrier networks.

ZTE e3 — Jun. 27, 2005 — A dual-band GSM phone with a unique pivoting touchscreen, from one of China's largest telecom equipment makers. ZTE's e3 has strong multimedia and video capabilities, along with handwriting recognition and Chinese-English translation software. It includes a 1.3 megapixel camera, supports numerous multimedia formats, stores up to 10 hours of MP3s, and boasts an Opera web browser with small-screen rendering technology.

Motorola E895 — Jun. 27, 2005 — A tri-band GSM Linux/Java phone targeting Asian markets, the E895 has a 1.3 megapixel camera, large TFT/LCD display, Bluetooth, and rich Internet, multimedia, and web capabilities, Motorola says.

Motorola E680i — Apr. 11, 2005 — A Linux-based MP3 player and cameraphone that support stereo bluetooth audio connectivity, an improved interface with full HTML browser, and user-upgradable storage.

Yulong Coolpad 858 — Apr. 8, 2005 — A GSM/CDMA phone from an ODM in Shenzhen, the Coolpad is based on Qtopia Phone Edition and runs a Linux-derived OS called LinuOS.

Siemens Concept Device — Mar. 21, 2005 — A digital video broadcast receiver that downloads programming over a cellular network, the Siemens concept device can also be used to make calls.

Samsung Qtopia — Mar. 20, 2005 — A Linux-based phone, that's apparently based on the same hardware as the older SCH-i519, but which runs Qtopia Phone Edition, an off-the-shelf Linux application environment for mobile phones that shipped in May, 2004. The Samsung phone also supports UWB (ultra wideband) networking.
.

ROAD Handy-PC — Feb. 18, 2005 — Flipping the Model S101 "Handy-PC" open reveals a keyboard and screen for interacting with computer applications. Flip it closed again, and it's a GSM phone. The device is based on a 400 MHz Intel XScale PXA263 processor running a Linux 2.6 kernel along with Trolltech's Qtopia graphical user interface and PIM suite. It comes with 64 MB of RAM and 64 MB of flash memory, measures 128 x 60 x 25 mm, and weighs in at 210 grams.

Motorola A1200 — Jan. 9, 2005 — A slim, lightweight flip-phone design similar to Motorola Razr phones, the A1200 was debuted by fashion designer Vivienne Tam at a Dec. 26 Shanghai press event. It has been registered with the FCC, suggesting it may soon reach the US.

Motorola Rokr E2 music phone — Jan. 3, 2005 — Motorola's second-generation music phone for US customers is based on Linux, and features USB 2.0, a normal (non-iTunes) mp3 player, built-in FM radio, and SD card storage.

NEC N900iL — Nov. 19, 2004 — NTT DoCoMo and its regional subsidiaries are offering business subscribers a dual-network 3G/VoIP handset that works as a 3G mobile phone, VoIP (voice-over-IP) terminal, or both simultaneously. The N900iL is based on a Linux-based 3G mobile phone software platform developed jointly by NEC and Panasonic.

Datang 3G Linux phone reference design — Nov. 11, 2004 — China's government-owned TEM (telecommunications equipment manufacturer) has developed a 3G Linux mobile phone reference design, expected to appear in products in mid-2005. Datang's Linux phone design works with networks based on TD-SCDMA, a 3G technology largely invented by Datang, which may see use outside China.

Yahua TelTech "Normandy" — Sep. 27, 2004 — A Chinese ODM (original design manufacturer) will ship a mobile phone based on Linux and Qtopia in Q1 of 2005. Yuhua TelTech's "Normandy" phone will use Qtopia Phone Edition (QPE), an application stack for mobile phones that includes a PIMS and other PDA-like features.

E28 E2800+ — Aug. 10, 2004 — Shanghai-based E28's e2800+ has been available in China since July, and builds upon E28's previous e2800 model, which was the world's first commercially available Linux smartphone, E28 says. The device, which targets business users, currently features dual-band 900/1800MHz communications, a GPRS/CSD modem, and a 300K pixel camera. A model that supports US communications standards at 900/1800/1900MHz is set to be launched shortly.

Motorola A780 — Jul. 29, 2004 — US mobile phone customers will at last gain the option of a Linux-based handset later this year, when operators begin offering a high-end Motorola Linux/Java smartphone aimed at business professionals. The A780 will roll out globally in early Q4, reaching select US regions before 2005, according to Motorola.

Wildseed mobile phone — May. 12, 2004 — This Linux-based wireless phone combines communications and entertainment in a uniquely customizable two-part design. The company plans to initially aim the device at the U.S. "teen market", by offering a colorful phone with "cool teen-oriented capabilities". It's built around an XScale microprocessor running Linux kernel 2.4.x. Clip-on "SmartSkins" provide customized look and feel, games, MP3 player, and more. Launch: July, 2004.

Motorola E680 — Mar. 9, 2004 — The E680, expected in late 2004, will include built-in stereo speakers and will download music and other multimedia files over USB, Bluetooth, or a cellular phone link one third the speed of a typical home DSL connection. MPEG4-enabled camera with 8x zoom, Java, and many PDA-like features.
Motorola A768 — Feb. 19, 2004 — A Linux-powered smartphone targeting enterprise customers now shipping in China. The A768 is essentially a revision of Motorola's first Linux-based smartphone, the A760, with new VPN, video, and other capabilities.

Samsung SCH-i519 — Dec. 16, 2003 — Samsung has begun shipping a new Linux-powered smartphone in China. The Samsung SCH-i519 smartphone supports both Chinese and English, and works with the CDMA2000 1x network of China's #2 wireless provider, Unicom. The device features voice control, a powerful 400MHz XScale PXA255 processor, and a Linux OS and software suite from Mizi Research. Our Device Profile features extensive details and many screenshots.

E28 E2800 — Dec. 14, 2003 — A Chinese company based in Shanghai named "E28" has quietly been selling Linux-based smartphones in China since August, and today launched its Linux device in Hong Kong. The company also claims to be in talks with US and European companies to bring the device to those regions, according to one source. E28's E2800 smart phone sells for about $600, and targets business users, offering PDA functions, touch-screen, handwriting recognition, a camera, and memory expansion to 512MB through an SD memory card.

Motorola A760 Linux/Java handset/PDA — Feb. 14, 2003 — This initial Motorola Linux/Java handset offering combines the functions of a mobile phone, PDA, digital camera, video player, MP3 player, speakerphone, messaging, Internet access, and Bluetooth wireless technology. Motorola will initially launch the A760 handset in Asia in 2003.

Telepong mobile phone — Nov. 15, 2001 — Currently under development, this device is aimed at the Euro "tweens market". It runs on a Linux-based operating system and has a built-in GPRS module, a 65K color display, and provides a WAP 1.2.1. compliant browser. It is EMS enabled and comes with a camera interface and a joy stick for embedded games.

Ericsson cordless webpad/phone — Nov. 6, 2000 — This device (formerly called the HS210 Cordless Screen Phone), is basically a wireless webpad with a built-in telephone and Bluetooth wireless technology for in-home use. It can surf the web, check email, send voice clips, and make phone calls.
---
Talk back!
---
Questions? Comments? talkback here!

This article was originally published on LinuxDevices.com and has been donated to the open source community by QuinStreet Inc. Please visit LinuxToday.com for up-to-date news and articles about Linux and open source.