Aug 18, 2008 — by Eric Brown — from the LinuxDevices Archive — 5 views

A new netbook for European schools runs Linux on a Chinese-designed processor. With a generous 10-inch, 1024×600 display, the 2.4-pound Emtec Gdium boots Mandriva Linux from removable USB flash keys, running it in 512MB of DDR2 RAM on a 900MHz Loongson-2F processor made by STMicroelectronics (ST).
(Click for larger view of the Gdium)
The Gdium's Loongson 2F processor is manufactured by ST, which licenses the design from China's Institute of Computing Technology (ICT), a government-sponsored think-tank aimed at helping China compete in the global chip market. With features such as DDR2 memory support and USB 2.0, the "2F" model succeeds a "2E" model used in network computers and mini-PCs. First unveiled in 2005, the Loongson 2 (formerly "Godson-2") processor uses the MIPS64 architecture, less patented portions such as unaligned 32-bit load/store support.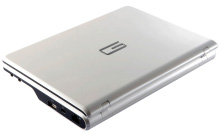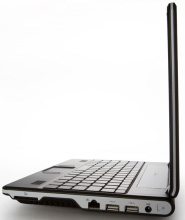 Two views of the Gdium
(Click on either to enlarge)
The Gdium is among the first devices announced on the "2F" Loongson chip. Another is the "Jisus" netbook announced earlier this year by Dutch integrator Van Der Led (VDL). The Jisus also runs Linux.
Emtec says it plans to produce a whole line of Gdium-branded netbooks that will "primarily" target the European education and consumer markets. The initial Gdium model, expected in September, will be available in pearl white, pink, and black. It will boot from a removable 8GB or 16GB "G-Key" storage device, which plugs into a front-mounted USB slot "without protruding," says the company.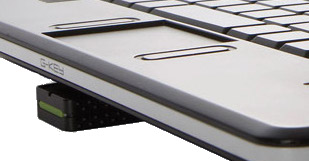 The Gdium boots from a G-Key
(Click to enlarge)
The G-Key is touted as offering an easy approach to system security, while also making it easier for multiple users to share a system and load up their own customized software and settings. Internet backup is offered in case the key is lost. And, additional storage can be added via SDHC (secure digital high capacity) cards up to 32GB, or through additional USB storage keys. Due in part to its lack of a hard drive, the Gdium measures a slim 9.8 x 7.2 x 1.3 inches, and boasts a four-hour claimed battery life.
The G-Key comes standard with "Mandriva G-Linux." Similar to Mandriva for Classmate PCs, used on Intel's Classmate PC, G-Linux has been optimized both for USB booting, and for the Loongsoon CPU, Gdium says.
The Gdium's preinstalled, open-source Linux software includes Open Office, Firefox, Thunderbird email, instant messaging, VoIP, and a "blog editor," says Emtec. The system is said to support file sharing, MP3 playback, on-line radio, and podcasts, as well as anti-virus and anti-spam utilities. Other software includes ClamAv, The Gimp, and Scribus.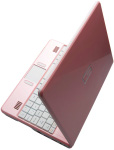 Gdium in pink
(Click to enlarge)
The Gdium preloads an educational software suite that is said to offer digital map-making, MP3-based language learning, and mathematical situation analysis. Also planned is a "Gayaplex" website that will offer multimedia education resources "produced and signed" by accredited teachers, says Emtec. The site will also provide email, chat, social networking, blogs, and forums, says the company. It was unclear which languages the content will support, or which educational systems it might target. However, the software appears to have been developed closely with the France-based Mandriva community, and the Gdium unit's management appears to be French as well.
Specs for the Gdium include:
Processor — Loongson 2F 900Mhz manufactured by STMicroelectronics
Memory — 512MB DDR2
Flash storage — 8GB or 16GB flash G-Key
USB — 3 x ports (one used for G-Key). No USB 2.0 support is claimed, although the 2F in theory supports it
SD — 1 x SD HC port
Display — 10-inch, 1024 x 600 LCD powered by Silicon Motion SM502 (16MB RAM)
Networking — 10/100Mbps Ethernet (RJ45)
WiFi — 802.11 b/g
A/V — sound card; speakers; mic; webcam; VGA out
Power — AC/DC Adapter and battery (4-hour duration)
Dimensions — 9.8 x 7.2 x 1.3 inches (250 x 182 x 32mm)
Weight — 2.4 lbs (1.1 kg)
Operating system — Mandriva G-Linux
Future products planned for the Gdium line are said to include G-Keys offering customized software installs, as well as an external "G-Drive," which will provide hard disk storage and a multimedia docking station. Other planned peripherals include Bluetooth and DVBT dongles, and branded hubs, headsets, speakers, a mouse, and traveling bags. Later this year, Emtec/Gdium plans to announce a version of the netbook with a smaller 8.9-inch screen.
Availability
The Gdium will be available for $450 US (8GB) or $480 (16GB) in September, says Emtec.
For a guide to other Linux netbooks, see our regularly updated Linux Netbooks Showcase.
---

This article was originally published on LinuxDevices.com and has been donated to the open source community by QuinStreet Inc. Please visit LinuxToday.com for up-to-date news and articles about Linux and open source.