Oct 17, 2008 — by Eric Brown — from the LinuxDevices Archive — 31 views

Envizions has announced an "open source hybrid Linux gaming system" aimed at game developers. The EVO Smart Console is based on a 2.9GHz, 64-bit Athlon, includes its own Linux distro called Mirrors Evolution, and offers game-play, Internet access, VoIP, and HD video playback, Envizions says.
(Click for larger view of EVO Smart Console)
Marketed with the 1950's-era tag line of the "System of Tomorrow," the EVO Smart Console will sell for as little as $250 with rebates. It will offer "cloud" based computing applications, Amiga-based games, and an Akimbo-based VOD (video on demand) service with over 10,000 titles, says Alabama-based Envisions Computer Entertainment Corp.
Additional EVO Smart Console features include remote access, voice recognition, DVR, Internet television, HD video, social networking, streaming content, VoIP, and automatic backup storage, says the company. A virtualization capability is said to support running an authorized copy of Windows alongside Linux. In fact for $100 extra, the company will pre-install Windows on the Linux computer.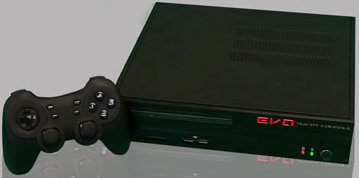 EVO Smart Console
The EVO is built around a quad-core Athlon 64×2 5600 clocked at 2.9GHzm, with an ATI HD 3200 graphics chipset and 2GB of DDR2 RAM. It is said to support 1080p video resolution, says Envizions. The system is equipped with dual Ethernet and USB ports, a game controller, a 120GB or 250GB hard drive, plus "virtual unlimited online cloud storage."
Features that appear to match the "system of tomorrow" slogan include a customized liquid cooling system and a biometrics security system that supports facial, voice, and fingerprint scans. The system is also is said to offer a voice-enabled Media Center Communicator function for playing music and controlling other media functions.
The initial November release of the EVO Smart Console will be geared toward "game developers, open source users, and earlier adopters," says the company, which says a consumer roll-out is expected sometime next year. The box will initially ship with Fedora 8 or Envizions's own Fedora-based Mirrors Evolution Linux distro, "if the beta version is stable enough," said Derrick Samuels, CEO and founder of Envizions, in an interview.
"Mirrors Evolution is a modified version of Fedora 8," said Samuels. "Over time, we're going to keep making adjustments to it to make it into a robust Linux gaming platform."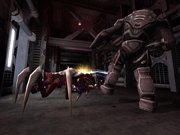 EVO-Direct games: (left to right) World of Padma, Tremulous,and Alien Arena
Mirrors Evolution is tailored for use with the company's various online "cloud" services, not all of which will be available at launch. These include its PitchBuzz.com social network and a 28-channel NVE TV Internet TV station. Gamers, meanwhile, can download games from the company's EVO-Direct site of Amiga-based games.
The main focus of the distribution, however, is as a gaming development platform. Mirrors Evolution will enable developers to build "the first Linux HD games," claims the company.


OpenPandora's Pandora
(Click for details)
Mirrors Evolution is said to open up access to the company's EVO Network, which enables teams of game developers, artists, musicians, and other content developers to securely collaborate and implement projects. The distribution includes a modified version of the open-source Crystal Space Engine 3D for developing games, movies, and graphic designs. The software also comes with built-in game-lockout code for customizing games.
As with OpenPandora.org's Linux-based Pandora gaming platform (pictured), EVO developers can write their own EVO-based games using open-source code and post the games on the site, says Samuels. However, the company is also setting itself up to produce the best games that are showcased, and is planning to distribute, monetize, and promote select games.
"We want to give Linux game developers a chance to make some money," said Samuels.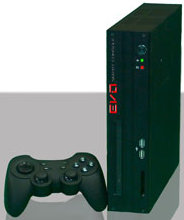 EVO Smart Console
Currently, the development tools are limited to the tools available normally with Fedora, as well as the Crystal Space platform. However, Samuels says he expects to make additional tools available in the future.
Specifications listed for the EVO Smart Console include:
Processor — AMD Athlon 64×2 5600 clocked at 2.9GHz
Graphics processor — ATI HD 3200
Memory — 2GB DDR2
Display — supports 1080i and 1080p/HDCP resolution; ATI HD 3200 Chipset
Video codecs — H.564 VC1; MPEG2
Video output — DVI; HDMI
Storage — 120GB or 250GB hard drive, plus online cloud storage (10GB free)
Peripherals — CD/DVD ROM; biometric scanner
Networking — 2 x 10/100 Ethernet
USB — 2 x USB 2.0
Dimensions — 11.8 x 2.6 x 10,7 inches (300 x 65 x 273mm)
Operating system — Fedora 8 with option to convert to Linux-based Mirrors Evolution distro; virtualized Windows install optional
Availability
The EVO Smart console will soon be open for pre-orders, with shipments beginning Nov. 20th, says Envizions. The Linux-based system will retail for $600, with a subsidized rebate plan that brings the price down to $250.
The Nov. 20th launch will consist of hardware "with chosen features," and will be limited to 500 to 1,300 units available for the U.S. and Canada. The second release will come sometime in 2009, and will include additional software downloads from the Envisions "cloud," says the company.
The system comes with Fedora 8, but users can upgrade to Envizions's Mirrors Evolution Linux distribution, and can purchase the system pre-loaded with Microsoft Windows for an additional $100. Each Mirrors Evolution distribution comes with 10GB of free storage and one year of basic Envizions VoIP service, including a phone number, says the company. Envizions does not list the monthly prices for additional storage and other online features, but says that it will offer a bundling discount deal that combines VOD, VoIP, gaming, storage, and in certain states, even the company's own DSL broadband service.
---

This article was originally published on LinuxDevices.com and has been donated to the open source community by QuinStreet Inc. Please visit LinuxToday.com for up-to-date news and articles about Linux and open source.