Jan 9, 2008 — by Eric Brown — from the LinuxDevices Archive — 13 views
Trolltech has announced a new spin on its Qtopia software stack for Linux-based devices. The as-yet unnamed Qtopia stack has a nifty unified messaging application stack acquired with Fonav, and will be supported initially by a VoIP, IM, and email-enabled kitchen communication center reference design from semiconductor giant Broadcom.
Trolltech's new Qtopia stack uses a unified messaging application stack acquired with Trolltech's June acquisition of Fonav. A vendor of Linux-based unified messaging software, Fonav originally wrote its stack atop Qtopia, and former Fonav CEO Ram Fish now serves as Trolltech's GM of VoIP.
The Fonav-supplied stack is said to provide a highly unified inbox, with a single interface handling a variety of standards-based communications protocols, including:
Integrated SIP (session initiation protocol) VoIP messaging
Jabber (XMPP) for instant messaging
POP3 and IMAP email
Presence-based address book aimed at letting users control how and when they reach others, and are themselves reachable
The Fonav messaging software reportedly supports WEP/WPA security, with support for hardware cryptography found in select processors. Another neat feature is said to be automated hotspot authentication for selected wireless ISPs.
According to Fish, the new platform is devoted to IP phones and other connected home consumer devices, whereas Trolltech's Qtopia Phone Edition (QPE) will continue to be targeted at the mobile phone market. "There are more and more intelligent devices in the home," he said in an interview, "and every appliance is going to have WiFi connectivity. The new platform will be aimed at just such devices."
In the weeks to come, Trolltech plans to reveal more details about the new platform, it said. Meanwhile, chip giant Broadcom has announced a futuristic kitchen communications center reference design to be based on the new Qtopia VoIP stack.
Broadcom's Multimedia IP Starpoint
The Trolltech/Fonav technology is the default software development environment for Broadcom's new VoIP platform, said Fish. The platform, called Multimedia IP Startpoint, primarily targets kitchen communications centers, with possible future evolution to office versions. It will include "giant touch screens, video calls, and widgets for traffic, weather, and recipes," a Trolltech representative said.
The Broadcom design is based on Broadcom's BCM1103 VoIP processor and VideoCore II-based BCM1180 multimedia co-processor. It aims to provide unified communications for integrating voice, two-way H.264 CIF videoconferencing, and visual/text messaging, while also providing web access.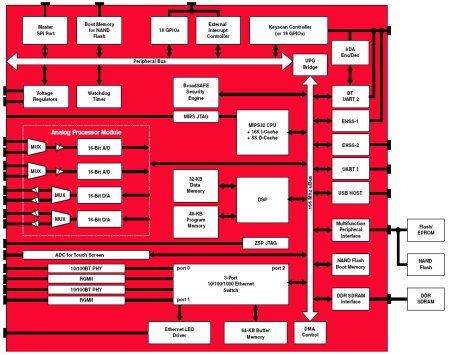 Broadcom's BCM1103
(Click to enlarge)
According to Broadcom, the Qtopia stack combined with its two integrated processors will enable IP phones with integrated GbE switching and other features that support improved voice quality, guaranteed voice security, and demanding multimedia applications. Broadcom's BCM1103 (see block diagram above) is dedicated for use with IP phones. It features an integrated MIPS-based processor, a digital signal processing (DSP) processor, a Gigabit Ethernet (GbE) switch, and Fast Ethernet physical layer devices.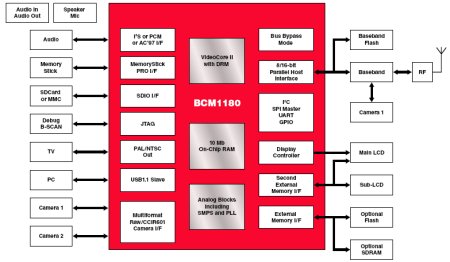 BCM1180 video and multimedia processor
(Click to enlarge)
The
BCM1180
video/multimedia co-processor processor (see block diagram above) combines video and audio processing, polyphonic sound synthesis, an LCD controller, and SRAM on a single chip. The BCM1180 is software compatible with its VideoCore family, says the company, thereby accelerating development and providing backward compatibility for applications software.
Over the last year, Broadcom has released several mobile phone SoCs aimed at the Linux market, but these appear to be its first processors targeted for the Linux-based IP phone market.
Stated Martyn Humphries, Broadcom's VP and GM for VoIP, "With Trolltech's ability to provide the development tools and frameworks, we enable our customers to provide high functionality Multimedia IP Startpoint devices and a great user interface to the market more rapidly."
More about Qtopia
Trolltech's Linux-based Qtopia Platform is based on Qtopia Core, its general-purpose embedded application framework, formerly known as Qt/Embedded. The Qtopia Platform features a replaceable open source SQLite database, a secure application sandbox environment, and application management features such as multi-tasking and quick-launch start-up. The platform also enables the integration of Java applications with a "native look and feel," says Trolltech.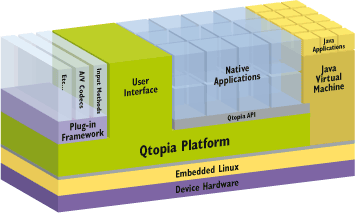 Trolltech's Qtopia Platform
Built on top of the Qtopia Platform is the popular Qtopia Phone Edition (QPE), an application platform and user interface for Linux-based mobile phones that offers pre-integrated applications. In August, QPE version 4.0 won the LinuxWorld Conference and Expo Product Excellence Award for "best application development platform and tool."
Availability
Broadcom did not provide details on the pricing and availability of the Multimedia IP Starpoint.
---

This article was originally published on LinuxDevices.com and has been donated to the open source community by QuinStreet Inc. Please visit LinuxToday.com for up-to-date news and articles about Linux and open source.