Feb 1, 2008 — by LinuxDevices Staff — from the LinuxDevices Archive — 1 views

The Mozilla Foundation has released prototype user interfaces (UIs) for its upcoming mobile version of Firefox, and is seeking comments. While not final, these UIs could easily be incorporated in the final product, according to a blog post by Mozilla developer and project lead Doug Turner.
The Foundation has previously said that the mobile version of Firefox — which will run on Linux and Windows Mobile — will use the same core Gecko 1.9 rendering engine as its desktop sibling, and be compatible with many Firefox extensions. According to another posting by Mike Schroepfer, VP of engineering, the yet-to-be-named mobile product will ship after Firefox 3.0 for desktop computers, currently being beta-tested. As such, it will incorporate some of Firefox 3's new capabilities, including Places, a new system for storing bookmarks, history, and other information about pages.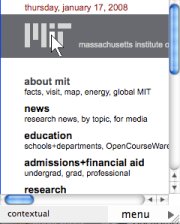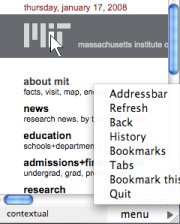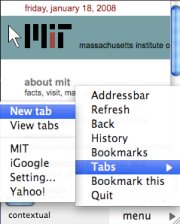 Prospective UIs for the non-touchscreen version of a mobile Firefox
(Click to enlarge)
The non-touchscreen UI being considered for the mobile browser, shown above, will use a virtual cursor, controlled by the directional pad. When the pad is pressed briefly (i.e. "clicked"), the cursor will move between clickable elements; when the pad is held down, the browser will begin scrolling.
After a set amount of time, the page will gradually zoom out to give the user a view of the entire layout and facilitate faster scrolling. Then, when the directional pad is released, it will gradually zoom in on wherever the cursor is positioned.
The right-hand image above shows a Tabs menu. As the Wiki notes, however, tabs in the traditional sense should not be displayed because they take up valuable screen space. Instead, a "view tabs" submenu can be used to display a page showing thumbnails of each open tab.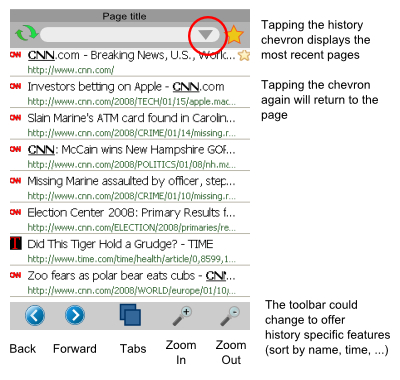 A prospective UI for the non-touchscreen version of a mobile Firefox
The touchscreen UI being considered for the mobile browser, shown above, will be designed to allow access to most frequent activities within one or two finger taps. It should also be usable without a stylus, according to the Wiki.
The toolbar at the bottom of the screen contains the most frequently used functions — back/forward, zoom in/out, and tabs. Web page content is displayed in the center panel, and can be scrolled/panned directly by dragging. At the top of screen is a title bar, plus a hideable toolbar with reload button, a URL bar, and a bookmark button.
Comments on the Wiki provide an idea of the choices the developers still have to make. For example, should the chevron at the right of the toolbar open a history page listing the most recently viewed pages, or — as on desktop Firefox — merely a list of most frequently typed URLs? And should "full screen" mode hide everything except the page being browsed, or retain the lowermost toolbar?
Turner writes that while the user interfaces shown are merely starting points, "going from the pretty pictures that Photoshop can produce to something that is functional is easy with the Mozilla platform. Building functional prototypes … using only Javascript, XML, CSS, and images is really awesome."
Background information
The upcoming mobile version of Firefox will run on both x86 and ARM processors, according to Schroepfer. It won't, however, be the first time a Mozilla-based product has been seen on mobile devices. A version known as MicroB was released for Nokia's Linux-based N800 Internet tablet in July 2007, and a version called Minimo was created by Turner starting in 2005.
Writes Schroepfer, "Minimo was an experiment in mapping the desktop browser experience to a specific mobile context. While we don't currently plan to develop that project further, it has already provided us with valuable information about how Gecko operates in mobile environments, has helped us reduce footprint, and has given us a platform for initial experimentation in user experience."
When the Firefox-based browser makes its Windows Mobile debut, it will join browsing alternatives, such as NetFront and Opera Mini. It will also likely compete with embedded browsers based on the open source webkit browser engine used in Nokia S60 and Apple iPhones. All make a variety of claims for speed and browsing performance, but none can offer compatibility with Firefox extensions and themes. Additionally, the desktop Firefox browser software from which Mobile Firefox will be derived is arguably among the world's best-tested software applications, since it is used by many millions of people daily.
Further information
To read Doug Turner's posting seeking comments on the new UIs, visit his blog, here. To find out more about the non-touchscreen and touchscreen UIs, visit the relevant Mozilla Wiki pages, here and here.
---

This article was originally published on LinuxDevices.com and has been donated to the open source community by QuinStreet Inc. Please visit LinuxToday.com for up-to-date news and articles about Linux and open source.