Jun 18, 2008 — by Eric Brown — from the LinuxDevices Archive — 1 views

Fujitsu Microelectronics America, Inc. (FMA) announced a mobile WiMAX chipset optimized for WiMAX peripherals for PCs, smartphones, and PDAs. According to Fujitsu, the 12x12mm Mobile WiMAX chipset offers a sub-0.5mA idle current, and supports Linux and Windows Mobile operating systems.
(Click for larger view of Fujitsu Mobile WiMAX SDK block diagram)
Fujitsu plans to deploy its Mobile WiMAX technology in the United States, Europe, and Taiwan this year, and in Japan in 2009. The company will initially target PC-based mobile broadband access, it says, but will quickly move on to handsets, smartphones, PDAs, portable games, and navigation systems.
The Mobile WiMAX chipset is comprised of three major components:
Baseband IC (MB86K22) — Fabricated with Fujitsu's 65nm CMOS low-leakage process, the MB86K22 reduces operating power by 36 percent compared to Fujitsu's previous generation, says the company. Power-gating technology shuts down the power supply in the unused blocks, which is said to facilitate the chipset's under-0.5mA idle current, thereby extending battery life.
RF IC (MB86K52) — Fujitsu's new Radio Frequency IC supports 2.3GHz, 2.5GHz, and 3.5GHz frequencies, which the company says will help vendors serve a global market with a single device. The MB86K52 is also said to support "WiMAX Wave 2", the second-generation WiMAX technology ratified in 2006. The IC specifically supports Wave 2's MIMO (multiple input multiple output) multi-antenna technology and "beamforming," a closed-loop version of MIMO that is said to collect information about a given channel to optimize communications to the intended receiver. Beamforming typically utilizes Maximum Ratio Transmission (MRT) or Statistical Eigen Beamforming (EBF) techniques.
Power management IC (MB39C316) — The MB39C316 is said to control the module's power schemes at the system level.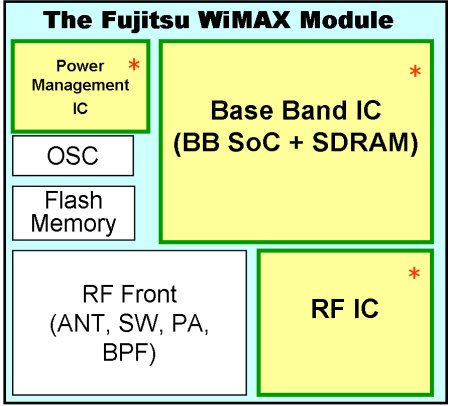 Mobile WiMax block diagram
(Click to enlarge)
Specifications listed for the Mobile WiMAX chipset include:
Bandwidth — 3.5MHz, 5MHz, 7MHz, 10MHz, 20MHz (planned)
Modulation — 64QAM, 16QAM, QPSK
FFT size — 512/1024 FFT OFDMA
Antenna — 2×2 STC/MIMO (MatrixA and MatrixB)
Host interface — SDIO, SPI
RF frequencies — 2.295GHz to 2.405GHz; 2.491GHz to 2.695GHz; 3.295GHz to 3.620GHz
Power supply — 2.7V to 4.9V; voltage activation/deactivation; I2C interface
Power output — DC/DC 3-channel, LDO 4-channel
Battery — Lithium-Ion battery
Operating systems — embedded Linux, Windows Mobile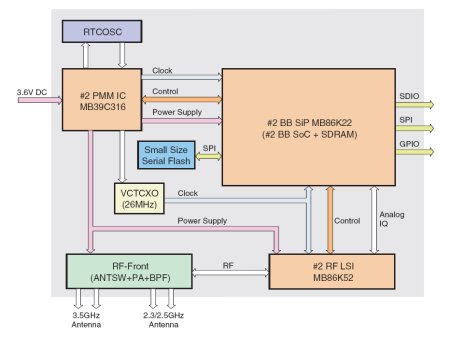 Simplified block diagram for typical Mobile WiMAX-based module
(Click to enlarge)
Fujitsu is also offering a system development kit (SDK) and a reference design targeted at Linux and Windows Mobile platforms (see diagram at top). The reference design is said to include 802.16e and Mobile WiMAX Wave 2 MAC firmware, as well as reference applications including a connection manager, host driver, and maintenance tool. The reference design will also include OS-specific drivers, application programming interfaces (APIs), and sample application/driver reference source code, says Fujtsu.
WiMAX on the Move
WiMAX, which provides a fixed or mobile wireless broadband connection that offers a farther reach and greater bandwidth than WiFi, appears to be gaining ground as a desired embedded feature for mobile devices. The IEEE 802.16 standard for wireless broadband has been pushed by Intel, Samsung, and Sprint, among other companies, and is promulgated by the 400+ member WiMAX Forum. According to the WiMAX Forum, WiMAX provides a typical cell radius deployment of two to six miles, without the need for direct line-of-sight with a base station. It can deliver capacity of up to 40Mbps in such a configuration, and at lower data rates, it can operate over distances as far as 30 miles
WiMAX was pushed early on by Intel as a way to extend low-cost broadband to areas of low population density. However, it now appears to have evolved into a delivery option for broadband "4G" cellular data services.
In May, Sprint and Samsung announced that the latter's WiMAX wireless network technology has passed Sprint's performance criteria. Sprint's WiMAX-focused Xohm division has begun a "soft launch" of WiMAX with its employees in Chicago, Baltimore, and Washington D.C., and plans a commercial launch in Baltimore and D.C. later this year.
According to a January study by In-Stat, numerous chipset companies focused on mobile WiMAX are expected to commercially release products this year, including Altair, Amicus, ApaceWave, Comsys, NextWave, Redpine Signals, and XROnet. Meanwhile, Intel's combination Mobile WiMAX and WiFi module, Echo Peak, which will launch as an option to the company's Montevina mobile processor platform release this year, is expected to drive the adoption of embedded WiMAX into mobile PCs.


Everex CloudBook Max
(Click for details)
A number of laptop and mobile Internet device (MID) vendors have touted wireless options for systems arriving later this year, including Everex, which has announced a WiMAX-enabled version of its CloudBook mini-notebook called the Cloudbook Max (pictured at right). Meanwhile, Nokia plans to ship a WiMAX-enabled version of its N810 Internet Tablet.
Asus touts new WiMAX dongles
Earlier this month, Asus announced some WiMAX devices that are said to work with its new Intel Centrino Atom versions of the Asus Eee PC (pictured at right). The Asus WiMAX devices, all of which support QPSK, 16QAM, and 64QAM adaptive modulation, include:


Asus Eee PC 901
(Click for details)
WMV25E1 — Wave 1 CPE device supporting 3.4~3.6GHz and 2.5~2.7GHz frequencies
WUSB25E2V2 — USB WiMAX dongle for notebook or PC supporting 802.16e Wave 2 and 2.5~2.7GHz frequencies
WMNV25E2+ — WiMAX Integrated Access Device (IAD) that connects with WiMAX basestation as a WAN source and provides Internet connection to end-user via single-port RJ45; supports 802.16e Wave 2 and 2.5~2.7GHz frequencies
Availability
Samples of the Fujitsu Mobile WiMAX chipset will be available in August for Linux and Windows Mobile platforms, says the company. More information may be available in this PDF datasheet.
---

This article was originally published on LinuxDevices.com and has been donated to the open source community by QuinStreet Inc. Please visit LinuxToday.com for up-to-date news and articles about Linux and open source.