Apr 7, 2009 — by Eric Brown — from the LinuxDevices Archive — 1 views

T-Mobile is planning to launch several non-handset devices that run the Android stack next year, says a New York Times story. Meanwhile, Samsung will ship two U.S.-targeted Android phone models this year in addition to a previously announced smartphone scheduled for a June… release, says Forbes.
T-Mobile will offer the Linux/Java Android stack in a home telephone early next year, followed soon after by a tablet computer, says the Times story. Information leaked to the Times by a T-Mobile partner was said to have revealed that the phone will plug into a docking station and be paired with another device that provides data synchronization as the phone recharges. The tablet device, meanwhile, has a seven-inch touchscreen, says the story, which added that a T-Mobile spokesperson confirmed that T-Mobile had plans for several devices based on Android, but did not confirm any of the details.


Verizon Hub
(Click for details)
T-Mobile rival Verizon Wireless now offers a Linux-based touchscreen IP phone called the Verizon Hub (pictured) that appears to offer similar features to the T-Mobile concept. Based on OpenPeak's OpenFrame phone, the IP phone offers a combination of telephony and kitchen computer offerings. A similar Linux-based phone design from Qt Software called the Video IP Deskphone (pictured below) is being used in an upcoming LG-Nortel phone. Neither design runs Android, however. The Times story refers to a "Nimble" touchscreen IP phone design from startup Touch Revolution that runs Android, but did not appear to suggest that the design was being used by T-Mobile.
Samsung and HP get their Droid on
T-Mobile is still the only distributor of Android-based devices, with its HTC-manufactured G1 phone (pictured at top), but it won't be for long. Vodafone will soon offer HTC's next Android model, the Magic, and HTC has said that more Android phones are on the way.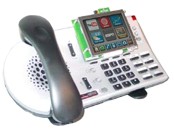 Qt Software's
Video IP Deskphone design
(Click for details)
Forbes, meanwhile, is reporting that Samsung will ship three Android phones this year. The story quotes Dr. Won-Pyo Hong, EVP of global product strategy in Samsung's mobile communication division, as confirming the previous news that Samsung's first Android phone will launch in June outside the U.S.
Hong was also said to have revealed that two more phones will follow by year's end, to be carried in the U.S. by two different mobile operators. Although Hong did not identify the carriers, it is likely, as the story notes, that Sprint and T-Mobile will each field at least one Android phone, as they are both members of the Open Handset Alliance (OHA) Android consortium. The story quotes Hong as saying the two phones will look "totally different" and will offer significant Samsung customization work on top of the basic Google-centric Android apps.
The Forbes story also quotes an LG Electronics executive as confirming that its Android phone is on schedule for this year. Other Android phones are due from Motorola and Huawei, and more companies have been rumored to be trying on Android, including Garmin and Asus, which may be preparing an Android version of their Nuvifone.
In other Android news, HP has confirmed the earlier rumors that the computer giant is testing an Android-based netbook, says an IDG News story. Other rumors have been flying that Google is working on a netbook implementation of Android in collaboration with Asus.
One interesting take on the T-Mobile news came from Marshall Kirkpatrick, writing in ReadWriteWeb. Kirkpatrick lays forth a future of "no phones," in which telephony is integrated within every conceivable consumer device, none of which will be referred to as a "phone." In fact, the story quotes one analyst as suggesting that with texting, email, Twitter and the like, people are gradually turning away from voice communications. None of these are completely novel observations, but Kirkpatrick puts them together into a particularly cogent analysis.
Availability
The New York Times story on T-Mobile's Android plans may be found here.
The Forbes story on Samsung's Android plans may be found here.
The IDG News story on HP confirming its testing of Android netbooks should be here.
The ReadWriteWeb piece on the the telephony-enabled future in which there is no such thing as a "phone" may be found here.
---

This article was originally published on LinuxDevices.com and has been donated to the open source community by QuinStreet Inc. Please visit LinuxToday.com for up-to-date news and articles about Linux and open source.