Sep 1, 2009 — by Eric Brown — from the LinuxDevices Archive — 41 views
Multimedia system-on-chip (SoC) vendor ViXS announced a Linux-based application development stack and toolsuite for its "XCode" SoCs. The "Xtensiv" software supports the development of XCode-based, DLNA and UPnP compatible set-top boxes (STBs), PCs, and networked consumer electronics devices, and offers Linux-based servers and a Webkit browser, says the company.
The Xtensiv application development environment enables developers to "transform their products from standard simple video rendering devices to fully networked multimedia gateways," says Vixs. Its first Xtensiv customer is said to be Hitachi, which used the software to develop its XCode 3290-based HD Flat Panel TV Recorder, says the Toronto-based fabless semiconductor company.
The XCode comes in a variety of XCode 2100 chips as well as an XCode 3000 series SoC. The XCode 2100 is a companion IC billed as the "first multi-stream MPEG 2/4 transcoder and encoder chipset." It offers features such as digital video filtering, audio encoding and transcoding, "TurboMPEG" encoding, and security features. Digital filtering features are said to include a pixel-based motion-adaptive 3D comb filter. Interfaces include a 16/32 bit DDR SDRAM memory controller, PCI and PCI-Express, and I2C, says Vixs.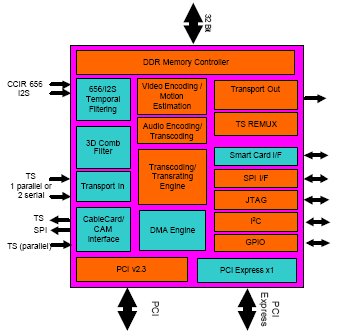 XCode 2111 block diagram
The prime focus for Xtensive would appear to be the XCode 3000 series, which boasts all of the 2100's features, as well as MPEG4 AVC (MPEG4 Part 10/H.264) transcoding, encoding, and decoding, says the company. It is available as both a companion IC like the XCode 2100, as well as a full system-on-chip (SoC). The latter uses an undisclosed 400MHz embedded CPU, and offers peripheral interfaces that are said to include Ethernet, USB, and SATA. Vixs offers only limited information on the 3000 series, however.

XCode chips are used in digital TVs, DVDs, STBs, personal video recorders (PVRs), PCs, network-attached storage (NAS) devices, residential/home gateways, and Blu-Ray players and recorders, says the company. One recent XCode-enabled device is the Blusens Technologies "BluBrain," a combination STB, PVR, NAS device, and media server. The BluBrain (pictured at right) runs Linux on a Sigma SMP8634 SoC, while a ViXS XCode 2111 chip provides video processing capabilities that are said to improve storage capacity, format conversions, and placeshifting applications.
The Xtensiv stack
The new Xtensiv development software offers "support for Linux DVB" (digital video broadcasting), plus a Linux-based WebKit browser with Samba and FTP servers. A Linux web server supporting HTTP 1.0, HTTP 1.1, and XML 1.0 is also supplied, as well as support for UPnP 2.0 and the DLNA Digital Media Server and Player for network media discovery.
In addition, Xtensiv provides an Internet Gateway Device (IGD) Control Point SDK (software development kit). Digital Rights Management (DRM) is supported via DTCP-IP, MSDRM, Microsoft's Protected Broadcast Driver Application, Marlin DRM, Safia DRM, CPRM, and other AES based schemes, says the company.
Additional Xtensive features are said to include
PVR Stack with record, timed recording, time-shifting, trick modes
Photo album software
HDTV tuning software stacks
Support for teletext, closed captioning, and subtitles
Networking stacks including TCP/IP, RTP, UDP, and RTSP
DVD and Blu-Ray Disc authoring tools
ViXS Media Player with support for MPEG2 and MPEG4 AVC, plus multiple audio formats
Stated Sally Daub, President and CEO of ViXS Systems, "With Xtensiv, Vixs has truly set a new standard as a system solutions provider going beyond simply providing basic low level driver software, allowing customers to truly differentiate their products."
Availability
The Vixs Xtensiv software is now available for XCode silicon customers without additional licensing fees, says Vixs. More information on the XCode 2100 series may be found here, and more on the XCode 3000 should be here.
---
This article was originally published on LinuxDevices.com and has been donated to the open source community by QuinStreet Inc. Please visit LinuxToday.com for up-to-date news and articles about Linux and open source.