Aug 6, 2010 — by Jonathan Angel — from the LinuxDevices Archive — 7 views
Acer announced a dual-boot netbook that comes with both Android and Windows XP. The Aspire One D255 has a 10.1-inch screen, 1GB of RAM and a 160GB hard disk drive, and a 1.6GHz Intel Atom N450 processor, the company says.
Acer's new Aspire One D255 is said to have been unveiled August 5th at a computer show at the Tapei Computer Applications Show. According to IDG News Service writer Dan Nystedt, the device was being sold to show attendees for approximately $300, but will subsequently go on sale worldwide for approximately $350.
The company has not yet released specifications for the AOD255, but Nystedt's writeup makes clear that, the ability to boot into the unspecified version of Android aside, the device is very much a garden-variety netbook. It includes an Intel Atom N450 processor, 1GB of RAM (presumably expandable to 2GB), a 160GB hard disk drive, and a three-cell battery (with six-cell option).

The Aspire One D255 is an obvious follow-on to the dual-boot, Atom-powered Acer Aspire One D250-1613 (right) announced last October, itself an update to the earlier, Windows-only AOD250.
Last month, Acer said it would release the Acer Aspire One D260, featuring both Android and Windows and offering an Intel Atom N455 along with DDR3 memory. But, the AOD260 subsequently appeared, in the U.S. at least, with only Windows 7 (processor choices on the model, meanwhile, are actually either the N450 or the 1.83GHz N475, according to the company's website).
Confused yet? You're not alone — but the AOD255 shown off in Taipei appears to be what the AOD260 was originally touted as. Android plays second fiddle to Windows XP, playing a fast-boot alternative OS role much like Linux quick-boot products such as MontaVista's MontaBello (Dell's Latitude ON), Phoenix Technologies' HyperSpace, and Xandros' Presto.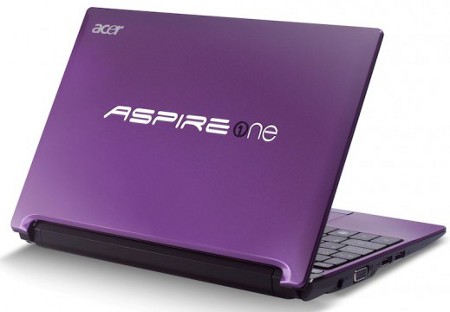 Last month's Acer Aspire One D260 used the same chassis as the new D255
Acer said last month that a user who booted the D260 into Android could run a web browser or email client within 15 seconds of pressing the start button (a slight improvement over the 18-second time that was cited for the D250). If the D255 is Acer's real Android netbook, the same benchmark is likely to apply here.
Hardware-wise, the Aspire One D255 is much like the AOD260, and we believe it comes in the same chassis. The 10.1-inch backlit, Acer CrystalBrite display is said to offer WSVGA (1024 x 600) resolution and a 16:9 format, but apparently no touch capability to make Android feel at home.
A multi-gesture touchpad is provided, however, and is wider than the AOD250's version, says Acer. The 93 percent standard-size keyboard, meanwhile, is said to offer larger keys than the D250's.
The Acer Aspire One D255 apparently joins the D260 in providing a 10/100 Ethernet port and 802.11b/g/n (up from b/g), as well as optional 3G and Bluetooth 3.0. An Acer CrystalEye webcam is also supplied, said to offer enhanced support for low lighting conditions.
The D255 likely again also provides three USB 2.0 ports, a VGA port, a speaker, and headphone and microphone jacks. According to Acer, the D260 measures 10.2 x 7.3 x 9 inches and weighs 2.8 pounds with its six-cell battery, and we'd expect the same of the D255, though three-cell configurations will be lighter.
A video of Acer's Aspire One D255
Source: Network World
Further information
Dan Nystedt's IDG News Service story on Acer's Aspire One D255 may be found on the Network World website, here. Additional photos and impressions of the device may be found on the SemiAccurate site, here.
---
This article was originally published on LinuxDevices.com and has been donated to the open source community by QuinStreet Inc. Please visit LinuxToday.com for up-to-date news and articles about Linux and open source.