Nov 1, 2001 — by LinuxDevices Staff — from the LinuxDevices Archive — 1 views
Salt Lake City, UT — (press release excerpt) — emWare today announced the release of the DeviceGate-E, an Linux-based embedded gateway product, along with the DeviceGate-E Development Kit. The embedded gateway is a self-contained software and hardware solution that offers manufacturers and systems integrators a fast and affordable way to add remote management capabilities to new and legacy electronic… devices.
The DeviceGate-E embedded gateway allows users to maintain a persistent connection between potentially hundreds of devices and their client applications. This persistent connection provides the immediate, interactive communication needed for remote device monitoring, diagnostics and service management. For example, emWare's DeviceGate-E technology is currently being used to remotely monitor and diagnose industrial pump controllers to help maintain water quality in water treatment systems.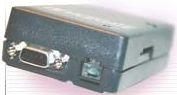 The DeviceGate-E embedded gateway is a fully-functioning gateway solution, delivered on a standalone embedded platform, with the capability of supporting any device subnet transport and protocol. In addition, the DeviceGate-E gateway supports TCP/IP or Point-to-Point Protocol (PPP) wide area network communications. The DeviceGate-E gateway software runs on an x86-based single board computer (SBC) under the Linux OS, which greatly reduces the cost and eliminates the burden of setting up and maintaining a PC-hosted gateway. Furthermore, the DeviceGate-E gateway supports client applications running on any interface such as PDA's, cell phones, Web browsers or databases.
Here are some key features of the DeviceGate-E embedded gateway . . .
Embedded Linux for x86 — DeviceGate-E uses embedded Linux for the x86 family of microprocessors as its operating system. The Linux standard distribution includes open source code and support for a wide range of peripheral hardware. emWare has pre-configured the DeviceGate-E embedded Linux distribution specifically for its embedded gateway software so that it's ready to run right out of the box.
Device-to-DeviceGate Communications — Support for RS232 and RS485 device subnet communications with devices is provided out of the box. Additional transports and protocols such as RF wireless and powerline can be developed using emWare's Subnet Authoring Guide.
DeviceGate-to-Client Communications — The DeviceGate-E gateway supports TCP/IP via Ethernet and PPP via modem communications to provide wide area network connectivity between itself and its client interfaces. The DeviceGate-E Development Kit also includes emWare's EMIT Application Interface Services (AIS) for creating custom user interface applications using Java, ActiveX or C/C++.
Full Suite of Management Applications — A complete collection of software tools that allows embedded designers to remotely manage and configure their DeviceGate-E gateway as well as to test and debug their device applications is also provided in the DeviceGate-E Development Kit.
Under the hood
According to Alan Taylor, market development manager, the device is based on a 50MHz 486 processor, with 16 MB system RAM and a 16MB DiskOnChip solid state disk. Input/outut interfaces currently include modem, Ethernet, and RS232/485 serial, and wireless access is planned for the near future. The system is typically powered by a standard 9V wall-mount power supply.
On the software side, the operating system is based on the standard Linux kernel 2.4 x86 kernel along with the Apache web server and BuzyBox.
Is emWare glad they used Linux as the embedded operating system in their new gateway device? "Definitely," says Taylor. "With Linux' power, it is obvious there's a place in the embedded market for it," he adds.
Availability
The DeviceGate-E gateway product is available in several distribution options, including: a development kit which includes software, hardware, tools and documentation; production hardware, which includes a run-time license of DeviceGate-E software on an SBC, including a 16MB DiskOnChip and enclosure; or as software licenses only, for high volume applications.

This article was originally published on LinuxDevices.com and has been donated to the open source community by QuinStreet Inc. Please visit LinuxToday.com for up-to-date news and articles about Linux and open source.