Dec 2, 2008 — by Eric Brown — from the LinuxDevices Archive — 12 views

Nokia announced a home automation system based on the open source OpenWrt Linux distribution. Due in late 2009, the Z-wave wireless radio-equipped Nokia Home Control Center will let users remotely control security, automation, and energy management applications via their mobile phones, says Nokia.
(Click for larger view of the Nokia Home Control Center)
The Nokia Home Control Center will act as a wireless 802.11n LAN gateway with an optional local display and user interface. It will also serve up browser interfaces aimed at letting users interact with a variety of Z-Wave sensors, thermostats, and other devices. Initial models will offer remote energy monitoring and control, as well as security camera and motion detection monitoring, and future models will provide greater integration of security, heating, and ventilation systems, says the company.
Nokia Home Control Center features are said to include:
Automatic responses to events such as motion sensor triggering, luminance levels, moisture, or temperature limits
Grouping of devices to control by location, function, and type
Profile setup by time and other situations
Linking of security, lighting, heating, and Internet systems
The system offers a unified interface for devices including smart refrigerators, washing machines, heating systems, programmable thermostats, security systems, self-adjusting curtains, and self-operating lights, says the company. Intriguingly, Nokia also includes "configurable set-top boxes" in the list, but unlike some other Linux-ready automation/media server crossover products from companies like Control4 and Fiire, the Nokia Home Control Center does not appear to be aimed, at least initially, at media sharing.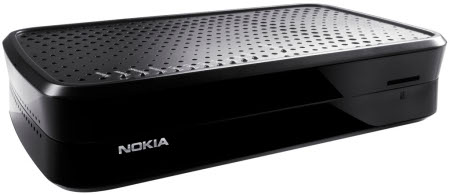 Nokia Home Control Center
(Click to enlarge)
The chief focus of the product instead appears to be energy management, with software being developed with European energy giant RWE, says Nokia. The RWE partnership is expected to produce a suite of heating, electricity, and CO2 management software, starting with a home-heating management system due to arrive at launch. RWE plans to offer the Nokia systems with special-offer energy supply contracts. Beyond 2009, the companies say they will offer additional "smart meter" applications that provide real-time information about energy consumption.
Inside the box: Z-Wave and 802.11n
The Nokia Home Control Center's core gateway device is built around an undisclosed 533MHz CPU, perhaps Freescale's i.MX31, which features an energy-saving ARM core. The device includes 256MB RAM, 6GB of internal storage, and an SD card reader. For connectivity, the system offer four USB 2.0 ports and five gigabit Ethernet ports.
The Home Control Center offers a variety of wireless technologies, and will come equipped with antennas for GSM/GPRS cellular, 802.11n, and Z-Wave. Z-Wave has recently made strides against its chief rival, ZigBee (IEEE 802.15.4), in the market for low-cost, short-range connectivity. Pushed by Zensys and the Z-Wave Alliance, Z-Wave employs a "mesh" topology aimed at enabling each node to serve as a relay/repeater. Z-Wave uses the unregulated 900MHz frequency, instead of the more crowded unregulated 2.4GHz band used by Zigbee, WiFi, cordless phones, and so on, and thus offers less radio interference and lower power consumption, according to the Z-Wave Alliance.
While Nokia will ship Z-Wave with its product, it will also support third-party add-ons that use ZigBee or KNX (ISO/IEC 14543-3). The latter is a home automation standard that is said to support wireless, powerline, and Ethernet communications. The Home Control Center Platform will be able to translate signals automatically between these transport standards, says Nokia.
Specifications listed for the Nokia Home Control Center include:
Processor — 533MHz CPU
Memory — 256MB RAM
Flash — 6GB internal storage
Expansion — SD card reader with SDHC support
Networking — 5 x gigabit Ethernet (4 x LAN; 1 x WAN)
WLAN — 802.11n WiFi (two antennas); Z-Wave
Cellular — GSM/GPRS
USB — 4 x USB 2.0 host
Weight — 1.1 lbs (500 gr)
Dimensions — 13.8 x 5.8 x 1.4 inches (350 x 150 x 35mm)
Operating system — OpenWrt Linux 2.6
The Nokia Home Control Center will ship with a standard OpenWrt Linux distribution with 2.6 series kernel, says Nokia. The distribution includes a Linux server that offers file sharing, as well as web, media, and email servers. It is also said to support "the mobile VPN of remote access" for Linux applications.
Originally developed for the Linksys WRT54G WiFi access point, OpenWrt now supports numerous low-powered networking appliances, such as the Linksys NSLU2 (i.e., the "SLUG"). Designed for low-memory devices and specializing in support for wireless communications and "sophisticated routing," OpenWrt uses the slimmed-down uClibc C libraries. It also offers a writable filesystem with package management tools.
To open up the platform for third party development, Nokia will provide "full" API documentation, a library of basic control logic functions, as well as development support. Nokia has also established a smart home partnership program that so far includes Danfoss, Delta Dore, Ensto, Meishar Immediate Community (MIC), and Z-Wave's main booster, Zensys. The partner program will focus on mobile access applications for security, energy efficiency, wellness, construction, real estate, and smart home solutions, says the company.
Stated Teppo Paavola, VP, Head of Corporate Business Development, Nokia, "We want to create an open solution where external partners can develop their own solutions and services on top of our platform. We believe that the mobile device is an ideal interface to control home intelligence."
Availability
Nokia Home Control Center will be demonstrated at the Nokia World event in Barcelona, Spain, on December 2-3, 2008, and is expected to become commercially available by the end of 2009, says the company. More information may be found here.
---

This article was originally published on LinuxDevices.com and has been donated to the open source community by QuinStreet Inc. Please visit LinuxToday.com for up-to-date news and articles about Linux and open source.