Dec 20, 2005 — by LinuxDevices Staff — from the LinuxDevices Archive — 2 views

Foreword — LinuxDevices founder Rick Lehrbaum recently discussed the new 770 Internet tablet with Ari Jaaksi, Nokia's director of open source software operations. The following article presents a summary of their discussion, along with Lehrbaum's quick first impressions of the new device. Enjoy . . . !
---
According to Jaaksi, Nokia conceived the 770 as a web tablet, rather than as a traditional PDA. As a result, the device is "more like a laptop than an embedded device," he says. "The goal was to get as close as possible to a PC experience. We probably couldn't have done this device two years ago, due to improvements in LCDs at this price point."
Nearly every early reviewer has praised the 770's high-resolution 800 x 480 pixel touchscreen display.
One key element of providing a desktop experience was making it easy for users to install and use their own software. "We wanted to make it easy to move apps from the desktop," Jaaksi said.
To foster open source community involvement with the 770, Nokia created and is sponsoring Maemo.org, a community site where hackers can download tools, source code, and documentation posted by Nokia and others in the community. The site avails open source developers of the same development tools used by Nokia engineers working on the 770, Jaaksi says, including the scratchbox cross-platform build system. "These are the same tools we use internally. Scratchbox forms the backbone of our development," he said.
The first-generation 770 has 64MB of RAM. It also has 128MB of built-in flash, half of which is used by the OS, with the other half available for user applications and data. The device supports storage expansion through RS-MMC (reduced-size MMC) cards, currently available in capacities up to 2GB, Jaaksi said.
The 770's Linux OS is based on a kernel built from regular kernel.org sources, along with footprint-optimized versions of Gnome, GTK, and the X Window system.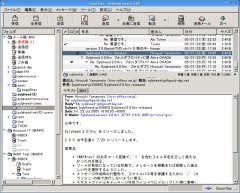 The rest of the filesystem is drawn from the Debian distribution's ARM-Linux tree. For example, it uses the Sylpheed lightweight email client, pictured at right. Sylpheed combines an Outlook Express-like interface with support for Emacs mail-client keyboard macros, and the goal of complete internationalizability.
The 770's basis in standard, open source desktop software is likely to result in rapid availability of a wide variety of application software. Jaaksi said, "Openness is key. We want to encourage hacking, to allow users to enhance and adapt it. We plan to release early, get feedback, and fix it. But, we need the basics and fundamentals to be right."
The first-generation Nokia 770 does come with some proprietary applications pre-installed, such as RealPlayer and Opera 8. The Opera browser has an interface customized by Nokia, and Opera's display engine underpins both the default web browser and the email viewer, according to Jaaksi.
However, in the spirit of Debian, Nokia will offer development kit firmware releases based entirely on free software, Jaaksi said. These free firmware releases will work on any 770 device, unlike the commercial firmware releases, which will be keyed to specific device serial numbers, he added.
In keeping with its "non-PDA" approach, Nokia has chosen not to include a PIMS (personal information management) suite. However, open source notable Nils Farber has already released a partially working port of the GPE Palmtop environment, Jaaksi reports.
The 770 has a USB port, but supports only the mass storage profile. Thus, its utility is limited to exchanging files with a PC, and upgrading the 770's software.
Currently, no software exists for the 770 that can synchronize email or contacts, for example with an Outlook or Thunderbird addressbook. Additionally, support for Windows Media files is not yet present; pending licensing talks, support for WM files may arrive in the future, Jaaksi indicated.
Jaaksi expects the next official software release to arrive in the spring of 2006, bringing support for VoIP (voice-over-IP) and Internet messaging (although a port of GAIM already exists for the device). Nokia is committed to the 770, and will continue to release firmware upgrades for it on an ongoing basis, according to Jaaksi. "The Internet evolves, hence must the platform," he said.
The 770 tablet has stereo speakers and a 1/8th inch headphones jack, along with a small built-in microphone located on the bottom edge. Currently, however, no user applications make use of the microphone. Drivers for audio input will be added in future releases.
The 770 is also expected to gain support for bluetooth headsets, eventually. Still, bluetooth headset support may not arrive prior to the next firmware release, Jaaksi said, in part because Nokia engineers are currently focused on porting more fundamental VoIP technologies from Nokia's proprietary phone OS, such as echo concellation and audio enhancement.
Jaaksi confirms that sales have been brisk, primarily from three classes of users. Linux enthusiasts are "really buying it right now," he said, as are "lifestyle users" interested, for example, in listening to Internet radio. The third category of customers comprises "gadget lovers," he says. The 770's primary intended uses are web browsing, email, instant messaging, music listening, and VoIP, according to Jaaksi.
Initial impressions
The 770 has a fairly polished user interface, with Gnome side, top, and bottom panels that appear to be very well integrated, Lehrbaum says. Also, the dialog boxes for the 770's built-in applications (browser, email, A/V players, PDF reader, file manager, etc.) are clean, clear, and consistent with the device's integrated UI.
Although the device is based on Linux, it has a slightly unfamiliar feel, Lehrbaum observes. "There's so much to learn about it! I feel a bit like a stranger in a strange land… it's a linux system, but I can't find my way around it (yet)!" he said. "If there's a way to add application links to the 'desktop,' I haven't found it yet," he added.
A user-selectable portrait/landscape display mode toggle might be a nice addition, he suggests. It could be useful for e-book readers, document editing, web browsing, and many other applications, and ought to be supported at the API level so that programs could easily control the display mode.
Transferring data from his laptop (running SUSE) to/from the 770's RS-MMC memory card is "trivial," Lehrbaum says, but importing a Thunderbird address book required hand-tuning the exported .csv file.
Lehrbaum also says he wishes there were more applications now for the device, although he realizes that situation is likely to change quickly. A PDA-like PIMS, with easily desktop-synchronized Firefox bookmarks and Thunderbird contacts and calendar tops Lehrbaum's app wish-list.
Another area that needs improvement is the 770's Bluetooth interoperability. The device detects Lehrbaum's relatively current bluetooth-enabled Motorola phone, but fails to bond with it, he reports. "SUSE Linux on my desktop had no trouble bonding with the V551, why should the 770?" he wonders.
From a hardware perspective, the device appears to be well-built, and is rugged enough to withstand drops (something that Jaaksi demonstrated by dropping a running 770 on the floor, to Lehrbaum's horror). However, Lehrbaum calls the device's 64MB of RAM "unfortunate" — "256MB within a year would be nice!" he said.
Other quibbles include a lack of infrared ("the 770 would make a great programmable remote control!"), the lack of Windows Media support ("the 770 needs to appeal to the masses"), and the lack of a USB host port which, in conjunction with a powered USB hub, might allow the 770 to be used with normal USB computer peripherals.
However, despite his nitpicks, Lehrbaum is enthusiastic about the device: "It's addictive!" he said.
Please note: Further details on the Nokia 770 Internet Tablet are here, as well as in the related stories, below.
---

This article was originally published on LinuxDevices.com and has been donated to the open source community by QuinStreet Inc. Please visit LinuxToday.com for up-to-date news and articles about Linux and open source.