Feb 1, 2012 — by Eric Brown — from the LinuxDevices Archive — 15 views
NTT Docomo announced a pair of 4.3-inch Android 2.3 smartphones whose styling, user interface, and content all have a Disney theme. Both have dual-core Texas Instruments OMAP4430 processors, but the "Disney Mobile on docomo F-08D" is clocked to 1.2GHz, offers HD resolution, and has a 13-megapixel camera, while the "Disney Mobile on docomo P-05D" offers 1GHz performance and a 960 x 540-pixel OLED screen.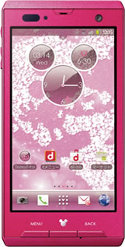 The two "Disney Mobile on docomo" phones were developed by Japanese carrier NTT Docomo and an unnamed manufacturer, with the collaboration of The Walt Disney Company's Disney Mobile unit in Japan. Disney Mobile has operated as a mobile virtual network operator (MVNO) in Japan since 2008, selling Disney-themed phones with partners such as Softbank (see farther below).
Here again, the color, case design, and user interface (UI) have all been anointed with the Disney wand, says NTT Docomo. The high-end F-08D (pictured at right) and slightly lesser spec'd P-05D (below left) provide access to Disney-branded movie services, original live wallpapers, and puzzle and music game apps for children and families.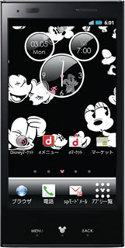 Content is said to include Disney full-length animations, live actions, and overseas dramas, as well as original Disney apps and live wallpapers. "Customer benefits" will be offered this spring in cooperation with Tokyo Disneyland and Tokyo DisneySea, says the carrier.
Both phones share features including an Android 2.3 ("Gingerbread") stack underneath the Disney skinning, and access to Docomo services, such as its Osaifu-Keitai mobile-wallet and One-seg services. Both phones are waterproof and dustproof, offer 2GB or 32GB microSD memory cards, and provide HSDPA/HSUPA 3G service, says the carrier.
Interestingly, the lower-end P-05D offers faster 14Mbps HSDPA downloads while the F-08D stays at 7.2Mbps. Both phones are also said to provide a full range of wireless features including Wi-Fi with tethering, as well as Bluetooth 2.1 and GPS.
The F-08D is equipped with TI's 1.2GHz dual-core OMAP4430 processor, which appears to be the new Tegra 2 of the Android smartphone world, popping up everywhere. The 4.3-inch display offers 1280 x 720 pixel resolution, according to NTT Docomo.
The F-08D is most notable for its 13.1-megapixel camera, which is impressive even by Japanese standards, but can't match the 16-megapixel Polaroid SC1630 Smart Camera. In addition, a VGA webcam is available up front. Measuring 8.8mm, the 120-gram phone offers 330 minutes of 3G talk time, says the carrier.
The P-05D has the same OMAP4430 processor, but it's only clocked to 1GHz, says NTT Docomo. The 4.3-inch display is said to offer 960 x 540-pixel qHD) resolution and easy-reading OLED technology. The phone manages to get by with a mere eight-megapixel camera, and there's no webcam.
The 7.8mm thick P-05D weighs 103 grams and provides 150 minutes of 3G talk time, says the carrier. The phone also offers two customizable Disney phone jackets.
NTT Docomo follows Softbank's Disney lead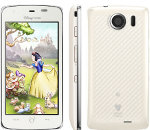 In October, Disney Mobile partnered with NTT Docomo rival Softbank Mobile to release a series of Disney-branded phones, including the DM010SH (pictured). The phones were based on Sharp Aquos models, according to a PrepaidMVNO story at the time. In the case of the DM010SH, this was said to be the Aquos 0090SH model, which features Android 2.3, a four-inch, 960 x 540-pixel display, and an eight-megapixel camera.
In December, NTT Docomo launched Sharp's Aquos SH-01D smartphone, which runs Android 2.3 on a 1GHz TI (Texas Instruments) OMAP4430 processor, and offers a 4.5-inch glasses-free 3D display and a 12.1-megapixel camera. NEC and Panasonic are also regular providers of NTT Docomo phones, as in last year's NEC Medias N-04C. Other Android phones in its roster include the Sony Ericsson Xperia X10.
Availability
Pre-orders for the Disney Mobile on docomo F-08D, which is scheduled for release in late February, will begin Feb. 17, says NTT Docomo. Pre-orders for the Disney Mobile on docomo P-05D, which is due in March, will be announced at a later date.
More information may be found in the Disney Mobile on docomo announcement, which offers links to data sheets. Disney Mobile Japan may be found here.
Eric Brown can be reached at [email protected].
---
This article was originally published on LinuxDevices.com and has been donated to the open source community by QuinStreet Inc. Please visit LinuxToday.com for up-to-date news and articles about Linux and open source.