Mar 31, 2004 — by LinuxDevices Staff — from the LinuxDevices Archive — 2 views

The PC/104 Consortium announced the winners of its 2004 Design Contest today at the Embedded Systems Conference in San Francisco. Entries were evenly distributed over three categories . . .
Commercial for Industrial/Medical/Transportation/Other
Commercial for Military/Aerospace
Research Project
Winners in each of these categories were selected by the panel of 2004 PC/104 Design Awards judges based on the innovation of the application and/or project design and how PC/104 technology is used to solve design problem.
The winners and other finalists will be featured in the spring issue of PC/104 Embedded Solutions Magazine. Additionally, the winners of each category received a paid trip to ESC in San Francisco where they received their award and recognition at an event sponsored by the PC/104 Embedded Consortium at ESC.
And the winners are . . .
The winner in both the Commercial for Industrial/Medical/Transportation/Other and the Commercial for Military/Aerospace categories is the SavantSense, developed by System Excelerator Inc. (SEI) for on-board multi-channel data acquisition, processing, and storage. The winner in the Research Project category is the University of Southern California (USC) Autonomous Flying Vehicle team, for their AVATAR (Autonomous Vehicle Aerial Tracing and Reconnaissance) project.
A description of each of the two winning projects, as submitted by the project teams, follows.
---
SavantSense
---
Designed to meet the needs of military, commercial, and industrial applications, SEI's SavantSense system provides multi-channel data acquisition, processing, and storage capabilities. Built around PC/104 modules, the system achieves exceptional scalability and can be customized to a specific customer application, even those that must withstand harsh environmental conditions such as high humidity, extreme temperatures, repetitive shock and vibration.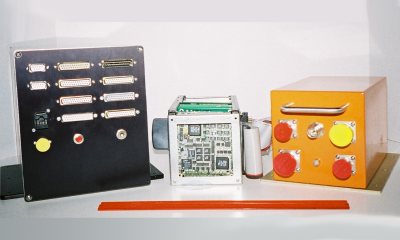 (Click image for a larger view)

SavantSense has been used in several such environments, including a US Naval Test Cell specializing in Rotary Wing (Helicopter) aircraft. SavantSense's modularity provides its customers with the lowest cost, size, and weight combination for their specific needs, while the use of PC/104 technology at the core of the SavantSense system also gives customers the option for future expansion.
(Click here for a larger view of the SavantSense's PC/104 stack)
Further info about SEI's SavantSense system is available here.
---
AVATAR
---
Designed around two PC/104 stacks, one for vision and the second for flight control, the Autonomous Vehicle Aerial Tracing and Reconnaissance ("AVATAR") is a model remote control helicopter that is capable of fully autonomous flight. Not only can AVATAR fly without human intervention, it can also perform GPS waypoint navigation, autonomous vision-based landing and autonomous sensor-based take-off, and image processing from three Firewire cameras.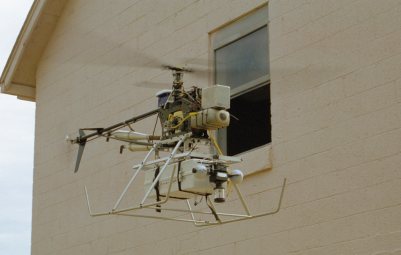 (Click image for a larger view)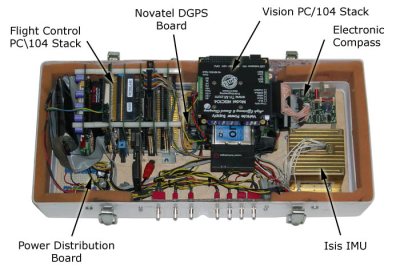 AVATAR's onboard embedded computer
(Click image for a larger view)
The use of PC/104 technology allowed the team to develop a system that was lightweight and low power, yet high-performance enough to support the computing requirements for autonomous flight. The two PC/104 stacks are tailored to their respective needs: the control stack includes additional serial ports and a timer/counter and digital I/O card, while the vision stack includes a Firewire card for capturing images from all three cameras. The USC Autonomous Flying Vehicle Team is currently researching areas such as autonomous landing on a moving target, deployment on a moving target, stealthy target pursuit and vision-based obstacle avoidance in 3D.
---
About the 2004 PC/104 Design Awards Judges
The panel of judges for this year's PC/104 Design Awards were:
Rick Lehrbaum, Editor-in-chief of DeviceForge.com
Bill Wong, Technology Editor of Electronic Design magazine
Brian Klien, Senior Technical Editor of OpenSystems Publishing
Chris Ciufo, Editor-in-chief of COTS Journal
Steve Ciarcia, Editorial Director and Publisher of Circuit Cellar INK
Roger Arrick, Editor of PC/104.com
About the PC/104 Consortium
The PC/104 Consortium and standard were established in 1992. PC/104, in use since 1987, is a small form-factor, embedded PC physical and electrical interface standard. It provides embedded system designers with an architecture that is dense, cost-effective and based on proven, practical technology. PC/104-Plus, an extension that was added to the standard in 1995, incorporates PCI technology. A PCI only version, PCI-104 was incorporated into the specification in 2004.
---

This article was originally published on LinuxDevices.com and has been donated to the open source community by QuinStreet Inc. Please visit LinuxToday.com for up-to-date news and articles about Linux and open source.