Aug 21, 2008 — by Eric Brown — from the LinuxDevices Archive — 31 views

[Updated: Aug. 28] — Archos announced new portable media players (PMPs) that run Linux on ARM Cortex processors. The Archos 5 and Archos 7 (pictured) offer 4.8- and 7-inch touchscreens, respectively, and include WiFi, hard drives, and an optional 3.5G cellular connection.
The new Archos PMP tablets are re-engineered upgrades to the 4.8-inch-screen Archos 605 (and earlier Archos 604) and the later, 7-inch Archos 704 and its successor, the 705. Whereas the 704 topped out at 80GB of storage, the Archos 7 provides up to 320GB and is also said to offer better video playback. Archos confirmed that the product runs Linux, but would not provide additional details. The France-based company has been making Linux-based PMPs for years, including the earlier PMA400 model.
Archos calls the new devices the world's first Cortex-based products. Although processor specs are not listed, the PMPs are likely based on the Texas Instruments OMAP35xx line of system-on-chips (SoCs), which are in turn built around ARM's powerful Cortex-A8 core. Considering the video focus, the devices probably use one of the two high-end OMAP35xx models that offer video acceleration: the OMAP3530, which also includes an OpenGL ES 2.0 accelerator, or the OMAP3525, which does not. Both SoCs are clocked at 600MHz and started shipping in late July.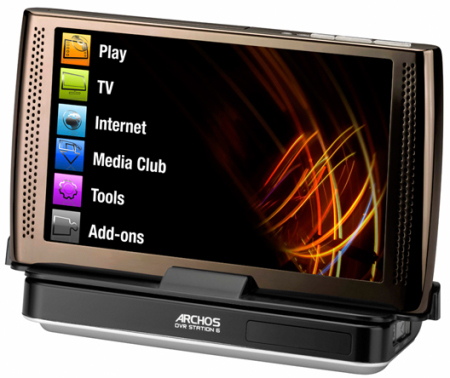 Archos 7 with DVR Station
(Click to enlarge)
The Archos 5 and Archos 7 are similar, both offering psuedo-HD playback (via optional software plugins) on their 800 x 480-resolution displays. The main differences are screen size, storage options, dimensions, and weight, all of which are larger for the "7" model. The Archos 7 measures 7.5 x 4.3 x 0.6 inches while the Archos 5 starts at 5 x 3.1 x 0.5 inches. One more difference: the Archos 5 recharges its Lithium polymer battery with a USB connection to a PC while the Archos 7 recharges via a power cable. Both claim to offer 12 hours music playback and four hours of video playback.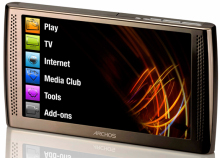 Archos 5 (left) and Archos 7
(Click on either to enlarge)
Unlike the somewhat similar, WiFi connected
Nokia N810 Internet Tablets
, or many of the Intel Atom-based
mobile Internet devices (MIDs)
that are expected this Fall, the Archos PMPs lack a slide out keyboard. Instead they rely on a virtual keyboard accessible via touch. The devices offer audio/video playback, an Opera web browser, Adobe Flash 9, and a new "full-fledged" email application with attachment support. There is also a photo viewer and a variety of games.
The 3.5G/HSDPA option is available only with the Archos 5G model, due in the fourth quarter. Archos has yet to release any details about the model except that it is limited to a 30GB hard drive, no doubt due to the need to fit in a cellular modem.

Archos 7 with 160GB (left) and 320GB storage options
Users of the Archos 5 and Archos 7 will also be able to connect via an optional DVR docking station, which is also due in 4Q. The DVR Station (pictured above) will offer battery charging, a remote control for optional navigation of the players, as well as audio and video recording. The station includes S-Video or Composite Video Out for displaying video on a connected TV, and a separate TV Snap-on option turns the station into a digital TV that can receive and record DTV channels. Additional options for the players include a "GPS in-car holder" for the Archos 5 that enables it take on the role of a portable navigation device (PND), says the company.

Archos 5 with 60GB (left) and 3250GB storage options
Specs for the Archos 5 and Archos 7 (with differences noted) are as follows:
Processor — Based on ARM Cortex core
Storage — 60GB, 120GB, or 250GB hard drives (Archos 5); 160GB or 320GB (Archos 7)
Display — 4.8-inch (Archos 5) or 7-inch (Archos 7) 800×480-pixel, TFT LCD, 16 million colors
WiFi — 802.11b/g
USB — 1 x USB 2.0; 1 x USB 2.0 Host
Other connections — Battery dock/DVR Station; 3.5mm mini jack for audio out
Standard video playback — MPEG-4 (AS[email protected] AVI) or WMV ([email protected]) up to DVD resolution; M-JPEG in QVGA resolution
Video playback with optional plug-in — MPEG-4 (ASP 720p) and WMV HD (MP 720p); H.264 up to DVD; MPEG-2 ([email protected]) up to 10 Mbps (up to DVD) and AC3 stereo (5.1)
Standard audio playback — Speaker; Stereo MP3 decoding @ 30-320 Kbits/s CBR & VBR, WMA, Protected WMA, WMA pro 5.1, WAV (PCM/ADPCM)
Audio playback with optional plug-ins — AAC, AAC+ stereo audio; AC3 stereo audio and 5.1 (via SPDIF output of DVR Station)
Video recording — (only via optional DVR Station/DVR Snap-on) NTSC/PAL/SECAM in MPEG-4 AVI with ADPCM stereo, VGA (640 x 480) @ 30fps or 25fps
Audio recording — (only via optional DVR Station/DVR Snap-on) stereo line-in, WAV (IMA ADPCM or PCM); voice recording via optional FM remote and its mic in WAV (IMA ADPCM)
Photo viewer — JPEG, BMP, PNG, GIF
Web software — Opera web browser, Adobe Flash 9; email client with attachments (POP3 and IMAP compatible); PDF viewer
Power — Removable Lithium Polymer battery with up to 4 hours video and 12 hours audio playback; DC-in for power adapter (Archos 7 only)
Dimensions Archos 5 (60GB) — 5 x 3.1 x 0.5 inches (127.5 x 78.3 x 12.9mm)
Dimension Archos 5 (120/250GB) — 5 x 3.1 x 0.76 inches (127 x 78.8 x 19.4mm)
Dimension Archos 7 — 7.5 x 4.3 x 0.6 inches (190 x 110 x 16mm)
Weight — Archos 7 23 oz (640g); Archos 5 (60GB) 8.8 oz (250g); Archos 5 (120/250GB) 10.6 oz (300g)
Desktop OS support — Linux (with mass storage device support) Windows Vista, XP, ME, 2000; Mac OS


Archos 704
(Click for details)
According to an Archos spokesperson, the Linux development was performed in-house. The kernel version and other details about the Linux implementation were not disclosed except to say that the Linux system "boots from main disk." The spokesperson went on to write, "We went with Linux for the ease and flexibility of development. We believe the future of Linux is quite strong."
Availability
Availability and base pricing for the new Archos tablets are listed as follows:
Archos 5 (September) — 280 Pounds UK ($521) for 60GB; 320 Pounds ($596) for 120GB; 360 Pounds ($670) for 250GB
Archos 5G (Q4) — 360 Pounds ($670) for 30GB
Archos 7 (October) — 360 Pounds ($670) for 160GB; 440 Pounds ($820) for 320GB
---

This article was originally published on LinuxDevices.com and has been donated to the open source community by QuinStreet Inc. Please visit LinuxToday.com for up-to-date news and articles about Linux and open source.