Sep 10, 2010 — by LinuxDevices Staff — from the LinuxDevices Archive — 5 views
Portwell announced a COM (computer on module) based on the Qseven form factor. Targeting gaming, industrial, medical, and military markets, the PQ7-M104G features Intel Atom Z5xx processors, 2GB of RAM and a 4GB SSD (solid state disk), gigabit Ethernet, eight USB ports, and two SATA interfaces, the company says.
Little bigger than a credit card, the PQ7-M104G uses the 2.75 x 2.75 inch Qseven format (for background, see later in this story). One of five such products now being offered by Portwell, it's similar to last year's PQ7-M100G in that it employs Intel's 1.6GHz Atom Z530 or 1.1GHz Z510, along with the expected SCH US15W northbridge/southbridge chip.
The PQ7-M104G (below) boasts a variety of enhancements over the PQ7-M100G, however. Firstly, the earlier module had 512MB of soldered-on DDR2 memory; the PQ7-M104G sports not only 2GB of DDR2 RAM, but also an optional 4GB NAND flash SSD.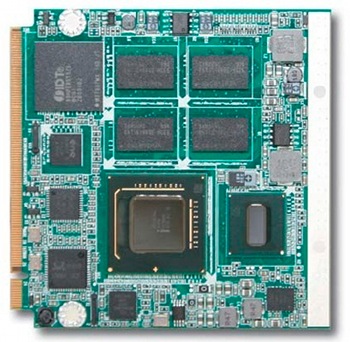 Portwell's PQ7-M104G
The PQ7-M104G also includes two SATA interfaces — carried via its "golden finger" Qseven connector, like all the module's other signals — that were not formerly present. In addition, instead of the PQ7-M100G's single PCI Express x1 lane, the PQ7-M104G has three (or four if SATA is not required), according to Portwell.
Other interfaces on the module are said to include LDVS or SDVO graphics, eight USB 2.0 ports, SDIO, LPC, and HD audio. Gigabit Ethernet is additionally present, courtesy of a Realtek RTL8111D chip.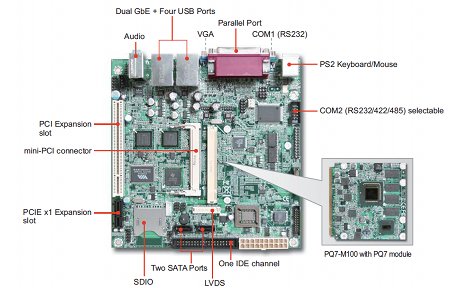 Portwell's PQ7-C200 Mini-ITX carrier board
(Click to enlarge)
Portwell also offers a 6.7 x 6.7 inch (170 x 170mm) Mini-ITX carrier board, the PQ7-C200 pictured above. The PQ7-M100G snaps onto the carrier board, which provides real world interfaces including dual PS/2 ports, a parallel port, a serial port, a VGA output, and dual gigabit Ethernet ports.
In addition to the above, the PQ7-C200 offers a Mini PCI connector, a 32-bit PCI expansion slot, a one-lane PCI Express expansion connector, and two SATA ports. The carrier board also has an SD expansion slot.
According to Portwell, the PQ7-M104G's CPU and companion chip require approximately five Watts. With the PQ7-C200, overall power consumption is said to be approximately 12 Watts.
Features and specifications listed by Portwell for the PQ7-M104G include the following:
Processor — Intel Atom Z530 clocked at 1.6GHz, or Z510 clocked at 1.1GHz
Chipset — SCH US15W
Memory — 512MB or 2GB of soldered-on DDR2 RAM
Storage — SSD with 4GB of flash (optional)
Expansion:

3 PCI Express x1 interfaces (4 if SATA isn't used)
LPC
SDIO

Networking — gigabit Ethernet
Other I/O:

8 x USB 2.0
1 x LVDS
1 x SDVO
2 x SATA
HD audio

Operating temperature — 32 to 140 deg. F (0 to 60 deg. C)
Power — 5VDC input; 5 Watts typical
Dimensions — 2.75 x 2.75 inches (70 x 70mm)
Qseven is a COM standard released in January 2008 by a 14-member consortium, led by Congatec, MSC Vertriebs, and Seco. Promoted as ideal for mobile devices, the 70 x 70mm format includes "fast serial differential interfaces," including PCI Express and Serial ATA, while skipping support for legacy interfaces like EIDE and PCI. It also supports SDIO, plus newfangled graphics and digital media specs such as DisplayPort and HDMI.
The Qseven form-factor includes a "golden finger" connector originally designed for laptop graphics cards using Nvidia's MXM (Mobile PCI Express Module) format. The connector, re-purposed here as a CPU module interconnect, provides 230 positions, .020-inch pitch, and 5.5mm and 7.8mm height options.
Worthy of note is that other products have used MXM connectors without claiming to follow the Qseven standard. For example, Embedian first pressed MXM into service in 2007 for its MXM-7110 and MXM-7114, modules that sport Samsung S3C2440A processors and a smaller, 66 x 50mm format. These products were joined in 2008 by Embedian's MXM-8310 and MXM-8110, with Marvell PXA320 processors onboard, and in 2009 by the Samsung S3C6410-based MXM-6410.
IWwave also used an MXM connector on the iW-Rainbow-G8M module it introduced earlier this year, but makes no claim that the device implements the Qseven bus. Finally, MXM connectors are also employed by FeaturePak, an expansion standard introduced in March for adding I/O modules to SBCs (single board computers), COMs, and other embedded products.
Further information
According to Portwell, the PQ7-M104G is available now, though pricing was not cited. Operating system support wasn't detailed, either, but the module is doubtless compatible with all Windows Embedded operating systems.
More information may be found on the Portwell website, here.
---
This article was originally published on LinuxDevices.com and has been donated to the open source community by QuinStreet Inc. Please visit LinuxToday.com for up-to-date news and articles about Linux and open source.