Jan 5, 2011 — by LinuxDevices Staff — from the LinuxDevices Archive — 42 views
Qualcomm is buying wireless chipset maker Atheros for $3.1 billion, in a move designed to help the company grow beyond its traditional business as a technology supplier for mobile phones and deeper into such areas as smartphones and tablets.
The deal, which was first talked about in the New York Times Jan. 4 and then announced earlier today, highlights the rapid growth of such sectors as tablet PCs, Internet TVs and other connected home devices, and the push by technology companies into these areas. Atheros is known for its wireless chipsets and modules, with a particular focus on Wi-Fi and Bluetooth.
In a press conference with analysts and journalists, Steve Mollenkopf, executive vice president and group president at Qualcomm, said that with many of these sectors, the jumping-off-point for the technology is not coming from traditional PCs, but from smartphones. Qualcomm, with its deep experience in making chips for cellular phones, sees this trend playing to its strengths.
"We think the platform strength of smartphones is generating enormous pressure on adjacent markets," Mollenkopf said. "This [Atheros deal is about] cellular [technology] exploding into different markets, and as we go, we're going to need new technologies and new people to get us there. We'll try to accelerate [that trend] as much as possible."
Qualcomm's products include such technologies as the Snapdragon processor, built using designs from ARM Holdings. However, CEO Paul Jacobs has been vocal in recent months about the need to grow its presence in the smartphone and tablet markets, for which analysts are projecting tremendous growth rates over the next few years.
A key focus at the Consumer Electronics Show 2011 this week in Las Vegas is the large number of new tablets from a variety of vendors that are hitting the market to compete with Apple's hugely successful iPad. Qualcomm in November 2010 unveiled its MSM8960, a 28nm Snapdragon chip armed with a new CPU core and aimed at smartphones and tablets.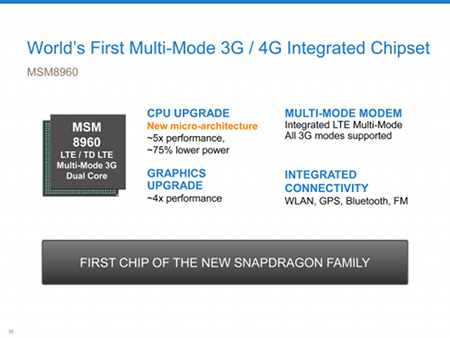 Qualcomm's MSM8960
(Click to enlarge)
Both Qualcomm and Atheros are showing off their wares at the show. Qualcomm, for example, announced a 1.2GHz MSM8655 version of the Snapdragon and a MDM9600 LTE (Long-Term Evolution) modem module.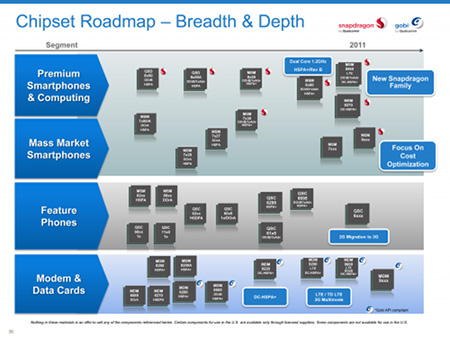 Qualcomm's MSM and QSD roadmap
(Click to enlarge)
Atheros, meanwhile, also added to its portfolio, announcing Jan. 3 enhancements to its WLAN architecture that help reduce power consumption of its standard and combined Wi-Fi and Bluetooth offerings. In addition, the company unveiled the AR6233 product for tables and portable consumer electronic devices that offers both 802.11n Wi-Fi and Bluetooth 4.0 technologies in a single solution.
A day later, Atheros announced two integrated 802.11n solutions that officials say will bring high-end performance and features to mainstream WiFi routers and gateways.
Qualcomm's Jacobs said bringing such Atheros technologies in-house will be a significant advantage to his company moving forward.
"We've been pushing a lot of capabilities into [mobile] phones," he said during the call with journalists and analysts. "Now we see these capabilities going out to all sorts of other devices."
Qualcomm joins a growing number of technology vendors looking to get into such high impact markets as smartphones, tablets and other consumer electronic devices. Intel officials have talked for more than a year about their efforts to grow beyond their traditional PC and server chip roots by leveraging such technologies as their low-power Atom chip platform to gain entrance into smartphones and other devices. In addition, Intel has made several acquisitions — such as Infineon's wireless business and security software maker McAfee — to bolster its efforts.
The deal for Atheros is the largest in Qualcomm's history, though both Jacobs and Mollenkopf left the door open that the company — which reportedly has about $18 billion in cash — could make other acquisitions. Qualcomm executives expect the Atheros deal to close in the first half of the year, pending Atheros stockholder and regulatory approval.
Atheros, with about 1,700 employees, had record revenues of $247 million in the third quarter of 2010. According to the company, about 51 percent of its revenues came in the networking space, from customers such as Aruba Networks, D-Link and NetGear. Another 26 percent came in the computing space, where Atheros clients including Hewlett-Packard, Lenovo, Acer and Toshiba, and 23 percent came in the consumer market, where customers include Samsung, Sony, Vizio and Nintendo.
Atheros President and CEO Craig Barratt, who will become president of Qualcomm's Networking and Connectivity unit after the deal closes, noted during the call that Qualcomm and Atheros have been long-time partners, and that the combination of products from the two companies will be formidable. It's not just about Wi-Fi in cellular phones anymore, Barratt said.
"It's about driving a broad platform of technologies into other markets," he said.
Jeffrey Burt is a writer for eWEEK.
---
This article was originally published on LinuxDevices.com and has been donated to the open source community by QuinStreet Inc. Please visit LinuxToday.com for up-to-date news and articles about Linux and open source.