Jul 6, 2011 — by LinuxDevices Staff — from the LinuxDevices Archive — 32 views
New details have emerged about Qualcomm processors that will run the ARM version of Microsoft's Windows 8 — and are also likely to run Android and Windows Phone 7. The MSM8960 will include dual "Krait" cores clocked at up to 1.7GHz; the MSM8930 offers the same but with a 1.2GHz maximum and simpler graphics; and the MSM8974 will have quad cores clocked up to 2.5GHz, according to a MobileTechWorld.com story.
Qualcomm announced June 1 that two of its Snapdragon processors will support the "next version of Windows." They're the dual-core MSM8960, which is currently sampling, followed by the quad-core Snapdragon APQ8064, which should sample in early 2012, the company said at the time. One of these processors may well have driven one of Microsoft's first public demos of its Windows 8 operating system that same day.
Expected to be released in public beta form at the January 2012 Consumer Electronics Show, Windows 8 offers both a new tile-based user interface and the ability to run old-style Windows applications. Windows 8 was shown off both on a range of x86 devices and on ARM-based reference systems using chips from Nvidia, Qualcomm, and TI.
Now, a July 5 posting by MobileTechWorld.com author Makran Daou provides additional information about the MSM8960, tips a lower-end version called the MSM8930, and reveals the MSM8974 — apparently an even-more-powerful version of the APQ8064. The details are said to have come from a leaked Qualcomm document, a link to which the company's legal department subsequently asked Daou to remove.
While these sources mention only Windows support, Android, if not Linux, support are almost certain considering the fast growing business in Android smartphones and tablets based on single- and dual-core versions of the Qualcomm Snapdragon.
The MSM8960 and APQ8064 were first announced in February, at which time Qualcomm touted the fact that it had employed its ARM architectural license to develop original processor cores. The company's homegrown architecture, codenamed "Krait," was claimed to deliver 150 percent higher overall performance and 65 percent lower power consumption than currently available ARM-based cores.
Quoted in a February article by PC's Sascha Segan, Qualcomm's Pineda said Krait is compatible with, but not the same as, the ARM Cortex-A9 cores used in Nvidia's Tegra 2 and TI's OMAP 4. "We don't see this as competing with Cortex-A9. We see it as competing with Cortex-A15 [link]," he reportedly added.
The MSM8960
Aimed at both smartphones and tablets, the dual-core MSM8960 includes an integrated multi-mode 3G/LTE modem, Qualcomm said in February. Featuring "asynchronous CPU cores which can be independently controlled for maximum efficiency," the device supports dual-channel LP DDR memory and features the Adreno 225 GPU (graphics processing unit), offering eight times the performance of the one found in the original 2007 Snapdragon, the company added.

Qualcomm's MSM8960
Source: MobileTechWorld
According to MobileTechWorld's Daou, the MSM8960's two Krait cores will be clocked between 1.5 and 1.7GHz, and the device will offer dual 500MHz LPDDR2 memory channels. The MSM8960 will support the capture of stereoscopic 20 megapixel images or 1080p video at 30 frames per second (fps), while its GPU will provide DirectX 9.3 compatibility and 125M triangles/sec. performance, he adds.
The MSM8960 will start shipping in production quantities during the fourth quarter of this year, the MobileTechWorld story adds.
The MSM8930
Daou's story also reveals another Snapdragon known as the MSM8930, which is essentially a cost-reduced version of the MSM8960. It has the same dual Krait cores, but they're clocked only up to 1.2GHz, and there's just a single 533MHz memory channel, MobileTechWorld says.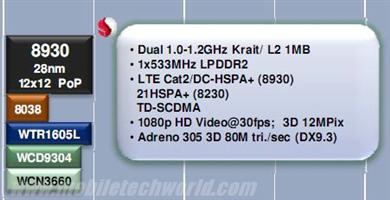 Qualcomm's MSM8930
Source: MobileTechWorld
For the MSM8930, the Qualcomm document apparently cited "Adreno 305" graphics, which again provide DirectX 9.3 compatibility, this time with 80M triangles/sec. performance. Stereoscopic stills are supported up to 12 megapixels, and 30fps 1080p video capture is again possible, the story adds.
According to the MobileTechWorld story, the MSM8930 will start shipping in the third quarter of 2012.
The MSM8974
In February, Qualcomm heralded the APQ8064, saying that it would include four asynchronous CPU cores, plus a quad-core Adreno 320 GPU that performs 15 times faster than the original Adreno, "enabling console-quality gaming." Also offered will be support for both PC and LP DDR memory, serial and PCI Express interfaces, and operation with cameras up to 20 megapixels, Qualcomm said.
Daou now brings word of the MSM8974, "which I guess replaces the MSM8964/APQ8064." (Qualcomm's "MSM" devices include on-chip cellular radios, whereas their "AP" equivalents feature only application processors.)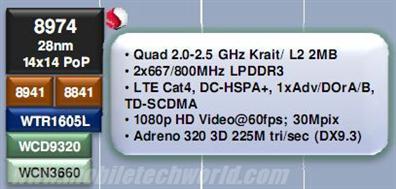 Qualcomm's MSM8974
Source: MobileTechWorld
According to the MobileTechWorld story, the powerful MSM8974 will include quad Krait cores clocked at up to 2.5GHz, plus 2MB of second-level cache and support for two 667/800MHz LPDDR3 memory channels. It will support 30 megapixel stills — 3D is likely, but wasn't mentioned — and 60fps 1080p video capture, while the Adreno 320 is said to provide 225M triangles/sec. performance.
The MSM8974 will start shipping in the first quarter of 2013, writes Daou.
Further information
Qualcomm's Snapdragon has dominated the world of high-end smartphones. The original 1GHz QSD8250/8650 Snapdragon chipsets debuted in Nov. 2007, featuring a Scorpion core that — like the ARM Cortex-A8 — is based on the ARMv7 instruction set and offers similar superscalar technology. (In fact, many observers refer to it flatly as a member of the Cortex-A8 family.)
Additional information may be found on Qualcomm's Snapdragon website.
Jonathan Angel can be followed at www.twitter.com/gadgetsense.
---
This article was originally published on LinuxDevices.com and has been donated to the open source community by QuinStreet Inc. Please visit LinuxToday.com for up-to-date news and articles about Linux and open source.