Jun 1, 2009 — by Eric Brown — from the LinuxDevices Archive — 2 views

Several companies will announce low-power netbooks this week incorporating Qualcomm's ARM-based, Linux-compatible Snapdragon processor, which is being upgraded to a 45nm, 1.3GHz "QSD8650A" version. Qualcomm and rival Freescale, which manufactures the netbook-ready i.MX515, are both branding netbooks based on their ARM-based SoCs as "smartbooks."
(Click for larger view of a Snapdragon-based Smartbook protoype — Source: Qualcomm)
Qualcomm is promoting the smartbook brand as a way to differentiate small, low-power netbooks based on its Snapdragon system-on-chips (SoCs). In conjunction with the launch of the Computex Taipei show in Taiwan today, the company unveiled a glitzy smartbook website, and issued several press releases announcing hardware and software companies that vow to manufacture or support Snapdragon-based smartbooks this Fall. All told, more than 15 manufacturers are developing more than 30 Snapdragon-based products, says the company.


Prototype of Pegatron's
i.MX515 netbook
reference design
(Click for details)
According to EETimes, meanwhile, Freescale will join Qualcomm in pushing the smartbook brand, but will offer its own Linux- and Android-compatible i.MX515. Taiwan-based Pegatron and Wistron are both demonstrating so-called smartbooks based on Freescale's i.MX515, says the story. At presstime, the three firms had yet to release any details about their i.MX515-related netbook products. However, IDG News Service reported that Pegatron will show off a 10-inch touchscreen netbook that appears to be the final version of its previously announced, Linux-based netbook reference design based on the Freescale SoC.
Qualcomm today also announced a new Snapdragon QSD8650A chipset manufactured with 45-nanometer technology. Clocked at 1.3GHz, the SoC is said to be 30 percent faster than the company's existing, smartphone-oriented 1GHz QSD8250 Snapdragon. The new chip is also touted as consuming less than 10 millwatts in standby mode. The QSD8650A won't begin sampling until this fall, so the first round of smartbooks will likely run on existing Snapdragon SoCs, which include the original 1GHz QSD8x50 chipsets and a 45nm QSD8672 chipset, which offers dual CPUs clocked at 1.5GHz. (More information on the QSD8650A may be found in our sister publications, WindowsForDevices, here, and eWEEK, here.)
Smartbooks touted as thin and power efficient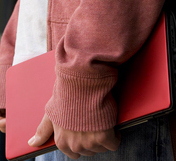 Smartbook prototype (Source: Qualcomm)
The Snapdragon-based smartbooks "bridge the functional divide between smartphones and laptops," says Qualcomm. Running on a touted six hours per battery charge, smartbooks are thinner than typical netbooks, says the company. The small netbooks will also offer the Snapdragon's integrated support for 3G wireless connections, as well as provide WiFi, Bluetooth, and GPS, says the company.
Judging from the detail-thin promotional video on the smartbook site, the mini netbooks appear to offer smaller displays than most netbooks, ranging from about 5 inches to 10 inches. By comparison, most of the latest Intel-Atom-based netbooks range from 10- to 13 inches, and these larger, newer versions tend to be increasingly offered with Windows XP only.
Smartbook features are said to include:
Under two pounds
Under 20mm thick
Touchscreen
Ubiquitous, real-time connectivity via 3G, WiFi, GPS, and Bluetooth
Optimized power management for all-day battery life and weeklong standby time
Access to real-time, personalized, and location-aware content
Streaming and playback of locally stored high-definition (HD) video content
High-performance 3D UIs, games, and maps
Access to social networks through instant messaging, video conferencing, and chat
The devices will be supported, smartphone style, via an online app store, called Plaza Retail. The store is billed as "the latest addition to the Plaza solution suite" targeting mobile devices. While Qualcomm did not mention it specifically, ARM-based netbooks are expected to cost at or below $200 and are expected to be sold primarily by wireless carriers along with 3G contracts.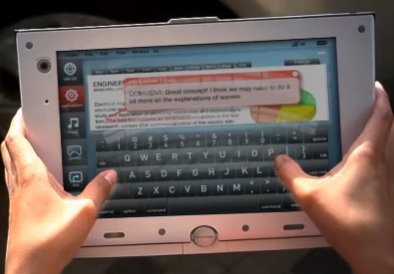 Tablet "smartbook" prototype (Source: Qualcomm)
According to Qualcomm, several companies will show Snapdragon-based products, although it did not state whether these would all be smartbooks or also smartphones and MID-like tablet devices such as the tablet shown in the promotional video (see image above). Snapdragon demonstrations "for viewing by appointment" at Computex are said by Qualcomm to be available from:
Asus
Compal Communications
Foxconn
HTC
Inventec
Toshiba
Wistron
IDG News Service reported yesterday that Inventec is developing up to four Snapdragon "laptop models" for customers. The story quotes Mark Hirsch, Inventec VP for marketing as revealing that the company will showcase a reference design of a clamshell device that runs Thundersoft's Millos Linux distro on a 1GHz Snapdragon SoC.
The Inventec design will offer a 10.1 inch screen with 1024 by 600 resolution, says the story. The 3G-ready design is said to weigh 1.76 pounds (800 grams), and provide 64GB of flash storage.
None of the other companies listed above appeared to have revealed its smartbook plans at the time of writing, beyond vague testimonials of support released by Qualcomm. However, more information is expected to be announced later today.
Smartbook software taps Linux and Android
Qualcomm did not mention specific operating system (OS) support, but the original Snapdragons were demonstrated running Linux and Windows CE. Because the Snapdragon uses an ARM core, which is not supported by Windows XP, the smartbooks are widely expected to be offered with Linux or the Linux-based Android OS. In fact, several software companies that have announced support for Snapdragon-based smartbooks mention Linux and/or Android in their Snapdragon testimonial quotes, although Windows Mobile was also mentioned by some.
The following software developers are now supporting Snapdragon chipsets, says Qualcomm, with applications arriving as early as available this summer:
Digital media services — Zinio
Multimedia players — RealNetworks, Bluestreak, Varia Mobile
Operating systems — Phoenix Technologies, ThunderSoft, Xandros
Productivity applications — Haansoft, Remoba
Social networking applications — Conveneer
System integration services — Bsquare, Movial
The new wave of ARM-based netbooks is expected to be largely based on Linux, according to industry analysts, at least initially. Many see high-end ARM platforms as also being an ideal home for the Google-sponsored and Linux-based Android to make the jump onto netbooks. Low-power, 3G-ready, under $200 netbooks running Linux and Android, and offered by wireless carriers, could help reverse the tide of Microsoft's growing domination of the netbook market.


Always Innovating's
Touch Book
(Click for details)
The major semiconductor platforms for ARM-based netbooks include the Texas Intruments' OMAP35xx SoC, which is being incorporated in the Touch Book from Always Innovating, and Freescale's i.MX515, which like the OMAP35xx, is based on the superscalar ARM Cortex-A8 core. The third major platform is the Snapdragon, which uses Qualcomm's Scorpion architecture. Like ARM Cortex-A8, the Scorpion cores use the ARMv7 instruction set. The Snapdragon QSD8250 was originally released as a smartphone-targeted processor, and has appeared so far in the Windows Mobile-based Toshiba TG01 smartphone, which is about to be resold by Japanese carrier NTT DoCoMo as the T01-A.
Michael Tidwell, Bsquare's VP of business development, said "Bsquare is pleased to support the Snapdragon platform across multiple embedded operating systems including Windows Mobile, Linux and Android."
Stated Jari Ala-Ruona, CEO of Movial, "Movial IXS on the Snapdragon platform empowers OEMs and ODMs with an optimized browser end-user experience while providing a powerful widget environment and an effective Web UI (user interface) toolkit for OEM and ODM Web designers and developers to quickly and easily create innovative Internet-based applications on mobile Internet devices and smartbooks."
Stated Hongfei Zhao, VP of business development for ThunderSoft, "ThunderSoft's advanced Millos Linux solution is specifically optimized for Qualcomm's Snapdragon platform to provide intuitive 2D and 3D user interfaces, excellent multimedia performance with hardware codec support, and push mail."
Stated John McQueen, CEO of Varia Mobile, "The connected media experience on Android devices that Varia Media Client offers is enhanced because of integration with Qualcomm's Snapdragon chipset solution."
Availability
"Smartbooks" based on the Snapdragon processor will ship later this year, says Qualcomm. The new smartbook website may be found here. More information on the Snapdragon should be here.
The IDG News Service on the Inventec smartbook should be here, and the EETimes story on Freescale's smartbook plans may be found here.
---

This article was originally published on LinuxDevices.com and has been donated to the open source community by QuinStreet Inc. Please visit LinuxToday.com for up-to-date news and articles about Linux and open source.