Nov 2, 2011 — by Eric Brown — from the LinuxDevices Archive — 4 views
VizuaLogic announced a rear seat entertainment (RSE) touchscreen computer that runs Android 2.3. Integrated into a car's front headrest, the "SmartLogic Android Rear Seat Entertainment Package" is equipped with a 1GHz processor, 512MB of RAM, a seven-inch capacitive touchscreen, plus Wi-Fi, Bluetooth, IR, USB, microSD, and HDMI connections.
TMI Products' VizuaLogic division makes a variety of rear seat entertainment (RSE) touchscreen computers, and has now spun its first Android version. The SmartLogic Android Rear Seat Entertainment Package is essentially a non-removable Android 2.3 tablet embedded in the back of car headrests.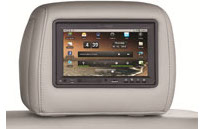 SmartLogic Android Rear Seat Entertainment Package

According to a CEOutlook story, the device is the first in a new line of "SmartLogic" branded in-vehicle infotainment (IVI) devices that will feature interaction with smartphones and other devices. VizuaLogic also announced an app that lets Android and iOS users access its catalog of products and the vehicles they match, thereby helping consumers and car salespeople quickly find a match, author Amy Gilroy adds.
The Android RSE Package is equipped with a seven-inch capacitive screen, says CEOutlook, which did not list screen resolution. The tablet receives an Internet connection via Wi-Fi from any smartphone, tablet, or dedicated mobile hotspot device that offers a Wi-Fi hotspot capability for sharing 3G/4G bandwidth.
Sold as a pair, the dual headrest displays can act independently or show the same content. The tablets also offer Bluetooth as well as an FM modulator "to play audio throughout the car," says the story.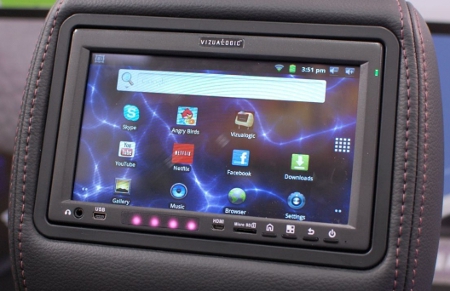 Another view of the Android RSE Package
Source: CNET

No technical details yet appear on the VizuaLogic website, but according to a hands-on CNET report from Antuan Goodwin, the Android RSE Package is further equipped with a single-core 1GHz processor, 512MB of RAM, 4GB internal flash storage, and an exposed microSD slot.
Other I/O is said to include a USB port and an HDMI input for piping in video from a portable DVD player. A headphone jack — an absolute must in RSE devices — is also supplied, according to CNET.
Physical buttons under the screen are said to include home, menu, back, and power. An IR wireless remote controller and "possibly" a pair of IR headphones will also be available, according to Goodwin.
Performance, he adds, "was rather sluggish and even frozen at one point," but this was explained by VizuaLogic as being a pre-production glitch.
CEOutlook says the Android RSE Package will be available in December "at prices comparable to current back seat video systems." The devices are said to be custom assembled on-site in the U.S. to match a given car's interior in "scale, style, shape, stitching and texture."
CNET says the Android RSE Package will instead go on sale sometime in the first quarter of 2012, when it will "hit 12-volt retailers" for $1,400 a pair.
Android-based RSE system heading for Bentley?
According to Goodwin, even with a first quarter release, the VizuaLogic product could be the first Android-based RSE touchscreen computer to reach market. As he notes, however, in July Audiovox announced an Android-based RSE system for Bentley luxury cars.
Goodwin's July story listed possible availability in December of this year, but was later updated with a statement from Bentley saying that it had no firm plans to offer an Android RSE option. Other Android-based front-seat IVI systems include an upcoming Saab IQon.
With multicore processors coming to automotive IVI systems, running on multicore-ready, Genivi Linux applications such as MontaVista Automotive Technology Platform (ATP) , for example, a single IVI system will be able to drive multiple screens, including rear-seat displays. In the first generation of IVI systems, however, each touchscreen in a car is more or less autonomous.
Another interim approach is to simply build cars with receptacles with room for any third-party tablet and a port for USB port, but, of course, there's less profit in that for carmakers. The T3 Motion R3 electric vehicles do offer a detachable Samsung Galaxy Pad tablet as an option.
Availability
More information on the SmartLogic Android Rear Seat Entertainment Package, which is expected to sell for about $1,400 a pair in December 2011 or the first quarter of 2012. More information should eventually appear on VizuaLogic's website.
---
This article was originally published on LinuxDevices.com and has been donated to the open source community by QuinStreet Inc. Please visit LinuxToday.com for up-to-date news and articles about Linux and open source.