Nov 29, 2010 — by Eric Brown — from the LinuxDevices Archive — 11 views
The Brazilian subsidiary of Electrolux has joined with ProFusion Embedded Systems to develop a refrigerator that includes a Linux-based touchscreen computer. The Infinity I-Kitchen's computer is based on a 400MHz Freescale i.MX25 processor, offering a 800 x 480 display and an Enlightenment Foundation Libraries (EFL) user interface.
The Electrolux Infinity I-Kitchen refrigerator appears to be headed for the Brazilian market. The company, which also sells its refrigerators under the Frigidaire brand, says the computer offers touchscreen control over internal temperature, pre-set modes and other refrigerator functions.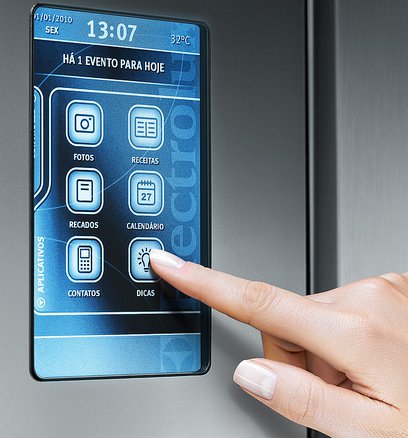 Infinity I-Kitchen touchscreen interface
In addition, the computer is said to offer touch-enabled apps such as calendar and contacts, although there does not appear to be any web access, telephony, or email integration. A Notes application aims to replace Post-it notes, offering features like marking messages as unread, or reminding users of birthdays and appointments, says Electrolux.
A Photos app, meanwhile, offers the display of digital photos, while a Recipes app offers more than 600 recipes published by a famous Brazilian magazine, says the company.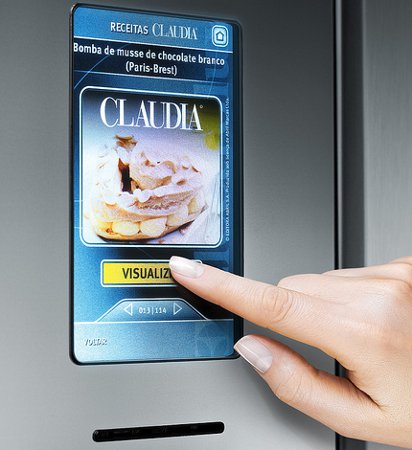 Infinity I-Kitchen Recipes app
Electrolux has provided few technical details, but the Infinity I-Kitchen is said to feature a computer that runs on a
Freescale i.MX25
system-on-chip. Announced in June 2009, the SoC is based on a 400MHz ARM926EJ-S core, and is available in versions for automotive infotainment (i.MX251 and i.MX255) and industrial applications (i.MX253, i.MX257, and i.MX258).
A post by Luis Felipe Strano Moraes on Enlightenment.org — the open source organization responsible for the Infinity I-Kitchen computer's EFL user interface — adds that the computer is equipped with 128MB RAM and offers an 800 x 480 touchscreen. There is no mention of USB or Ethernet ports, SD slots, or Wi-Fi, but presumably, the device offers an interface of some kind for uploading photos or contacts.
An Enlightened interface
It's said the lack of hardware acceleration available on the b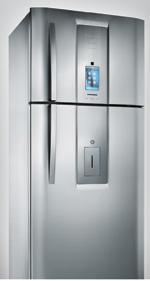 asic i.MX25 SoC led the developers at Electrolux and ProFusion Embedded Systems to choose the lightweight Enlightenment Foundation Libraries (EFL) as the basis of the UI. (In February, Canonical announced it was developing an alternative 2D ARM interface for low-end ARM-based netbooks based on EFL for the subsequent Ubuntu 10.04 ("Lucid Lynx") version of Ubuntu Netbook Remix.)
EFL performance is accelerated entirely in software thanks in large part to the "Evas" canvas (drawing) library. Evas is said to support a variety of rendering engines, including X Render, X11, DirectFB, and OpenGL ES. A Slashdot.org post announcing the Infinity EFL integration says the computer uses X11 rendering.
According to the Enlightenment.org post, the Infinity I-Kitchen makes particular use of the the "Edje" declarative layout format, as well as another component called Elementary. In addition, the computer's "Photos" application is heavily based on EFL's Ethumb, says the post.
All of the modifications made for the computer with open source software, including GNU/Linux and the EFL libraries, have been fed back upstream to the respective communities, says Electrolux. They will also be posted at Electrolux's website, says the company.
Availability
Electrolux offered no details on the pricing or availability of the Infinity I-Kitchen. The announcement may be found here, and ProFusion Embedded Systems' site may be found here.
The Slashdot.org item on the Infinity I-Kitchen may be found here, and the Enlightenment.org post may be found here.
---
This article was originally published on LinuxDevices.com and has been donated to the open source community by QuinStreet Inc. Please visit LinuxToday.com for up-to-date news and articles about Linux and open source.