Aug 3, 2010 — by Eric Brown — from the LinuxDevices Archive — 2 views
NoMachine announced details about an upcoming version 4.0 of its X Windows-based, Linux-compatible NX Remote Access software. Said to be "in its final stages," NX 4.0 expands beyond Linux to offer native remote access to Windows and Mac desktops, and it also beefs up multimedia support and integrates its NX Web Player app to offer NX sessions on any device, including smartphones.
NX 4.0 is touted by Rome, Italy based NoMachine as "taking remote access, desktop, and application delivery software to an unprecedented level for both physical and virtualized computing environments."
The last time we checked in with the company was last October when it announced a version of NX for small businesses. The NX Small Business Server was based on NX 3.4, which had shipped the month before, adding multi-monitor support.
NX 4.0 was originally supposed to have shipped by then, but as is so often the case, "development ran longer than anticipated," according to the company.
Widely adopted by thin client vendors, NX positions a caching proxy server on either side of the X Window system's client-server architecture, thereby reducing network traffic to differential transfers of whatever is not already cached. For example, it transmits only cursor movements and menu changes instead of resending the entire screen. NoMachine claims that NX can reduce network traffic by up to 50 times, providing Citrix-like scalability (for more background on NX, see farther below).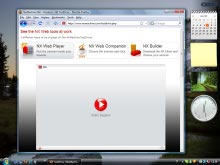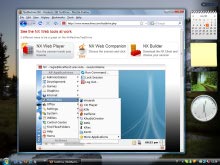 Earlier, pre-release version of NX Web Player, requesting a remote session (left) and interacting remotely (right)
(Click on either to enlarge)
NoMachine had previously tipped the fact that NX 4.0 would feature a fully integrated version of the NX Web Player (pictured above).
Announced
in November 2008, NX Web Player is said to enable users of heterogeneous mobile devices to effectively Xhost Linux applications and desktops, without installing client software. The software uses Javascript as well as an AJAX-based GUI front end, says NoMachine.
The big news with version 4.0 is the broadening of the technology to offer native remote access of Windows and Macintosh desktops. Previous versions offered clients for Windows and Mac, but only supported remote access to Linux and Solaris desktops.
NoMachine does not explain how it achieves this trick, but offers "feature request" pages suggesting that Windows and Mac versions of NX Server will be somewhat limited implementations. They will, however, provide "a complete solution for remote desktop access, useful, for example, for administrative purposes," the company claims.
NoMachine suggests that initial versions of NX Server for Windows and Mac will provide functionality comparable to that offered by NX Server 3.x for Linux and Solaris, and that the authentication mechanism used to connect the server in either case will rely on the SSH access service. However, this will evolve in the future to a full NX service based on a NX daemon able to accept TCP connection, enabling communication between the NX client and server through a SSL-secured channel, the company says.
Major highlights of NX 4.0 are said to include:
Remote desktop access for Windows and Mac — secure native remote desktop access
NX Web Player integration — allows access to NX sessions from any device via a web browser, and without client software installations
Access from smartphones — new smartphone browsers "serving as a portal to remote NX sessions" (appears to be related to NX Web Player)
Video support — addition of smooth video animations and graphics, from corporate training videos to YouTube

Session recording and playback — records NX session activity and plays it back as a video for training or troubleshooting
Audio infrastructure — real-time audio streaming and VOiP applications in an NX session using new two-way audio channel
USB Forwarding — remote USB devices accessible from within NX sessions as if they were connected to local PC
Two-way file transfer — capability to copy files and folders to and from a remote desktop
Redesigned core — new NX architecture that can extend to currently unsupported Unix platforms and hardware architectures
User interface enhancements — completely redesigned NX Client GUI , including a new session toolbar providing for easier management of session settings and services
NX background
In addition to the server versions of NX, NoMachine offers various client versions, as well as the NX Web Player based Web companion version and a free open source version of NX. There is also an NX Builder PHP application for publishing NX sessions to the web.
Launched in 2003, NX received an upgrade to version 3.0 in June 2007, adding new connection options, per-server and per-user profiles, support for x86_64, and enhanced scriptability. In 2008, the software was upgraded to version 3.2, adding features that supported kiosk use, followed by a version 3.3 maintenance release.
Customers include a number of thin-client vendors that provide Linux distributions, such as SmartFlex, NeoWare, and Thinstation. NX is also incorporated in the LeoStream Connection Broker.
In July of last year, Google released a proof-of-concept server windowing system based on NoMachine's original NX, as well as on a variant called FreeNX. Like NX, Google's open source NeatX server is designed to address X Windows' shortcomings when running over networks.
Availability
NX 4.0 is "in its final stages," says NoMachine. The new version is said to be guaranteed to all subscribed customers, and a basic free version will also be made available for personal use.
More hints as to the final feature list of NX 4.0 may be found in NoMachine's feature request page, here.
---
This article was originally published on LinuxDevices.com and has been donated to the open source community by QuinStreet Inc. Please visit LinuxToday.com for up-to-date news and articles about Linux and open source.