May 1, 2008 — by Eric Brown — from the LinuxDevices Archive — 51 views

A value-added reseller of mobile computers and PDAs has ported Linux to a ruggedized, "military-grade" PDA. SDG Systems is offering the "Nomad" from Tripod Data Systems (TDS) pre-installed with Angstrom Linux and Qtopia PDA Edition, and bundled with a toolsuite and build environment based on OpenEmbedded.
(Click for larger view of TDS Nomad)
SDG Systems has ported several of TDS's rugged PDAs to Linux. TDS supplies them only with Windows Mobile. SDG made its first Linux port to the original Recon PDA back in 2005 at the request of 10East, a vertical ISV (independent software vendor) that sells to the railroad industry.


The earlier Recon-X
(Click to enlarge)
Compared to the previous Recon-X model from TDS (pictured at right), which was also "tuxified" by SDG almost two years ago, the Nomad (pictured above) moves up to an 806MHz PXA320. RAM doubles, to 128MB, and flash memory increases to either 512MB or 1GB. The Nomad also has an improved display, moving up to a backlit, 480×640 portrait VGA touchscreen.
Newly integrated features include a SiRFStar III GPS radio, a laser 1D barcode scanner, and a two-megapixel digital camera. The Nomad also offers Bluetooth, 802.11b/g WiFi, a serial port, and a speaker and microphone. Expansion and connectivity are handled via CompactFlash and SD slots, as well as USB host and client ports. The battery lasts up to 15 hours under normal use, but has lasted as long as 25, says SDG.
The Nomad maintains compliance with the MIL-STD-810F standard for drops, vibration, and temperature extremes, says SDG, and is IP67 rated for imperviousness to water and dust. It can withstand 30 minutes exposure under a meter of water, says SDG, as well as survive temperatures ranging from -22 to 144 degrees F. To prove how rugged the Nomad is, the SDG points to two entertaining videos showing the device surviving PDA chambers of horrors like swimming pools, bathtubs, ovens, freezers, the beach, and buried underground in the garden.
SDG provides technical and warranty support to customers including 10East and Lockheed Martin, and provides Linux development support and services. It equips its version of Nomad with an Angstrom Linux 2.6.21 kernel and utilities, and the UI is based on Qtopia PDA Edition, version 2.2. A GPE (X11, GTK+, Qt4) user interface option is available for beta testing, says the company, and Qtopia 4 support is in the works.
SDG now offers a mechanism to let users more easily boot a custom application exclusively, said SDG President Todd Blumer, in an interview.
"We now offer standard start-in scripts that check to see if users have installed their own application, without changing the default start-in scripts," said Blumer. "This way customers can control the script themselves and launch their own Qt for Embedded Linux application and create a single-purpose device. They only need to train users on a single application instead of the whole PDA."
The idea came from a request from Lockheed Martin, said Blumer. The company wanted to streamline training and limit distractions for a Qtopia 4-based military situational awareness application called DisOPS. "It accelerates training support, and it also makes sure no one's playing Solitaire or Asteroids," said Blumer.
Previously, users wanting to limit the device to a single app would need to perform the time-consuming task of creating their own filesystem image. This option is still available for those who want to re-flash the device in the field, he said.
In addition, beginning with the new Linux-Angstrom release, Java support has been added. Developers can create both AWT and Swing applications using the JamVM virtual machine and the GNU Classpath Libraries, says SDG.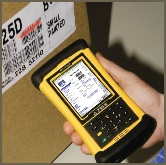 Nomad as barcoding device
According to Blumer, the Nomad port was more difficult than with the Recon models due to the "high level of device integration." He also noted that the device's faster processor was a welcome improvement for SDG's customers. "A lot of our customers want to do mapping software, something that's computationally intensive, and now with the Nomad they can do that."
Stated Chris Garrett, Senior Software Engineer at Lockheed Martin, "SDG has added a rugged operating system to a rugged piece of hardware and by so doing, given people in harsh situations one less thing to worry about."
Availability
The Linux version of the Nomad sells for $1,650 to $2,300, based on hardware options, says SDG, and comes with a Linux development kit and a one-year parts and labor warranty. An extended warranty is also available. More information may be available on the Linux version at this SDG page, and more info on the general purpose Nomad may be available at this TDS page.
---

This article was originally published on LinuxDevices.com and has been donated to the open source community by QuinStreet Inc. Please visit LinuxToday.com for up-to-date news and articles about Linux and open source.