Jun 17, 2008 — by Eric Brown — from the LinuxDevices Archive — 18 views

LynuxWorks announced that its Linux distribution was used in a new high-speed industrial camera system from Accu-Sort Systems. The AccuVision 6010 Long-Range Camera System (AV-6010) is designed as a line-camera scanning and sortation system for postal routing, warehouse, and other distribution environments,… says Accu-Sort.
(Click for larger side view of AV-6010 camera)
The AV-6010 It is said to offer one- and two-dimensional barcode reading, as well as optional Optical Character Recognition (OCR) and video coding support. It runs on two paired distros from LynuxWorks: BlueCat Linux and the proprietary LynxOS real-time operating system (RTOS).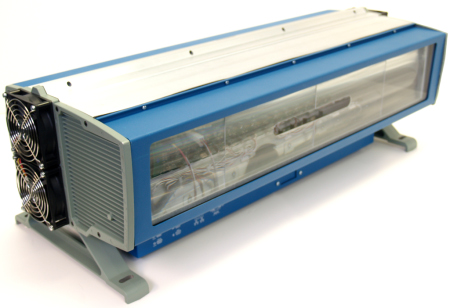 AV-6010 camera component
(Click to enlarge)
Each camera in the multi-camera AV-6010 sortation system is linked by an internal Ethernet network and arranged around a conveyor belt to provide a six-sided imaging tunnel (see photo and diagram below). Combined with the touted reliability of the
BlueCat Linux
distro, and the capability of the real-time LynxOS to reduce software glitches and hard drive failures, the internal network is said to help deliver a claimed mean time between failures rate of more than 75,000 hours, says the company.
The AV-6010 is touted as offering a 70 percent faster installation time than typical systems. This is due in part to an automatic calibration wizard, says the company, as well as a design that integrates modular components, including camera, illumination, decoder, and power supplies, into a single unit. A "RangeFinder" red-laser module provides "package detection, ranging, and coarse location in a planar parallax system," and can be purchased with either short or long-illumination options.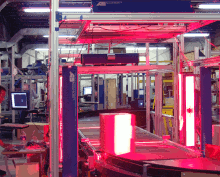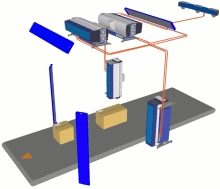 Real and virtual images of the multi-camera AV-6010 scanning system
(Click either to enlarge)
Each AV-6010 camera is equipped with one to three processors, as well as gigabit Ethernet and Serial ports, says Accu-Sort. The company declined a request to specify the type of processors used.
The 250dpi (dots per inch) camera system is equipped with a new, optical lens design that is said to deliver higher imaging quality than Accu-Sort's previous cameras. The camera provides automatic compensations for camera angle, package skew, and belt speed variation, and are said to keep pace with conveyor belt speeds of 620 FPM (feet per minute). Power consumption ranges from 450 VA to 800 VA, says Accu-Sort, and the cameras support temperatures ranging from 32 to 122 degrees F (0 to 50 degrees C).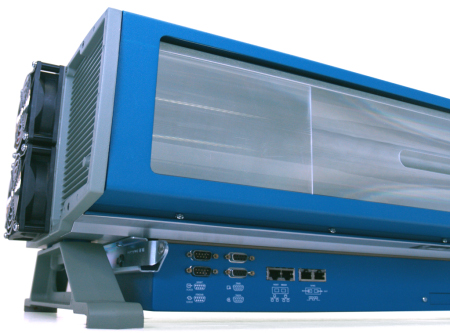 AV-6010 (close-up view)
(Click to enlarge)
LynuWorks's Linux/RTOS double whammy
Because Accu-Sort's design for the AV-6010 required both Linux and RTOS components, the company was drawn to the combination of LynuxWorks's Linux and RTOS platforms, which are linked by a single Eclipse-based Luminosity IDE (integrated development environment) and related development tools. BlueCat Linux application code can run on LynxOS without modifications, says LynuxWorks.
The Linux-like LynxOS RTOS is said to offer open APIs and Linux ABI (application binary interface) compatibility, along with full conformance to POSIX and advanced networking features. The Linux 2.6-based BlueCat Linux, meanwhile, offers the flexibility of an open-source Linux development environment, says LynuxWorks.
The Luminosity IDE includes system profiling tools, compiler tools, and an "RTOS-aware" debugger. The IDE supports PowerPC processors, as well as the Xilinx MicroBlaze, a royalty-free 32-bit soft-core processor designed for Xilinx FPGA (field-programmable gate array) chips. In fact, LynuxWorks has developed a special version of BlueCat for the MicroBlaze softcore called BlueCat-ME (MicroBlaze Edition).
In the '90s, LynuxWorks developed its own real-time extensions to POSIX, in order to make LynxOS as "Unix-like" as possible. In late 1999, the company then jumped into the nascent "embedded Linux" market with both feet, pioneering the dual-OS product strategy later adopted by other RTOS vendors, such as Wind River and Enea. It even came to change its name from Lynx Real-Time Systems to LynuxWorks.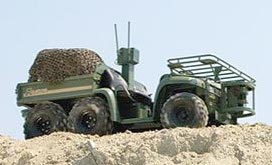 John Deere's BlueCat-powered
M-Gator unmanned military vehicle
Much of the company's recent success has derived from its efforts to market its BlueCat/LynxOS hybrid to the military and aerospace markets. In recent years, the company has also been able to sell the military on BlueCat-only solutions. For example, BlueCat is built into John Deere's R-Gator robotic utility vehicle (pictured at right), which is currently being used by the U.S. military. The autonomous unmanned ground vehicle also incorporates iRobot's proprietary robot technology.
Stated Bruce Love, Software Engineering Manager, Accu-Sort, "Only LynuxWorks offered both [Linux and RTOS] environments — and a single toolset to use, which was attractive since our developers would not need to overcome a lengthy learning curve."
Availability
The AccuVision 6010 Long-Range Camera System (AV-6010), is available now for an undisclosed price, says Accu-Sort. More information may be available here.
---

This article was originally published on LinuxDevices.com and has been donated to the open source community by QuinStreet Inc. Please visit LinuxToday.com for up-to-date news and articles about Linux and open source.