May 1, 2010 — by LinuxDevices Staff — from the LinuxDevices Archive — 8 views
At this week's ESC (Embedded Systems Conference), the SFF-SIG (Small Form Factor Special Interest Group) announced an online database letting users search for products compliant with any of the group's six specifications. The specs covered are CoreExpress, MiniBlade, Pico-ITXe, Pico-I/O, SUMIT-ISM, and SUMIT Expandable, the group says.
Founded in 2007, the SFF-SIG touts itself as "the only industry group with a range of standards for new sub-10W off-the-shelf modular computer and controller platforms, including Intel's Atom and Via's Nano CPUs." Unlike with other trade groups, specifications are posted free of charge without delays, forms to fill out, or divulging personal information, the organization says.
According to the SFF-SIG, its website now includes a searchable database of products meeting any of the specifications the group has released. In order of presentation on the site, these are:
SUMIT
SUMIT-ISM
Pico-ITXe
Pico-I/O
COMIT
CoreExpress
MiniBlade
Eight defined product categories include CPUs, serial ports, networking, analog I/O, digital I/O, power supply, mass storage, other I/O, and connectors, says the group. The website, pictured below, also allows users to search across all of those categories at once.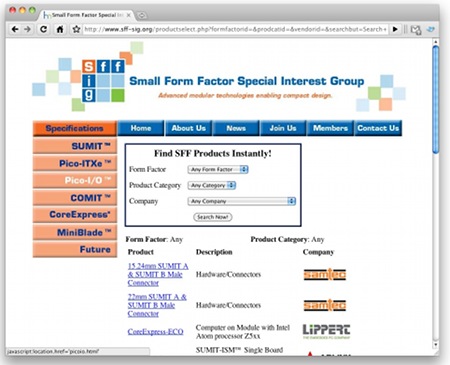 The SFF-SIG's new database of standards-compliant products
(Click to enlarge)
The SFF-SIG says each product listed in its database includes a photo, feature bullets, a description, a link to a data sheet in .PDF format, and a link to the manufacturer's website. (We're not too shy to mention, however, that many of the products listed have already been featured on LinuxDevices.com in greater detail.)
Paul Rosenfeld, president of SFF-SIG, stated, "In the three years since SFF-SIG introduced its first specification for the SUMIT (Stackable Unified Module Interface Technology) interface, the number of available products that implement SFF-SIG specifications has blossomed. This database allows member companies to list their products in an easy to use, searchable forum. OEMs considering SSDs, stackable SBCs, I/O cards or computer-on-module implementations can easily search for products that meet their specific requirements."
SUMIT
Founded in 2007, the SFF-SIG produced its SUMIT specification the following April, calling it "the biggest-advancement since PC/104." Intended for use in a variety of form factors, the spec defines a pair of 52-pin connectors, of Samtec design (below).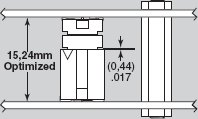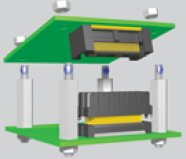 The SUMIT physical interface
Originally, the A connector offered a single PCI Express lane, while the B connector added another PCI Express x1 lane as well as an X4 lane. Revision 1.3 added four more PCI Express x1 lanes, for a total of six.
Features of SUMIT version 1.3 were said to include:
6 x PCIe x1 lanes or 2 x PCIe x1 lane and one PCIe x4 lane
4 x USB 2.0 interfaces
ExpressCard
LPC bus
SPI/uWire
SMBus/I2C bus
The spec has since reached version 1.5, adding various USB specifications and label definitions.
SUMIT-ISM
SUMIT-ISM, initially dubbed Express104, was devised by the SFF-SIG (Small Form Factor Special Interest Group) in 2008. The term refers to two different things: first, the use of two 52-pin SUMIT expansion connectors, and second, the use of an ISM (industry standard module) form factor.
ISM employs the same 3.8 x 3.6 (96 x 90mm) form factor as the venerable PC/104 standard. Therefore, it offers backward-compatible dimensions, I/O zones, and mounting holes.
Put these ingredients together, and you have SUMIT-ISM, which features a PC/104-compatible board outline, but replaces the old 120-pin PCI-104 connector with the 104-pin SUMIT A/B pair of connectors. If ISA backward compatibility is desired, SUMIT-ISM boards can still include the requisite bridge circuitry and a 104-pin PC/104 connector, too.
Pico-ITXe
Via Technologies introduced its 3.9 x 2.8-inch Pico-ITX motherboard format in April 2007, at which time it was touted as offering "the smallest complete x86 mainboard in the industry." A year later, Via transferred ownership of the spec to the SFF-SIG.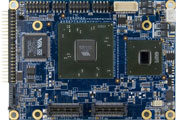 In Nov. 2008, Pico-ITXe made its debut, combining the Pico-ITX form factor with SUMIT expansion. Via's initial Epia-P710, pictured at right, offered SUMIT A and B connectors with interfaces including LPC, SPI, SMBus, and three USB 2.0 interfaces, according to the company.
Pico-I/O
Pico-I/O, released in August 2009, defines the form factor, mounting hole locations, connector locations and stacking conventions for Pico-I/O modules, which can be used for I/O expansion on devices with a SUMIT interface. But, as the SFF-SIG adds, it does not specify the location of the I/O stack, which "may be placed in any location as long as the relationship between the mounting holes … and the SUMIT connector placement remains fixed."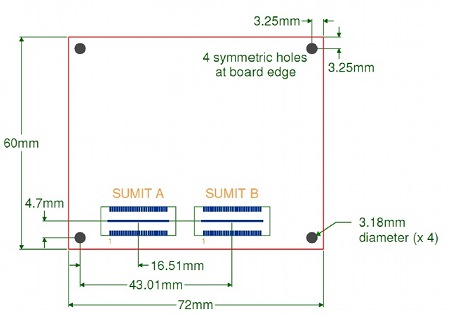 Pico-I/O form factor and connector locations
(Click to enlarge)
According to the SFF-SIG, Pico I/O modules measure 2.83 x 2.36 inches (72 x 60mm) and may include connectors in SUMIT A, SUMIT B, or SUMIT AB configurations, though SUMIT A-only and B-only modules may not be used in the same system. Modules are stackable in one direction, with a processor board at the bottom, and those with SUMIT AB connectors must be the first boards in the stack, the group adds.
To date, Pico-I/O boards have been produced by Acces I/O and WinSystems, as listed on the SFF-SIG website.
COMIT
The COMIT (Computer On Module Interconnect Technology) spec was announced in April 2009 as a means of connecting small processor modules to accompanying baseboards. Designed to be processor-independent, COMIT is an electromechanical interface specification that focuses on bus interconnect and module manufacturing technology.
COMIT uses the "SeaRay" connector system, again from SFF-SIG member Samtec. Touted as low-cost and rugged enough for both commercial and industrial applications, this .050-inch connector is equipped with 240 pins.
According to the group, thanks to the use of a single high-speed, high-pin-density connector, registration problems are eliminated. In addition, COMIT/SeaRay can handle differential signaling rates of 9GHz, enabling support for interfaces such as PCI Express (PCIe) Gen2 and USB3, yet at a very low cost, says Samtec.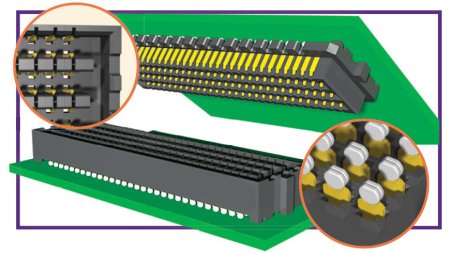 The Samtec SeaRay connector that forms the basis for COMIT
(Click to enlarge)
The SeaRay connector can be mapped as a single-ended application, a differential-pair application, or a combination of both, says Samtec. In single-ended mode, it is rated at 4GHz per pin.
The "robust" contacts, which support up to 500 I/Os, enable "zippering" when mating and unmating and reduce insertion/extraction forces, Samtec says. Available in stack heights from 7mm to 17.5mm, SeaRay is said to be deployable in row options ranging from a four-row slim version up to 10 rows.
The COMIT spec based on SeaRay is said to support the following features:
3 x PCIe x1 lanes
1 x PCIe x4 lane
6 x high-speed USB 2.0 channels
VGA, SDVO, and dual LVDS video interfaces
2 x SATA channels
Ethernet
8-bit SDIO
HD audio
LPC (Low Pin Count) bus
SPI/uWire
SMBus/I2C bus
System clock and control signaling
"Ample" power and ground
CoreExpress
The CoreExpress format was introduced by Lippert as a proprietary standard two years ago, first appearing in the form of the CoreExpress-ECO module pictured below. In March, the 2.6 x 2.3 inch (65 x 58mm) format was adopted by the SFF-SIG and opened to the general embedded community.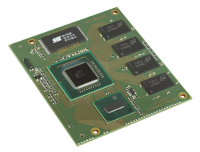 Lippert's CoreExpress-ECO

The CoreExpress format features a single, all-digital 220-pin surface-mount connector. Enhancements in the current version (2.1) over the original Lippert design are said to include support for the DisplayPort interface, plus the addition of sufficient reserve pins to enable upward compatible support for USB 3.0 in the future. In addition, the connector has been confirmed to operate at the speeds required for PCI Express Generation 2, the SFF-SIG says.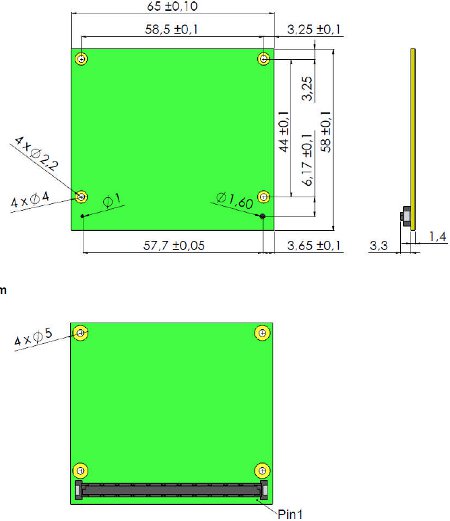 CoreExpress 2.1 dimensions


(Click to enlarge)

According to the SFF-SIG, the format's single connector baseboard interface eliminates the registration problems frequently found with two-connector COM products, while its all-digital design reduces system noise and EMI. Supported peripherals include PCI Express, RGMII Ethernet SATA, CAN bus, USB 2.0 LPC bus, SM bus, SDVO, LVDS, high definition audio, and SD/SDIO/MMC, the group adds.

Miniblade
First announced in October 2008, the Miniblade spec is designed for SBCs (single board computers) and other devices. Primarily designed for hot-swappable storage cards, it includes USB and SATA signaling, the group says.
Based on a Silicon Drive II blade specification that was jointly developed by Samtec and SiliconSystems, MiniBlade differs from consumer-grade specs such as SD in that it includes retaining latches. The SFF-SIG says uses can extend beyond storage to other I/O products; however, the only Miniblade products presently listed on the group's website are SSDs (solid state disks) from FMJ Storage.
Availability
The SFF-SIG was founded in 2007 by board vendors Ampro (now Ampro Adlink), Octagon, WinSystems, Via, and VersaLogic. Membership has seen a certain amount of turnover, but "voting" members now include Ampro Adlink, Diamond Systems, Kontron, Lippert, Samtec, VersaLogic, Via, and WinSystems, according to the group's website. "General" members are said to include Acces I/O, Alps, Apacer, Arbor, FMJ Storage, and Tri-M Systems.
To use the new database described in this story, see the group's website, here.

---

Related stories:
This article was originally published on LinuxDevices.com and has been donated to the open source community by QuinStreet Inc. Please visit LinuxToday.com for up-to-date news and articles about Linux and open source.