Nov 12, 2002 — by LinuxDevices Staff — from the LinuxDevices Archive — 11 views

Mahway,NJ — (press release excerpt) — Sharp Electronics Corp. today introduced the Zaurus SL-5600 to its worldwide Linux-based Zaurus PDA family. The expanded features of the SL-5600 target enterprise users and professional consumers. The SL-5600 is based on a 400 MHz Intel XScale processor and features a color-reflective QVGA (240×320 pixel) LCD screen, an integrated 37-key QWERTY keyboard with sliding cover, a rechargeable/replaceable 1700 mAh battery, 64MB of Flash plus 32MB of SDRAM memory, dual-slot expansion via CompactFlash and SD/MMC cards, plus an integrated speaker and microphone. (Differences from the previous model are tabulated below.)
Offering the most functionality on the market, the Zaurus SL-5600 delivers the perfect set of features for enterprise users on the move. Its integrated 37-key QWERTY keyboard, located behind a sliding cover, is ergonomically arched to allow for quick thumb access and handwriting recognition, and on-screen keyboard options make data entry fast and easy for every type of user. The device also offers 64MB of protected storage memory and a virtual mobile Hard Drive, which ensures that data, applications and files are protected in Flash memory and will not be lost even if the battery runs out. Noting the importance of battery life, the Zaurus SL-5600 includes a 1700 mAh high capacity battery, the largest standard rechargeable battery capacity currently on the market. In addition, the lithium-ion battery can be recharged or replaced for continuous use.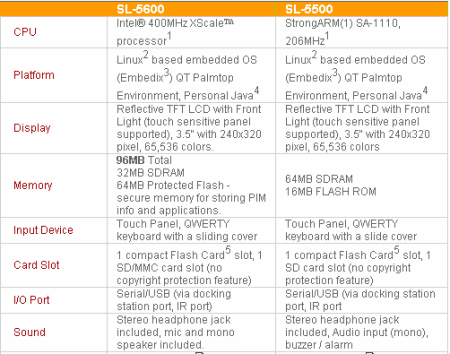 Comparison of the SL-5600 and SL-5500
With wireless connectivity a must for any enterprise environment, the Zaurus SL-5600 comes wireless-capable with dual expansion slots and built-in drivers for numerous CompactFlash connectivity solutions including industry-leading 802.11b wireless LAN adaptors, CDPD Wireless modem, 10/100 Ethernet, and 56K V.90 modems, and a plan to introduce 1xRTT and GPRS in 2003. The built-in CompactFlash (Type I and Type II) and SD/MMC slots allow users to add any CompactFlash-based connectivity solution in the Compact-Flash slot and still have room to add more memory in the SD slot without necessitating a jacket, eliminating the need to add to the size and the cost of the unit.
The Zaurus SL-5600 is based on an open Linux platform, which is ideal for building customized solutions for the enterprise market. This platform accelerates time-to-market in porting or developing applications, with the many freely available Linux Open Source tools and resources. In addition, the Zaurus SL-5600's Linux-based platform boosts a powerful 32-bit multi-tasking operating system creating a robust environment for mobile enterprise applications.
For Java applications, the Zaurus SL-5600 incorporates the industry-leading Insignia Solutions Jeode Java virtual machine environment. Jeode is a Sun-authorized Java virtual machine and fully compatible with the PersonalJava specification, 1.2 class libraries and optional classes. The methodology of the Java programming language makes it simple to migrate Java applications to the Zaurus SL-5600.
The Zaurus SL-5600 comes equipped with an extensive software applications package. This includes re-designed and improved Personal Information Management (PIM) software (with address book, calendar, calculator, text editor, todo list, voice recorder, and clock with built-in stopwatch) and a PC synchronization program for Microsoft Outlook. A POP3/IMAP4/SMTP-capable email client, Internet browser (displaying pages in HTML format), and an integrated Media player (MP3 or MPEG1 files) are also included. To permit quick and easy data synchronization with PCs and trouble-free connection with peripherals, the device also comes complete with a docking station that features an integrated USB cable and an A/C adaptor.
Editor's note: Sharp has also introduced additional Zaurus models with differing form-factors and feature sets in Japan earlier this year, but which are not available to the worldwide market at this time. These include the SL-A300 as well as the unique SL-C700 with a horizontally-formatted 640×480 pixel screen and a miniature, notebook-like keyboard.
---

This article was originally published on LinuxDevices.com and has been donated to the open source community by QuinStreet Inc. Please visit LinuxToday.com for up-to-date news and articles about Linux and open source.