Jan 6, 2006 — by LinuxDevices Staff — from the LinuxDevices Archive — 15 views
Sigma Designs has announced a line of set-top box and HD-DVD player SoCs that it says are the first to integrate high-definition media decoders for "all major formats." The SMP8630-series SoCs target a wide swath of video devices, integrate advanced security/DRM capabilities, and run embedded Linux, the company says.
Target applications include digital media adapters, IPTVs, DVD players/recorders with networking and/or PVR (personal video recording) functions, HD-DVD (high-definition DVD) players, BD (Blu-ray Disk) players, and HDTVs.
Sigma's VP of strategic marketing, Ken Lowe, told LinuxDevices two years ago that the company's set-top box and DVD processors supported Linux exclusively, a limitation that did not stop Sigma from gaining a claimed three-quarters share of the market for networked video device chips, Lowe said at the time. However, the company now seems to have added Windows CE as part of its OS strategy.
Sigma expects its SMP8630 SoCs to be the first to integrate decoders for "all major [digital video] formats," including H.264, WMV9/VC1 and MPEG-2. These standards underpin high-definition DVD players, as well emerging digital video broadcast standards, it says.
The SMP8630 chip family will include two versions. The basic SMP8630 targets single-stream high-definition (HD) or multi-stream SD (standard definition) applications, and will be pin-compatible with Sigma's earlier EM8620L and EM8622L chips. The higher-end SMP8634 targets multi-stream HD applications. Both chips will process HD and SD outputs simultaneously, Sigma says.
The SMP8630-family chipsets will be based on a 300MHz MIPS core, and have a 200MHz unified memory interface. The SMP8630 will support up to 256MB of 32-bit DDR DRAM, and up to 64MB of 8-bit Flash. The SMP8634 will support up to 512MB of 64-bit DDR (double data rate) DRAM and 256MB of 8-/16-bit Flash.
On-chip peripheral interfaces will include a PCI bus, IDE controller, and general purpose I/O ports. The SMP8630 will offer 7.1 "home theater" audio outputs, and a single video input with "VBI" capture, along with a "shared" smartcard (ISO 7816) bus. The SMP8634 adds 2.0 stereo output, in addition to 7.1 output, a second VBI video input, a second HD decoder, and a second audio DSP. It also adds a graphics input port, on-chip Ethernet MAC controller, HDMI interface, and a dedicated smartcard bus.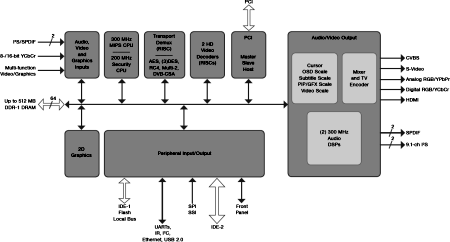 SMP8630 architecture diagram
(Click to enlarge)
Target media processing capabilities for the SMP8630 chips include:
Video decoding up to high definition (1920×1080, p30) for VC-1 (WMV9), H.264, MPEG-2, and MPEG-4

Graphics acceleration with 32-bit alpha-blending, raster operations, and line drawing functions, with peak rates up to 200 Mpixels/sec

Multi-stream decoding for picture-in-picture window operations, in any format, up to the maximum operating rate of the chipset

Audio decoding capability for Dolby Digital, WMA, WMA Pro, MPEG, AAC, MP3, DVD Audio, and MPEG 1 or 2, layers I, II and III
The SMP8630 chips will additionally integrate advanced security and DRM (digital rights management) capabilities, Sigma says, including system code authentication during boot-up, encryption of all processor code and data I/O, and a dedicated security CPU behind a hardware firewall to authenticate keys and control content flow through the chosen decryption engines.
Additional claimed security features include:
Dedicated security system CPU will be inaccessible to external interfaces, and manage authentication, key generation, and content access functions
Secure boot ROM and embedded Flash
Hardware cryptography engines for high speed payload decryption including AES, DES, triple-DES, RC4, CSS, DVB-CSA and Multi-2
OS and other software support
Sigma says that both Linux and Windows CE will be ported to the SMP8630 chips' MIPS cores, and the chips will be available with libraries of streaming video and media playback software implemented under both OSes. These libraries will include a real-time streaming engine for IP-based video-on-demand applications, a DVD navigation module for playback from various forms of stored media, a network stack, and a hardware abstraction layer for low-level program control.
Additionally, Opera Software says it will port both its flagship Opera browser and Opera browser SDK (software development kit) to the new Sigma chips, as part of its expanded focus on the set-top box market.
Lowe stated, "This is a fully integrated system-on-chip (SOC) solution with a 300 MHz MIPS CPU, peripherals, and the most mature embedded software suite available for streaming video applications."
Availability
Sigma expects to begin sampling the SMP8630 in March, followed by the SMP8634 in April. Both chips are expected to reach production availability at mid-year.
---

This article was originally published on LinuxDevices.com and has been donated to the open source community by QuinStreet Inc. Please visit LinuxToday.com for up-to-date news and articles about Linux and open source.