Aug 3, 2010 — by Eric Brown — from the LinuxDevices Archive — 32 views
General Dynamics Itronix announced a wearable, eight-ounce tactical computer/GPS device based on Android and intended for military applications. The GD300 is built around a 600MHz Cortex-A8 processor, offers a sunlight-readable 3.5-inch WVGA touchscreen, and meets MIL-STD 810G specifications for ruggedness, says the company.
The GD300 "enables warfighters to pinpoint their location, refer to pre-loaded mission plans, and access secure tactical networks," says General Dynamics Itronix (GD Itronix).
The device is one of the first tactical field handhelds we've seen that runs Android, although other Linux variants have been used in such devices (the TAG TC-100 Commander, for example) in a number of such devices over the years, as has Windows CE and Windows Mobile. In May of last year, SDG Systems shipped a version of its ruggedized, military-ready Trimble Nomad PDA that ran Android 1.5.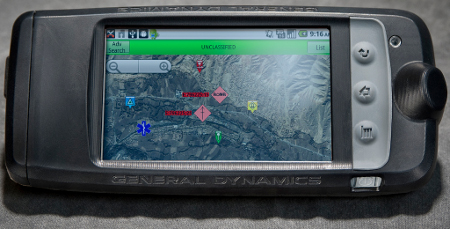 General Dynamics Itronix GD300


(Click to enlarge)
Designed to be worn on the wrist or chest, the GD300 measures 5.8 x 2.6 x 0.7 inches and weighs less than eight ounces, says the company. The device is said to be usable with off-the-shelf GPS software, and it can also switch to a separate tactical computer mode in which it interfaces with secure, tactical radios like the Rifleman Radio (AN/PRC-154).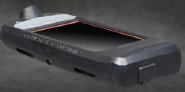 The GD300 (pictured) is built around an unnamed 600MHz ARM Cortex-A8 processor. According to a story in Rugged PC Review, the device uses the same core used in the Palm Pre and the Nokia N900. While the site does not list the specific system-on-chip (SoC), and may only be referring to the Cortex-A8 core in general, it just so happens that those two phones offer a Texas Instruments OMAP3430, which would be a likely candidate.
The device is further equipped with 256MB DDR memory, 8GB of internal flash memory, and a microSD slot, says GD Itronix.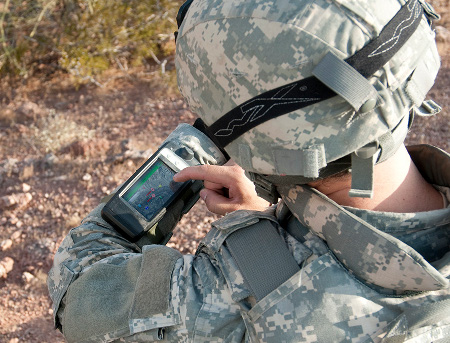 GD300 as a wrist computer
(Click to enlarge)
The GD300 offers a 3.5-inch, sunlight-readable display with 800 x 480 resolution, says GD Itronix. The display integrates touchscreen technology that is said to be "glove-friendly," and offers control buttons such as are typically found on any Android-based device. The touch interface lets field combatants "move information around, and zoom in or out or place digital 'markers' on tactical maps," says the company.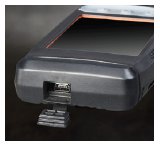 The device is said to incorporate a SIRF Star III GPS radio, and integrates an "ultra sensitive" quadra-helix antenna. The antenna is claimed to offer real-time global positioning that can operate even in challenging mountainous regions or urban environments, says GD Itronix.
The GD300 supplies a Mini-USB 2.0 port, as well as a "flexible expansion docking connector," says the company. This appears to be the same connector shown on the bottom of the device (pictured at right), which hooks up to an available Wrist Mount Radio Interface Kit (RIK), used to connect to tactical or commercial radios.
The RIK inc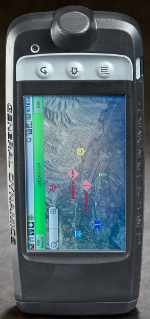 ludes four programmable radio control buttons, as well as a radio interface cabling system, says GD Itronix. It does not appear, however, that the GD300 offers standard Wi-Fi or cellular radios.
The GD300's 1550 mAh battery is said to offer more than eight hours of battery life, as well as hibernation and standby modes. The device meets IP54 and MIL-STD 810G ruggedization standards for impact, dust ingress, rain/water ingress, vibration and shock, extreme temperature exposure, and humidity, says the company.
Running an unnamed version of Android, the device can "easily accommodate current and emerging applications for warfighters at all command levels," says GD Itronix. The GD300 is said to support commercially available Android applications, as well as military apps like the Tactical Ground Reporting (TIGR) System.
Background
General Dynamics Itronix is part of General Dynamics C4 Systems, and develops wireless, rugged computing solutions including laptops, ultra mobile notebook PCs and tablet PCs.

Another branch of the company, called General Dynamics Canada, recently released a ruggedized, conduction-cooled, single board computer designed for combat vehicles. The Linux-based PX3030 (pictured at right) runs on an Intel Core 2 Duo, and offers 8GB of DDR3 RAM, 16GB of flash, gigabit Ethernet ports, six USB 2.0 ports, and four serial ports.
Stated Reginald Daniels, an engineer for the U.S. Air Force Research Laboratory responsible for testing military wearable computers, "Given that the dismounted warfighter's job is not a computer operator, it is imperative that wearable computers be unobtrusive, intuitive to operate and provide compute-on-the-go functions."
Stated Mike DiBiase, vice president of Computing Technologies for General Dynamics C4 Systems, "We expect the GD300 will become the most important 8 ounces of tactical communications and situational awareness equipment that a warfighter can carry."
Availability
General Dynamics Itronix offered no details on the pricing or availability of the GD300, but the Rugged PC Review story says it sells for $1,200. More information may be found in this PDF datasheet, here, and more may eventually appear on the General Dynamics website, here.
The Rugged PC Review story on the GD300 may be found here.
---
This article was originally published on LinuxDevices.com and has been donated to the open source community by QuinStreet Inc. Please visit LinuxToday.com for up-to-date news and articles about Linux and open source.