Feb 4, 2011 — by Eric Brown — from the LinuxDevices Archive — 5 views
Computer Lab International (CLI) released a new Ubuntu-based Linux operating system for its MT2300 and ST6800 thin clients, which use Via Eden C7 processors clocked to 500MHz and 1.6GHz, respectively. The OS features Firefox, the CLI Device Manager, plus support for RDP, Citrix ICA 11, host terminal emulations, VNC client/server, and VMWare View4, the company says.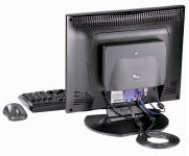 CLI made the switch to an Ubuntu-based distro for the MT2300 and ST6800 following months of user feedback, says the Placentia, Calif.-based thin client vendor. The company did not say what it was switching from, but the last model covered by LinuxDevices back in 2006 — a MT1500t model (pictured) that appears to be a forerunner of the MT2300 — ran Mandrake Linux.
An even earlier ET4500T mini-tower also ran Mandrake, the foundation for Mandriva. Mandriva in turn forked last year, with a new Mageia community spinning off to focus on the desktop while Mandriva focuses mostly on the server edition.
CLI offers two other thin clients that are listed as running "custom Linux" or "embedded Linux", in addition to Windows, summarized farther below. The MT2300 and ST6800, meanwhile, are also available with Windows: Windows CE 6.0 for both, with the ST6800 also running Microsoft WES.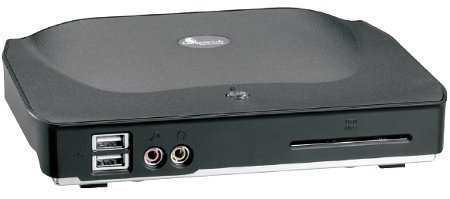 MT2300
(Click to enlarge)
The new Linux client software, based on Ubuntu Linux (version not specified), offers support for RDP and Citrix ICA 11 protocols, VMWare View4, and VNC client/server, says CLI. Host terminal emulations are said to include IBM 5250, 3270, and 3151, as well as DEC VT-420 and Wyse WY-60, among others.
The client is said to provide access to applications running on Microsoft Windows Terminal Server 2003 and 2008, Citrix MetaFrame, as well as mainframe, midrange, UNIX, and other legacy applications.
The client software is equipped with the Firefox web browser, offers "powerful printing support," and supports Linux device drivers and development tools, as well as many third-party device drivers, says CLI.
The client "works seamlessly" with CLI's free SNMP Administrator software, giving administrators centralized control of all CLI desktops, says the company. The Synaptic Package Manager is said to be available, as well as a kiosk stack. The client also works with the CLI Device Manager enterprise device management tool, says CLI.
MT2300
As noted, the MT2300 (pictured above) appears to have evolved from earlier compact CLI thin clients such as the MT1500t. The designs appear similar, and both are intended to be VESA mounted on the back of monitors. The MT2300 is built on an x86-compatible Via Eden C7 processor from Via Technologies, clocked to a modest 500MHz. The processor is accompanied by the Via VX855 northbridge/southbridge chipset.
The MT2300 is further equipped with up to 2GB of RAM and up to 2GB of flash memory, says CLI. The system supports up to 1920 x 1200 resolution via a VGA port and DVI port, and provides dual display capability. Options include 802.11b/g Wi-Fi.
A gigabit Ethernet port is available, as are four USB 2.0 ports, a PS/2 port, and a mic jack. The computer consumes just six Watts, says the company.
ST6800
Like the MT2300, the tower-format ST6800 weighs 1.4-pounds, measures 8.0 x 5.6 x. 1.4 inches, and runs a Via Eden C7. However, the ST6800 is clocked much faster, at 1.6GHz.
A VX855 chipset is employed, and the device is said to offer the same resolution and dual VGA/DVI display capabilities as the MT2300. Memory allotments are also the same, with up to 2GB each of RAM and flash memory, says CLI.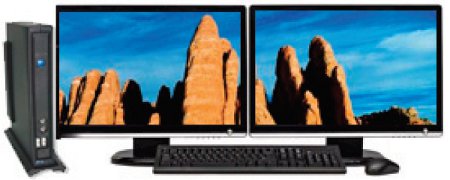 ST6800, showing dual display capabilities


(Click to enlarge)
Like the MT2300, there's a gigabit Ethernet port, four USB 2.0 ports, optional Wi-Fi, and PS/2 and mic ports. In addition, the ST6800 provides a serial port and an optional smart card.
The ST6800 appears to be an heir to the Windows XPe-only ST6500x announced in 2008. An ST6500 model (500MHz Via Eden) is now listed as offering Linux, too, but apparently not the Ubuntu version. Another Linux-ready CLI thin client that has not moved up to the Ubuntu-based distro (and for all we know, may never) is the extended-temperature MT3500 (AMD Geode LX).
Stated Jason Marshall, director of technology for Computer Lab International, "We believe our newest and most robust Linux offering will bridge the gap traditionally had with Linux by providing functionality more in line with full Windows, without compromising price point or features."
Availability
The new Ubuntu-based Linux distro appears to be available now for the MT2300 and ST6800 thin clients. More information may be found on both devices, as well as the new Linux distro, on this CLI thin client product page.
---
This article was originally published on LinuxDevices.com and has been donated to the open source community by QuinStreet Inc. Please visit LinuxToday.com for up-to-date news and articles about Linux and open source.