Apr 4, 2011 — by Eric Brown — from the LinuxDevices Archive — 2 views
[Updated: Apr. 5] — Texas Instruments (TI) announced it is licensing EtherCAT fieldbus technology from the EtherCAT Technology Group, and will feature it in upcoming Sitara ARM9 processors in 4Q 2011 and C6-Integra DSP + ARM Cortex-A8 processors beginning in 2012. Meanwhile, TI plans to expand its analog semiconductor portfolio with the $6.5 billion purchase of National Semiconductor.
Popular in industrial drive and input/output applications, EtherCat (Ethernet for Control Automation Technology) is an Ethernet-based industrial communication fieldbus protocol used to allow master and slave controllers to communicate with each other without a host computer. The technology is designed to operate at high speeds in high-noise industrial environments. (See farther below for more details.)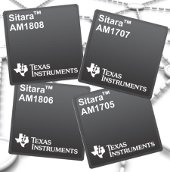 Back in November, TI announced support for the standard in one of its Sitara ARM processors — the ARM9-based, 375MHz AM1810 Sitara. At the time, the feature took second billing to the processor's touted Profibus fieldbus interface, and indeed — based on new feedback from TI — the EtherCAT support was offered via Profibus and appeared not to be a full implementation. TI is now moving forward with a more extensive licensing deal with EtherCAT Technology Group for a direct implementation of the full EtherCAT spec.
EtherCAT is now available to all of TI's ARM9-based Sitara AM1x ARM processors (pictured). EtherCat licensing will also extend next year to TI's higher-end C6-Integra, which combine ARM Cortex-A8 CPUs and TI digital signal processors (DSPs), and are aimed at industrial machine-vision applications.
On the AM1810 Sitara, which was said to be sampling in November in small quantities, both EtherCAT and Profibus were implemented in the Sitara's signature programmable real-time unit (PRU). This is a universal controller that combines dual 32-bit RISC microcontrollers to offer greater flexibility in configuring I/O control and adding custom interfaces.
In addition, the PRU offloads processing duties from the ARM9 CPU. This is said to improve application processing capacity, thereby reducing power consumption, eliminating latency, and improving real-time responsiveness.
By implementing EtherCAT in the PRU, the Sitara ARM processors offer more flexibility as "industrial standards evolve over time," TI now says. The original Sitara AM1x chips were announced a year ago at the same Hanover Fair venue in Germany where TI announced the deal today.

The higher-end C6-Integra SoCs (pictured), which include the C6A8167 Integra and 3D-accelerated C6A8168 Integra processors announced in October, do not appear to offer a PRU. However, with their Cortex-A8 cores and TI TMS320C674x DSPs, both of which are said to be clocked to 1.5GHz, the PRU may be unnecessary, and EtherCat will likely be supported more directly. Considering TI's frequent mention of the PRU in today's announcement, however, this feature may be added in future Integra variants.
EtherCat background
EtherCAT was developed by the IEC (International Electrotechnical Commission) along with official liaison partner EtherCAT Technology Group, starting in 2003, and was published as a standard in 2005. EtherCAT made its first appearance on LinuxDevices back in 2006 when Sysgo announced support for the standard in its ELinOS 4.1 embedded Linux distribution.
EtherCAT messages are passed from node to node and processed en route, thereby improving speed and efficiency in industrial systems, says TI. Overall industrial application performance is also said to be improved with shorter reaction times.
EtherCAT architecture in typical scenario, showing integration of CAN and other technologies


Source: EtherCAT Technology Group
EtherCAT uses standard cabling and IEEE 802.3 frames and physical layer, and no external switches or hubs are necessary because EtherCAT slave controllers forward frames automatically, says the company. Auto-configuration is said to be supported, and no manual address setting or network tuning are required.
According to TI, its on-chip integration of the technology further provides high throughput, low latency access, board space savings, and lower total costs.
Stated Ram Sathappan, industrial automation manager, TI, "The EtherCAT Protocol technology sets new standards for the real-time performance and flexibility that are critical for TI's embedded ARM-based devices geared toward the industrial market."
Stated Martin Rostan, executive director, EtherCAT Technology Group, "With TI's integration of an EtherCAT interface in several product lines, this turns EtherCAT into a mainstream technology beyond the automation world."
Acquisition of National Semiconductor
Separately, TI announced it has signed an agreement with National Semiconductor through which it will buy National for $6.5 billion in cash. Worth $25 per share to National stockholders, the deal combines two long-time rivals in the analog semiconductor field.
TI currently has 30,000 different analog products, "extensive customer reach," and industry-leading manufacturing including the world's first 300-millimeter analog factory, the companies said in a statement. National, meanwhile, brings a portfolio of 12,000 analog products, a strong position with customers in the industrial power market, and excellent customer design tools, they addded.
Upon close of the transaction, National becomes part of TI's analog segment, and sales of analog semiconductors will represent almost 50 percent of TI's revenue. The transaction is expected to close in six to nine months, says TI.
Rich Templeton, TI's chairman, president and chief executive officer, stated, "Our ability to accelerate National's growth with our much larger sales force is the foundation of our belief that we can produce strong returns on our investment. The combined sales team will be 10 times larger than National's is today, and the portfolio will be exposed to more customers in more markets."
"Our two companies complement each other very well," added Don Macleod, National's chief executive officer. "TI has much greater scale in the marketplace, with its larger portfolio of products and its large global sales force. This provides a platform to enhance National's strong and highly profitable analog capability, power management in particular, leading to meaningful growth."
It's said the combined company will benefit from National's manufacturing operations, located in Maine, Scotland and Malaysia, which TI will continue to operate. Each site has additional capacity to increase production. National's headquarters, meanwhile, will remain in Santa Clara, California.
According to TI, the market for analog semiconductors was $42 billion in 2010. TI is the market leader with 2010 analog revenue of $6.0 billion, or 14 percent of the market. National's revenue in calendar year 2010 was about $1.6 billion, or 3 percent of the market.
The products of National Semiconductor include audio and operational amplifiers, communication interface products, data conversion solutions, and power management circuits, among other things. It was once in the business of producing x86 processors through the 1997 acquisition of Cyrix, but sold that company to Via in 1999; a pioneering Information Appliance division, meanwhile, was sold to AMD in 2002.
Availability
EtherCAT support will be introduced on TI's upcoming Sitara ARM processors, due in 4Q 2011, as well as its C6-Integra DSP + ARM processors beginning in 2012. More information on EtherCat is available at the EtherCAT Technology Group (Hall 9, booth D18) at this week's Hanover Fair in Hannover, Germany.
---
This article was originally published on LinuxDevices.com and has been donated to the open source community by QuinStreet Inc. Please visit LinuxToday.com for up-to-date news and articles about Linux and open source.