Feb 27, 2001 — by LinuxDevices Staff — from the LinuxDevices Archive — 10 views
Cambridge and London, UK — (press release excerpt) — Aleph One Ltd and Remote12 are pleased to announce that they are able to supply LART boards, with a User Guide, software and cables. The LART board was developed and made public as Open Hardware by Jan-Derk Bakker and colleagues at the Technical University in… Delft, Netherlands. LART forms the foundation for a group of small boards which add many I/O functions and specialties to the basic LART, and which continue to develop under Dr Bakker's leadership.

The boards are small, light and low-powered enough to make them a good platform for developing wearable computers, robot controllers or in-car infotainment systems. Unneeded functions can be dropped and new functions added before redesigning for the final application. They will be of interest to all those who see the attractions of developing applications for high-performance low-power ARM processors with the huge resources of the Linux development environment at their disposal.
The 100×75 mm boards have a 190MHz Intel StrongARM 1100 processor, 32MB of EDO RAM and 8MB of Flash RAM, and consume only about one watt to achieve about 200MIPS. The design is available at http://www.lart.tudelft, where more details can be found. We summarize them here. The Flash RAM is sufficient for a bootloader, a compressed kernel and a compressed ramdisk, and Aleph One provides software to allow ARMLinux to boot from it. Most of the signals from the SA-1100 appear at external connectors. One has the 32-bit Data bus and 26 Address lines, and can handle 400MB/s. Another handles most GP I/O pins and enough Data/Address lines to implement peripherals based on PCMCIA or ISA standards, so that a simple PCB for a specific task can be attached, such as one for robotics or process control. A Serial connector provides a pair of RS232 links, and a JTAG connector allows the on-board Flash RAM to be programmed. The onboard power supply accepts 3.5 to 11V DC and can provide up to 15W to peripheral or
attached boards.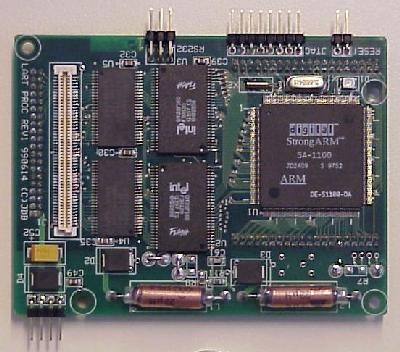 The associated KSB board is now in production and expected in March 01, and a four-port Ethernet Board is being developed at TU Delft and both will also be available from Aleph One. The KSB board plugs onto LART and provides:
IDE/ATA interface (44 pins on 2mm centres)

Stereo 16-bit 44KHz audio output at line and headphone levels

Two PS/2 connectors for mouse and keyboard

Mono audio I/O fron a UCB 1200 chip

Connectors for IrDA, POTS, USB Client, video and touchscreen
The cost is GBP495 each, including tax and postage in Britain, and includes:
LART board with boot loader and kernel and ramdisk installed

Guide to ARMLinux on paper and CD ROM, published by Aleph One Ltd. — this tells you everything you need to know about ARMLinux and LART even if you are unfamiliar with them. The Guide is also available separately at GBP35.

Five CDs of software, comprising suitable kernels, ramdisks, tools and pdf and html documents for the LART, as well as a full Debian-ARM binary and source release with thousands of packages of useful software.

JTAG connector, Power and Serial cables.

This article was originally published on LinuxDevices.com and has been donated to the open source community by QuinStreet Inc. Please visit LinuxToday.com for up-to-date news and articles about Linux and open source.