Mar 10, 2006 — by LinuxDevices Staff — from the LinuxDevices Archive — 8 views

Via is shipping an ultra-low-voltage processor claimed to have the highest performance-per-Watt, smallest packaging, and fastest cryptographic engine of any available x86-compatible processor. The "C7-M ULV" supports clock speeds from 1GHz to 1.5GHz, with power requirements between 3.5 and 7.5 Watts. It measures 21mm square, and targets UMPCs (ultra mobile PCs) and other compact, portable devices.
The C7-M ULV is the newest member of Via's C7 processor family, launched in May of last year. The C7 chips are based on Via's relatively new "C5J Esther" core, which features support for SSE2 and SSE3 instructions for better 3D performance, a full-speed FPU (floating point unit), 16 pipeline stages, 128KB each of L1 and L2 cache, and Via's standards-based cryptography hardware, said to offer the fastest performance on US government-approved security algorithms of any available x86 processor. The C7 chips are being fabricated by IBM on 90-nanometer SOI (silicon-on-insulator) processor technology.
Via's C7-M ULV roadmap includes five models supporting clock speeds between 1GHz and 1.5GHz, with TDPs (thermal design power, or maximum power dissipation) between 3.5 and 7.5 Watts. All announced models feature a 400MHz FSB (front-side bus).
| Model | Speed | TDP (Max) |
| --- | --- | --- |
| 775 | 1.5GHz | 7.5W |
| 772 | 1.2GHz | 5W |
| 771 | 1.2GHz | 7W |
| 770 | 1.0GHz | 5W |
| 779 | 1.0GHz | 3.5W |
Via claims its C7-M ULV chip offers higher performance-per-Watt, while consuming less power under idle, compared with other available x86 chips. Idle power requirements are as low as 100mW (0.1 Watts) for some C7-M ULV models, it says.

The C7-M ULV uses less power than similar Intel Pentium M chips, Via claims
(Source: Via)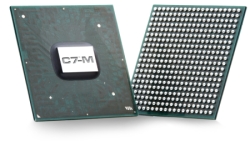 (Click to enlarge)
Additionally, Via calls the C7-M ULV the "smallest CPU package on the market," presumably among x86-compatible chips. The C7-M ULV's "nanoBGA2" packaging "drastically reduces" weight, size, and thickness, the company says. It measures 21mm x 21mm.
Microsoft's GM of mobile platforms, UMPC visionary Otto Berkes, stated, "The C7-M ULV processor is enabling the production of smaller form factors that [maintain] the functionality benefits of a full-sized Windows-based PC."

Masatoshi Takahashi, CEO of PBJ, Inc., which used a C7-M ULV chip in its "SmartCaddie" UMPC (pictured at right, expected to launch here on Mar. 13), stated, "The processor's amazingly low power consumption and cool operation [enabled us] to achieve a unique form factor design."
Via's deputy directory of CPU marketing, Epan Wu, stated, "The C7-M ULV delivers the performance needed to put a full PC into the palm of your hand."
Two-chip "Ultra Mobile Platform"
Via previewed a single-chip core logic companion to the C7-M targeting UMPC designs at CeBIT in Hannover, the Germany this week. The VX700, slated for production within several months, integrates the functions of Via's two-chip VN800/VT8237 northbridge/southbridge combo, plus other mobile-oriented functions. The VX700 also supports Intel's ULV Pentium M and Celeron M ULV.
Besides providing the functions of the VN800 and VT8237, the LX700 also adds several mobile device-oriented features, according to Via. These include a built-in LVDS LCD display interface and a TV encoder that "fully supports" HDTV formats, plus Via's Chromotion Video Engine, said to support high quality video playback. Graphics capabilities of the VX700 will include 2D/3D graphics acceleration, MPEG2 support, and dual monitor outputs. A future VX700-M will add MPEG4 and High Definition Audio support, along with Windows Media 9 acceleration, according to Colin Brix, an international marketing specialist for Via's chipset platform group.
Availability
The C7-M chips are available now, at clock speeds from 1GHz to 1.5GHz, Via says. Additionally, the chips are being demonstrated this week in "an exciting range of ultra-compact, ultra-portable devices" showcased at the CeBIT tradeshow in Germany this week, according to the company.
---

This article was originally published on LinuxDevices.com and has been donated to the open source community by QuinStreet Inc. Please visit LinuxToday.com for up-to-date news and articles about Linux and open source.