Jun 21, 2006 — by LinuxDevices Staff — from the LinuxDevices Archive — 39 views

Half a dozen companies around the world are shipping tiny Linux-based wireless access points (WAPs) with built-in file and printer servers. The WAPs appear to run a 2.4-series Linux kernel on a RISC-based SoC (system-on-chip) that executes the i486 instruction set.
(Click for larger view of OvisLink WMU-6000FS)
Companies shipping products based on the design appear to include Micronica, Safecom, SMC, CometLabs, and OvisLink. The design appears to be based on RDC Semiconductor's R8610, a 133MHz RISC-based SoC that executes the i486 instruction set at about 44 bogoMIPS.
The RISC-based, 486-compatible R8610 SoC
RDC describes itself as an "integrated circuit design house" based in Hsin-Chu City, Taiwan. The company is best-known for 16-bit, i186-compatible microcontrollers. However, in May of 2005, it launched a 32-bit core, the R3210, followed by two SoCs based on the R3210.
The R3210 appears to be a RISC core that executes the i486 instruction set. An integrated MMU (memory management unit) supports complex OSes such as Linux, Windows, and 32-bit RTOSes, RDC says.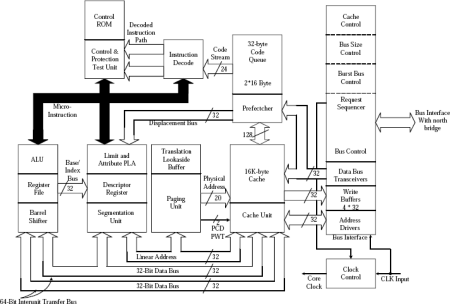 The R3210 core architecture diagram
(Click to enlarge)
RDC subsequently built two SoCs around the R3210 core, including the R8610 and R8610-G. The SoCs appear to be identical, except that the "G" version is described as "Green," possibly reflecting lead-free packaging.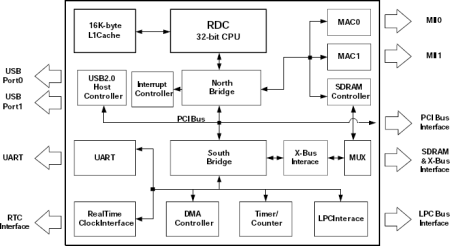 R8610 architecture diagram
(Click to enlarge)
Along with an R3210 core, the R8610 SoCs integrate 16KB of L1 cache, a 33MHz PCI bus, an external SDRAM/ROM/memory controller, IPC (internal peripheral controller) with DMA and IRQ timer/counter, a 10/100 Ethernet MAC, FIFO UART, and USB 2.0 host controller. The SoC is packaged in a 216-pin LQFP package, and targets thin client, NAT router, home gateway, access point, and tablet PC applications.
Linux devices based on the R8610
According to a forum post on a Cyrillic-language website in the Ukraine, the R8610 SoCs were used in conjunction with embedded Linux 2.4 in a wireless hard drive and access point design that has been marketed by half a dozen companies around the globe. The design arguably sets a new standard for small size and high function in wireless access points/network hard drives.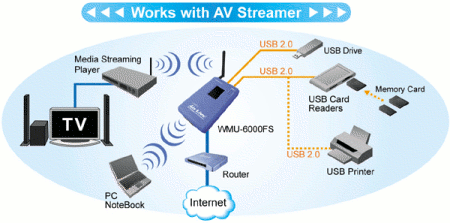 Typical usage diagram
(Source: OvisLink)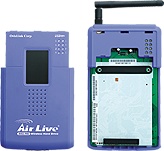 User-supplied 2.5-inch drive
(Source: OvisLink)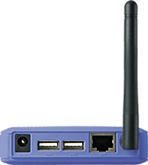 OvisLink WMU6000 ports
The R8610-based WAPs have 32MB of SDRAM, 4MB of Flash, and support user-supplied 2.5-inch (laptop-sized) hard drives formated with FAT, FAT32, or ext2. Claimed wireless throughputs up to 6MB/s are touted as fast enough to stream audio/video files, allowing users to stash media on their always-on access points, and enjoy their files without booting their PCs.
The R8610-based WAPs integrate an 802.11G WiFi interface supporting WPA and WEP encryption. The interface can be configured as a wireless client, access point, WDS bridge, or WDS repeater, allowing the device to integrate with existing WiFi networks, or serve as the basis for new ones, vendors say.
Dual USB 2.0 ports can be used to connect memory card readers, whose contents can then be shared via the network. The ports also support USB OTG ("on the go"), and the device is small enough for use as a portable digital photo storage device, vendors say. Additionally, the device integrates good old LPR print server software for USB printers.
Designs believed to be based on the RDC SoC include:
Availability
WAPs based on the RDC R8610 appear to be available now, priced at about $115.
RDC did not reply by publication time to a request for pricing and availability info on its R8610 and R8610-G SoCs.
Thanks to Alec Voropay and the Cyrillic-language midge and ADM5120 forum for letting us know about this story.
---

This article was originally published on LinuxDevices.com and has been donated to the open source community by QuinStreet Inc. Please visit LinuxToday.com for up-to-date news and articles about Linux and open source.