May 19, 2008 — by Eric Brown — from the LinuxDevices Archive — 30 views

Japanese micro-server specialist Plat'Home is offering an interesting VPN (virtual private network) client pre-installed on its MIPS-based Linux micro-server. SoftEther's PacketiX VPN 2.0 software encodes entire Layer 2 Ethernet frames as HTTPS traffic, allowing remote access to any network protocol without network… reconfiguration, the company claims.
(Click for larger view of PacketiX Box)
PacketiX works by encapsulating raw Ethernet packets inside HTTPS. Thus, it can pass through most firewalls and NAT routers as easily as an Amazon.com order, while carrying a payload of IPX/SPX (Novell) or NetBEUI (Microsoft) or any other network protocol. The result is seamless "virtualization" of entire networks, claims SoftEther, without any reconfiguration or hardware installations.
The software was developed at the University of Tsukuba by Daiyuu Nobori, founder of Japanese venture development firm SoftEther, which went on to release SoftEther 1.0 in 2003. That version is listed by enterprise security specialist Computer Associates as a "RAT" (remote access tool) that allegedly allows unauthorized remote access to corporate networks.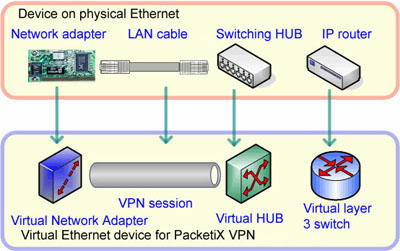 PacketiX VPN 2.0 uses software to "virtualize" Ethernet interfaces
Released in 2005, PacketiX VPN 2.0 won a Japanese business award in 2007.
PacketiX 2.0 traffic was designed to be easily filtered out by network administrators, in that implementations of the protocol are supposed to have a recognizable 16-byte string in packet headers, according to a user manual hosted by Plat'home, here. As with other encapsulations schemes (PPPoE comes to mind), the downside is a higher bandwidth requirement. However, network capacities are fairly large these days, SoftEther points out, and the traditional VPN approach of having a single router encrypt and decrypt TCP/IP packets can also create slow-downs.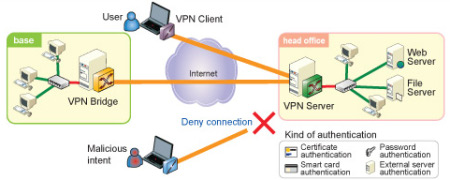 PacketiX VPN 2.0 in authenticated WLAN scenario
Additional touted PacketiX VPN 2.0 features include support for NetBios, Appletalk, and Token Ring, and integration with remote networks without changing IP routing and firewall settings. The VPN stack is said to integrate user administration with NT Domains, Active Directory, and Radius servers, and offers authentication options including public key infrastructure and smart cards.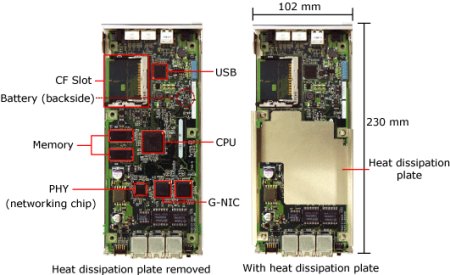 PacketiX Box internal view
(Click to enlarge)
Japanes micro-server specialist Plat'home is offering PacketiX preconfigured on the company's Linux-based
OpenMicroServer
, in a configuration called the PacketiX Box (see images above and below). Equipped with a
RMI Alchemy AU1550
SoC (system-on-chip) clocked at 400MHz, the PacketiX Box offers 128MB of SDRAM and 16MB of flash, with 2MB of that usable by the customer. It includes two gigabit and one fast Ethernet ports, two USB 2.0 ports (Type A), and two serial ports. The server measures 9 x 4 x 1.3 inches, consumes 8.1 W or less, and supports power-over-Ethernet. "Semi-hermetic" construction guards against dust in "industrial production" environments, while operating temperatures up to 122 degrees F (50 degrees C) are supported. Depending on the model, the PacketiX can support up to 20 simultaneous VPN 2.0 sessions.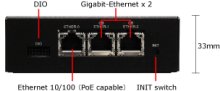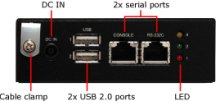 PacketiX Box, front and back
(Click any to enlarge)
The OpenMicroServer and the smaller, handheld
OpenBlockS
target various power-constrained networking applications, including server-room surveillance and other high-temperature monitoring systems, says Plat'Home. They ship with the company's
SSD/Linux
distribution, based on a 2.6.12 kernel, and Debian and NetBSD are also supported.
Over 35,000 client licenses have been sold for PacketiX VPN, says the company, with beta customers of version 2.0 including Japanese system integrator Hitachi Software. HitachiSoft is said to use the software for its "SecureOnline" service Managed Service Provider product for computer customers.
Stated Teruo Nakamura, GM of the Security Service Division of HitachiSoft, "The speedy installation of PacketiX VPN 2.0 has helped spreading the idea of virtualization, and our service in particular. Without PacketiX VPN 2.0, we wouldn't have this opportunity for business."
Availability
PacketiX VPN 2.0 is available for a 60-day free trial with unlimited functionality, says Plat'Home, at its download page, here. It is available for Linux, Windows, Mac OS X, FreeBSD, and Solaris. The Linux-based PacketiX Box also appears to be shipping.
More information on PacketiX VPN 2.0 may be available here, and more on the PacketiX Box should be available here.
---

This article was originally published on LinuxDevices.com and has been donated to the open source community by QuinStreet Inc. Please visit LinuxToday.com for up-to-date news and articles about Linux and open source.