Feb 24, 2009 — by Eric Brown — from the LinuxDevices Archive — 48 views

Marvell Semiconductor is shipping a hardware/software development kit suitable for always-on home automation devices and service gateways. Resembling a "wall-wart" power adapter, the SheevaPlug draws 5 Watts, comes with Linux, and boasts completely open hardware and software designs, Marvell says.
In typical use, the SheevaPlug draws about as much power as a night-light. Yet, with 512MB each of RAM and Flash, and a 1.2GHz CPU, the unobtrusive device approaches the computing power found in the servers of only a decade ago.
Furthermore, the platform is available in single quantities, and is priced within reach of students, hobbyists, and tinkerers. Its hardware design is completely open — everything from schematics to Gerber files will be available on a website, Marvell said. For those that do wish to build products on the platform, volume pricing could fall to $50, Marvell expects.
On the software side, the company says ARM ports of several popular Linux distributions are already running, and included. More importantly, Marvell has committed to do everything it can to ensure the best Linux support for SheevaPlug going forward. Raja Mukhopadhyay, product marketing manager, commented, "Whatever the community needs to facilitate development, we will provide the critical resources needed to facilitate that."
Mukhopadhyay calls the SheevaPlug an "ideal platform for in-home service delivery," and adds that he is looking forward to seeing what kinds of products and services are built on top of the device. He said, "We believe that for the consumer and the service provider in the home, it's the right time for some disruptive application delivery. We believe that having a completely open hardware platform will be key in letting people productize it however they want."
Several products based on Marvell's SheevaPlug Plug Computer design have already been announced (see further below for details).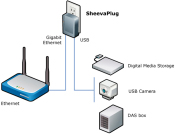 Plug Computer in
typical configuration
(Click to enlarge)
SheevaPlug's ARM9-like core
Marvell's Tate Tran, in a conversation with LinuxDevices, noted that Marvell licenses ARM's ARMv5 architecture. It uses the license to implement special-purpose cores compatible with the architecture, and thus able to run standard ARM software ports. Marvell's areas of expertise include application processors for the cellular handset market, embedded WiFi radio chips, networking gear, and disk drive controllers for storage devices. Tran said, "With more than a thousand CPU engineers in-house, Marvell is larger than ARM itself."
According to Tran, Marvell ships about a billion chips per year. Of those, 800,000 are powered by Marvell's own cores. The "Sheeva" core powering the SheevaPlug's processor is one example.
The $100 SheevaPlug development platform and Plug Computer designs are built around the Marvell 88F6000, or "Kirkwood" SoC, which was introduced last year. The Plug Computer is based on the high-end 88F6281 version of the Kirkwood, with a Sheeva CPU core clocked to 1.2GHz. The Sheeva core combines elements of Marvell's earlier Feroceon and XScale architectures, both of which implemented ARM Ltd.'s ARMv5 architecture, similar to ARM Ltd.'s own "ARM9" cores.
The SheevaPlug Plug Computer is further equipped with 512MB of DRAM and 512MB of flash. The tiny embedded PC also includes gigabit Ethernet and USB 2.0 ports. Marvell did not release precise dimensions for the platform, but one early product based on the design is listed as measuring 4.0 x 2.5 x 2.0 inches. Plugging directly into a standard wall socket, the Plug Computer draws less than five watts under normal operation, compared to 25-100 watts for a PC being used as a home server, claims Marvell.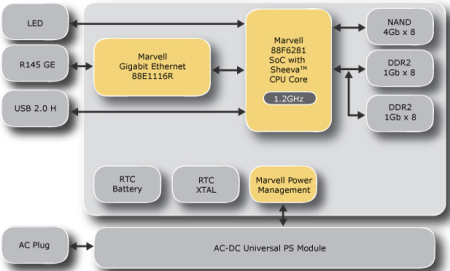 SheevaPlug Plug Computer block diagram
(Click to enlarge)
A SheevaPlug reference design is said to include board layout designs, software, manufacturing diagnostic tools, documentation, and other items. The SheevaPlug system development board (see diagram below) offers debug support, including direct connect to a PC via mini-USB cable, JTAG access, and a serial console interface, says the company.

SheevaPlug development board block diagram
(Click to enlarge)
The SheevaPlug development kit supports standard Linux 2.6 kernel distributions, including specific support for ARM ports of Fedora, Ubuntu, Debian, and Gentoo, says the company. The development platform includes an open-source API framework called RainDrop, currently under development, that will be used to integrate third-party applications in a standardized way. Support is also planned for a Java Virtual Machine and an OSGI stack — technologies that home automation service providers have already invested in heavily.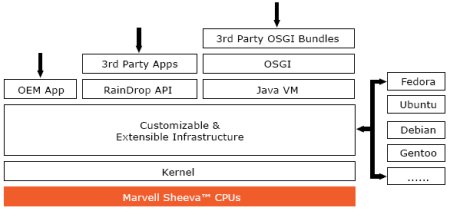 SheevaPlug software development architecture
(Click to enlarge)
Early supporters of the SheevaPlug Plug Computer design include the following companies, each with links to their respective websites: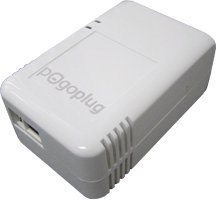 Ctera CloudPlug (l) and Cloud Engines Pogoplug
Kirkwood 88F6000 and the Sheeva core
Announced in early June, the Marvell 88F6000 "Kirkwood" is billed as an ultra-low-power SoC that targets IP-based home gateways, set-top boxes (STBs), home routers, media servers, and mobile Internet devices (MIDs). The 88F6000 integrates Sheeva cores that can clock to 2GHz, and draw two watts, Marvell says. The 88F6000 can act as either a main processor or as a co-processor, says the company.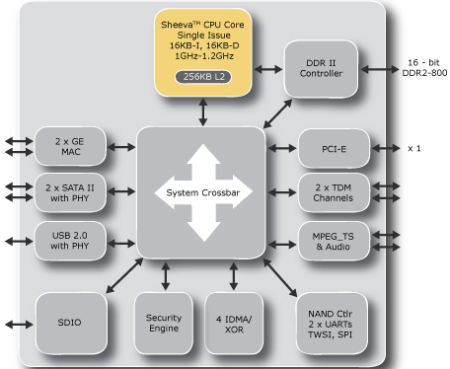 Kirkwood 88F6281 block diagram
The 88F6000 SoCs are offered in progressively more powerful versions: the 88F6190 (600MHz), 88F6180 (800MHz), 88F6192 (800MHz), and the 88F6281 (1.5GHz). The latter is clocked to 1.2GHz in the Marvell SheevaPlug design, and a future version will be able to clock to 2GHz, says the company. The 88F6000 SoCs offer various I/O, including two SATA ports, a gigabit Ethernet port, and a USB port, plus PCI Express and SDIO connections.
The Kirkwood's Sheeva core is also found in Marvell's superscalar MV78000 "Discovery Innovation Series" networking processors announced last May, as well as in Marvell's newer PXA168 platform . Marvell licenses the ARM architecture from ARM, Ltd., and implements its own cores, including the Sheeva.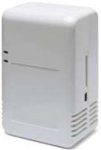 SheevaPlug Plug Computer
(Click to enlarge)
The Sheeva core implements both Feroceon and XScale micro-architectures, and is backward compatible to both, while maintaining support for Intel's WMMX2 multimedia extensions, says Marvell. Kernel patches supporting Feroceon- and Sheeva-based SoCs, including the 88F6000 Kirkwood family, were recently merged into the mainline Linux 2.6.27 kernel. (For more on the Sheeva core, see our previous coverage of the PXA168.)
Stated Hajime Nakai, Director, Member of the Board, Buffalo, Inc., "Plug computing is a logical evolution for the digital home in the same way enterprise applications moved from servers to network appliances. Marvell is probably the only company that can pack so much processor performance into such a compact form factor."
Availability
The SheevaPlug development kit is available now for $100, says Marvell. More information may be found here.
---

This article was originally published on LinuxDevices.com and has been donated to the open source community by QuinStreet Inc. Please visit LinuxToday.com for up-to-date news and articles about Linux and open source.