Sep 8, 2008 — by Eric Brown — from the LinuxDevices Archive — 2 views

[Updated: Sept. 9, 2008] — Bug Labs will ship its tiny, open-source ARM11-powered BugBase and three add-on modules in October, and will switch to Poky Linux. Meanwhile, a recent review finds the hackable Linux-based platform to be intriguing, but currently too "flaky" for typical consumers.
(Click for larger view of the BugBase )
Announced last November, the Bug platform consists of a tiny BugBase computer and various Lego-like modules that can be mixed and matched to create custom devices. The BugBase processor module (shown above) is equipped with an ARM1136JF-S CPU and 128MB of RAM. Additional features include a rechargeable battery, USB, Ethernet, and a mini LCD with button controls. The unit measures 5 x 2.5 x 0.6 inches says Bug Labs, and weighs 0.26 pounds, or "about the weight of an iPhone."
The BugBase and the first three modules listed below are set to ship in October, says Bug Labs, with the camera module shipping later in the year:
BugView LCD screen
BugLocate GPS receiver
BugMotion motion detector and accelerometer
Bugcam2MP two-megapixel camera (not yet available)
Billing the system as a completely hackable open source platform, Bug Labs invites hardware and software developers to contribute to the "open source" project, designing hardware and software modules, and sharing their work back into the community. The devices come with a Java- and Eclipse-based "Dragonfly" development software that runs on Linux, Mac OS X, or Windows desktops.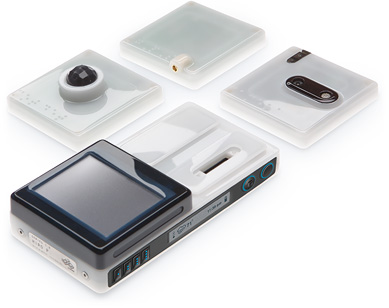 BugBundle including BugBase with BugView module attached, and (clockwise) the BugMotion (accelerometer), BugLocate (GPS), and Bugcam2MP (camera) modules
The current model reviewed by
Dr. Dobb's Journal,
(see farther below) is based on an embedded GNU Linux 2.6.19 using the
LTIB (Linux Target Image Builder)
implementation. In July, however, the New York-based company announced it was switching to GNOME-based
Poky Linux
, a distribution created by OpenedHand, which was recently
acquired by Intel
.
Bugs Labs manufactured its first systems in March, but according to its blog pages, the project suffered from various issues, including production delays and hardware problems, and purchases are only now being fulfilled. By July the devices were finally in solid enough shape to show off at OSCON, as well as a few weeks later at LinuxWorld, where they were showcased in the "Linux Garage". In August, the company received a third round of funding led by Court Square Ventures, as well from prior investors including Union Square Ventures and Spark Capital.
Bug review: Wonder and danger
In a recent Dr. Dobbs story, reviewer Mike Riley found that the Bug platform gave him the same "sense of joyful wonder, playful construction and even sense of danger" that he found while playing with Mattel's Thing Maker as a kid. Riley opted to run the Dragonfly development software on a Mac OS X 10.4 platform, and he found the setup process to be easy.
Riley quickly started exploring the 15 sample applications that have been developed so far by the fast-expanding Bug community. Yet among the applications, which include button-based display manipulation, basic I/O, and data collection "very few were actually productive programs that might excite non-technical users," he writes. (The exceptions: a GPS alarm clock and a motion detecting camera program.)
BugView display module
Immediately, Riley ran into a major stumbling block: the lack of a WiFi module to offer Internet connectivity. WiFi is coming, says Bug Labs, along with the subsequent arrival of additional modules that may include cellular modems, infrared devices, and weather modules, but no ship date has yet to be announced.
Although the unit includes an Ethernet MAC, according to the review, the device currently depends on a USB connection to a desktop for host development communication. This limitation "deflated my enthusiasm and severely constrained a number of programming ideas," writes Riley. He adds, "Comprehensive developer documentation is a work in progress," and goes on to say that finding answers on the fast-changing product in the confusing array of forums and wikis is "time consuming."
And there were plenty of reasons to seek help. "Bug Labs has shipped the product in a bleeding edge developmental state," he writes. Since there is no easy way to restore from a crash, "Any developer seriously considering a BUG investment should be prepared to replace the BUG's kernel and root filesystem when applications accidentally bork the device," he writes.
Riley ran into a serious problem with an application that "hosed the BugView display," which required reformatting of the BugBase storage card and reinstalling both kernel and file system. The problem turned out to be a hardware issue, he added before going on to mention several other hardware and software issues.
The Dragonfly SDK also has its share of "bugs," especially with the virtual Bug emulator, which Riley eventually discarded in favor of dumping applications directly to the BugBase. Yet, as with the other issues, the "never sleeping" Bug engineers repeatedly came to his rescue.
Riley believes the platform will be vastly improved by the switch to Poky Linux, which "will greatly expand the system applications thanks to Poky's "superior" build system. "This update will effectively turn the BUG into a mini-PC of sorts with the possibility of hosting scripting languages like Perl, Python, and Ruby," he predicts.
Riley says the Bug platform is a good fit "for the tinker, the educator, and the programmer," but advises "less patient" developers to wait for the re-engineered, R1.3 release, which will offer WiFi and Poky Linux. In conclusion, he writes: "Bleeding edge developers who risk navigating the BUG's sharp edges may discover buried treasure within the product's modular approach."
Availability
The BugBase ($350), BugView ($120), BugLocate ($100), and BugMotion ($60) are available for order now, with shipments starting in October, says Bug Labs. Customers can also purchase a $630 BugBundle that offers the BugBase with all four modules. The Bugcam2MP is due to ship later this year. Product information should be available here, and the Bug Wiki for developers should be here. The Bug Labs blogs can be found here..
The Dr. Dobb's Journal review of the BugBase and its early modules should be available here.
---

This article was originally published on LinuxDevices.com and has been donated to the open source community by QuinStreet Inc. Please visit LinuxToday.com for up-to-date news and articles about Linux and open source.