Mar 18, 2010 — by LinuxDevices Staff — from the LinuxDevices Archive — 7 views
ViXS Systems announced a Linux-ready MIPS-based SoC (system on chip) designed for IP set-top boxes (STBs). The 3D-ready XCode 4210 includes three application processors plus an OpenGL ES 2.0 graphics engine, and it's capable of transcoding two 1080p streams at up to 60 frames per second, the company says.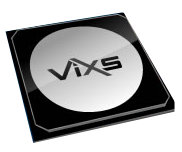 The XCode 4210 (right), claimed to "set a new benchmark in application and communications processing," boasts three application processors: one MIPS 74K core and two ARC 750D cores (see later in this story for background). Collectively, these provide performance in excess of 3,200 DMIPS (Dhrystone MIPS), along with networked data throughput over 400 Mbit/sec., according to ViXS.
ViXS says each of the XCode 4210's application processors runs its own RTOS (real time operating system) simultaneously. However, the MIPS core runs Linux 2.6.28, with support for the Linux DVB driver subsystem. Later this year, support will be extended to Android, Windows CE, and Adobe's Flash 10.1 software, says the company.
"Specifically designed for 3D TV applications," the XCode 4210 includes full 3D TV display formatting capability, 2D/3D graphics rendering, and support for the H.264 MVC (multi-view codec) 3D TV decoding standard [PDF link, here], ViXS says. It's said the SoC's OpenGL ES 2.0 3D graphics engine provides 1080p graphics rendering on multiple overlays/surfaces, while advanced video processing capabilities include de-interlacing and scaling, edge adaptive sharpening, contrast enhancement, and noise reduction.
According to ViXS, the XCode 4210 can decode, encode, or transcode up to two HD streams, supporting 1080p video at up to 60 frames per second. Using sophisticated algorithms, the SoC can dynamically switch between a full decode re-encode approach and highly efficient smart transcoding, the company says.
ViXS says that as well as supporting 1080p60/50, the XCode 4210 has a 1080p30/25/24 decoder that supports picture in picture and the H.264 SVC (scalable video coding) standard. The device is said to decode "multiple internet formats" and stream, download, or sideload to connected consumer entertainment devices, such as PCs, TVs, game consoles, DLNA clients, and wired or wireless phones.
An available Xtensiv software suite for the XCode 4210 is said to include:
an internally-developed, certified DLNA 1.5 stack
a complete DVR stack
a WebKit-based browser
the Qt application and software framework from Nokia's QT Software division
Adobe's Flash Lite
and other tools and applications
Sally Daub, president and CEO of ViXS, stated, "This product reduces the system cost of high performance set-top boxes by eliminating the need for a media co-processor. The XCode 4210 will truly enable what have been niche media applications to become the mainstream capabilities for any class of consumer entertainment device."
Background
According to MIPS, its 74K core (below) can run at up to 1.1GHz, offering 2.0 DMIPS/MHz. Offered with or without floating point support, the 74K has a superscalar asymmetric dual-issue pipeline with out-of-order dispatch and completion. The core allows user-defined instruction set extensions ("CoreExtend") and works with a robust set of development tools including CodeSourcery, the company adds.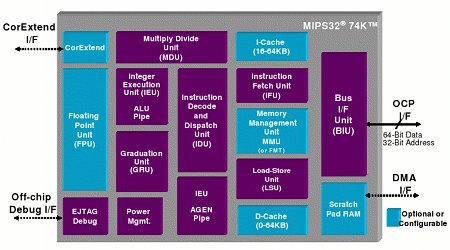 A block diagram of the MIPS32 74K core
(Click to enlarge)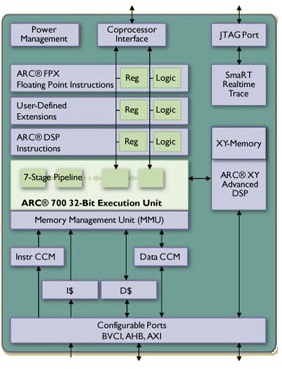 A block diagram of the ARC 750D core
ARC's 750D (above), meanwhile, is said to clock at up to 700MHz while providing a configurable memory architecture. According to ARC, the core provides floating point instructions, DSP extensions that accelerate signal processing, and, once again, user-defined extensions.
Availability
Toronto-based ViXS did not provide pricing, availability details, or specifications such as size and power consumption, but says the XCode 4210 will be showcased later this month at the IPTV World Forum in London. Further details of the device may eventually appear on the company's website, here.
---
This article was originally published on LinuxDevices.com and has been donated to the open source community by QuinStreet Inc. Please visit LinuxToday.com for up-to-date news and articles about Linux and open source.