Jan 7, 2011 — by LinuxDevices Staff — from the LinuxDevices Archive — 4 views
Samsung and Verizon Wireless announced a 4G version of its Galaxy Tab Android tablet for Verizon's LTE network that also boosts the clock rate to 1.2GHz and cranks up the camera to five megapixels. Verizon then pre-announced a 4.3-inch "Samsung 4G LTE" Android smartphone and tipped a 4G LTE version of Novatel Wireless' MiFi hotspot.

Samsung Mobile Jan. 6 pledged its support for Verizon Wireless' 4G LTE network, promising to build a version of the Samsung Galaxy Tab (pictured) and a new Android smartphone based on the speedy network.
The products are aimed at Verizon's new LTE network, which is claimed to shuttle data 10 times as fast as its current 3G speeds. 4G products have received top billing here at the 2011 Consumer Electronics Show.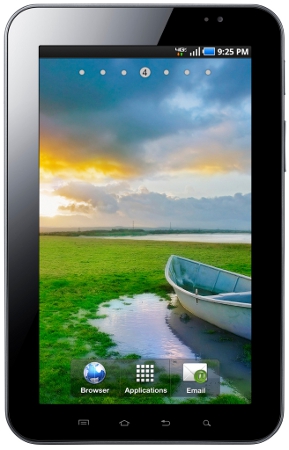 Samsung Galaxy Tab 4G
(Click to enlarge)
The Galaxy Tab powered by Verizon's 4G LTE network will include the same seven-inch TFT display with 1024 x 600 WSVGA resolution, and be powered by the same Android 2.2 operating system. However, while the current 3G Tab offers a three-megapixel back camera, the 4G LTE Tab will sport a five-megapixel rear-facing camera to go with the existing front-facing 1.3-megapixel camera for video chat.
From the outset, the device will be viewed as Samsung's answer to the Motorola Xoom tablet Verizon touted at the show this week. However, the Xoom seems to have some clear advantages. First, it's based on the Android 3.0 operating system, which is tailored for the tablet form factor. Second, the 10.1-inch Xoom, which will be fully upgradeable to 4G after its initial 3G launch in February, is fueled by a dual-core 1GHz processor for what Motorola says is the equivalent of 2GHz of power.
Samsung's 4G LTE Tab will only be powered by a 1.2GHz Cortex A8 Hummingbird processor, although that is clocked up from the original 1GHz version of the processor.
When asked about this gulf during a press roundtable here Jan. 6, JK Shin, president and head of Samsung Mobile, said the company will provide more details about its dual-core tablet and smartphone plans, as well as tablets that support Android 3.0, at Mobile World Congress in February.
Whatever Samsung announces at the show in Barcelona next month, the 4G Tab provides the high-end punch Samsung requires, and it comes one day after the company preannounced a WiFi-only version of the Tab, due to ship later this quarter at an undisclosed price.
Samsung 4G LTE phone unveiled
Samsung also answered Motorola on the smartphone front. One day after Motorola introduced the Droid Bionic 4G on Verizon and the Atrix 4G on AT&T here in Las Vegas, Samsung said it will deliver a Samsung 4G LTE smartphone. The phone will run on the Verizon Wireless 4G LTE Mobile network later this year.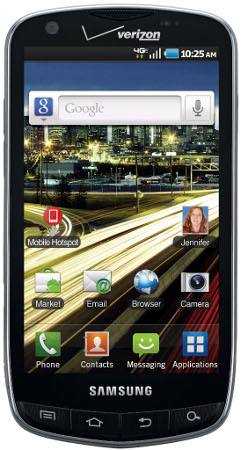 Samsung 4G LTE
(Click to enlarge)
The device does not yet have a name, though it will be from the popular Galaxy S line, which has sold more than 10 million units worldwide. Powered by a 1GHz processor, the Android 2.2 device will have a 4.3-inch Super AMOLED screen and feature Google Search, Google Maps, Gmail, and YouTube.
Moreover, the HTML 5 Web browser will help drive "high-speed 4G LTE connectivity for faster downloads," says Samsung.
The device will boast a rear-facing eight-megapixel camera with LED flash and front-facing 1.3-megapixel camera for video chat capabilities. Shin added that Samsung expects to sell 50 million phones in 2011.
4G Mobile Hotspot and Samsung Infuse 4G
Rounding out Samsung's 4G news, Samsung will offer a 4G LTE MiFi 4510L Mobile Hotspot on the Verizon 4G LTE network later this year. This upgraded version of the MiFi router from Novatel Wireless hotspot will connect up to five Wi-Fi enabled devices to the 4G LTE network at the same time.
The device

(pictured at left) appears to be a close LTE sibling to the WiMAX version introduced by Sprint earlier this week as a companion to its new HTC Evo Shift 4G Android 2.2 phone.
Samsung promises Verizon Wireless customers can expect download speeds of 5-12Mbps and upload speeds of 2-5Mbps in markets Verizon serves with 4G. The Samsung 4G LTE Mobile Hotspot is also backward compatible with Verizon's 3G network.
Samsung's preannouncements, coupled with the Motorola Droid Bionic and Motorola Xoom 4G promises, underscore Verizon's 4G LTE momentum early in the game.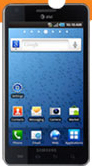 Verizon CEO Ivan Seidenberg said in his keynote earlier Jan. 6 that Verizon expects wider rollout of the 4G LTE network to more than 70 markets through 2011, and 175 markets by 2012.
Earlier this week, Samsung also announced a "4G" phone for AT&T's HSPA+ network called the Samsung Infuse 4G (pictured). Little information was available on the phone, due to ship in the second quarter. According to AT&T, the Infuse 4G it will run Android 2.2 on a 1.2GHz processor and offer a 4.5-inch display, says AT&T.
The Infuse 4G is touted as being the thinnest Android phone with the largest screen in AT&T's smartphone lineup. It will offer Samsung's next-generation Super AMOLED Plus technology, says AT&T.
Galaxy Player PMP sees the light

At the same event earlier this week in which Samsung announced its Wi-Fi-only version of the Galaxy Tab, the Korean consumer electronics giant also unveiled its previously tipped, four-inch Samsung Galaxy Player (pictured at left). A 3.2-inch Galaxy Player 50 design that shipped in Europe back in October was also formally introduced at the event.
Physically, the four-inch Galaxy Player is pretty much identical to Samsung's Galaxy S phones, including the inclusion of a Samsung Hummingbird processor. However it lacks the phone's cellular connection and adds a second speaker.
Clint Boulton is a writer for our sister publication eWEEK.
---
This article was originally published on LinuxDevices.com and has been donated to the open source community by QuinStreet Inc. Please visit LinuxToday.com for up-to-date news and articles about Linux and open source.