Oct 25, 2010 — by LinuxDevices Staff — from the LinuxDevices Archive — views
French online retailer Material.net has begun taking pre-orders for an Android portable media player (PMP) spinoff of Samsung's Galaxy S phones. Aiming to compete head-on with Apple's iPod Touch, the Samsung Galaxy Player 50 offers a 3.2-inch 400 x 240 pixel display, a two-megapixel camera, Wi-Fi, Bluetooth 3.0, and GPS.
Apple CEO Steve Jobs used his company's Oct. 18 earnings call to talk some serious smack about Google Android, referring to it as "very fragmented" and a "mess." That was in the context of Android phones and tablets. But now, it seems, Jobs will have to combat Android in another area: portable media players.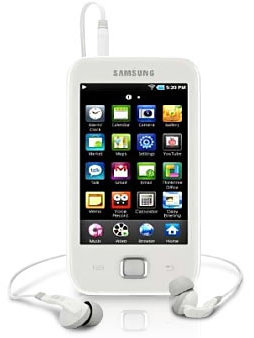 Samsung Galaxy Player 50, sold as the Samsung Galaxy YP-G50EW Blanc 16 Go in France
In early September, Samsung
showed off
an early version of its Galaxy Player 50 PMP at the Berlin IFA show. Now, an advertisement for Samsung's Galaxy Player 50 — the manufacturer's accompaniment to its
Galaxy S
smartphones and
Galaxy Tab
tablet PC — has been circulating online.
The spot shows the media player running through various apps: Google Search by Voice, Google Maps, Android Marketplace, camera, camcorder, Layar augmented-reality browser and radio. The device features an external speaker — for subjecting anyone in the vicinity to your choice in music — and Wi-Fi capability.
Blogs such as Samsung Hub have posted the ad (YouTube video post below). In addition, the Galaxy Player 50 is already being offered for pre-order — in 8GB and 16GB versions — by French retailer Materiel.net, under the name Samsung Galaxy YP-G50EW Blanc 16 Go (see link at end of article).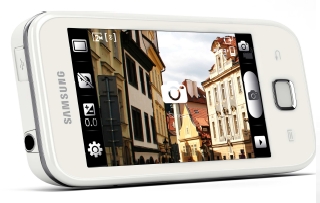 Samsung Galaxy Player 50 (YP-G50EW Blanc 16 Go) in landscape mode
According to Materiel.net's website, the Galaxy Player 50 features Android 2.1, a 3.2-inch screen with 400-by-240 pixel resolution, Bluetooth 3.0 support, a two-megapixel camera, and the ability to display a wide variety of video and photo formats. Measuring 4.15 x 2.13 x 0.44 inches (105.5 x 54.2 x 11.1mm), the device also offers GPS, accelerometers, a 3.5mm audio jack, a USB 2.0 port, and a microSD card slot, says the site.
Materiel.net sells the 8GB version for $276 and the 16GB for $346, which could hint at a possible price-point for when the device migrates to the United States. The actual date of a stateside release, however, is still a very open question.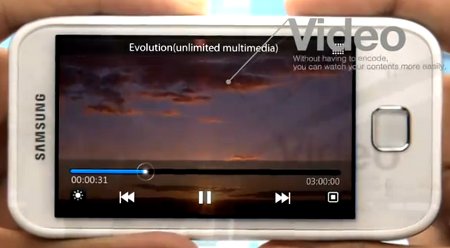 Samsung Galaxy Player 50 from YouTube ad


(Click to enlarge)
The other question is how well an Android-powered portable media player would fare against Apple's iPod franchise, which holds a comfortable lead over other devices currently on the market. In September 2009,
Microsoft released the Zune HD
, with features including a 3.3-inch touchscreen, Wi-Fi capability, an integrated HD radio receiver and high-definition video output for watching 720p content. Despite generally strong reviews, though, the device failed to gain marketplace traction.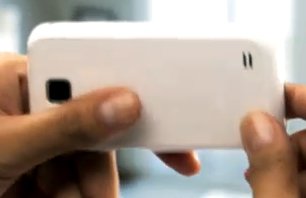 Samsung Galaxy Player 50, rear view
Even as Zune HD's software and design template found themselves integrated into Microsoft's Windows Phone 7, the company has (thus far) declined to refresh the device itself. That may be an indicator of how Microsoft sees its fortunes in the dedicated media player space, where the Zune HD failed to climb its market share out of the proverbial weeds.
But could an Android device perform better? Android has certainly been scoring some impressive gains in the smartphone market.
According to new statistics from Nielsen, Android handsets have made up some 32 percent of all smartphones sold in the last six months, outpacing both Research In Motion's BlackBerry and the Apple iPhone. Those numbers, however, account for the period between January 2010 and August 2010, which itself includes only one month of iPhone 4 sales. Nielsen pegged BlackBerry's share of the total U.S. smartphone market at 31 percent, followed by Apple with 28 percent and Android with 19 percent.
Despite that third-place finish, a recent note from research firm Gartner suggested that Android will rank second in global mobile operating system share by the end of the year, behind Symbian but ahead of both BlackBerry and iOS.
During Apple's Oct. 18 earnings call, Jobs claimed that Apple's App Store, which feeds content to all the company's mobile devices, "offers users the easiest to use, largest app store in the world." The online storefront, he claimed, features "over three times as many apps as Google's marketplace, and offers developers one-stop shopping to get their apps to market easily, and get paid swiftly."
Given how mobile devices — both music players like the iPod and smartphones — have evolved into handheld app launchers as much as phones or music players, it's hard to underestimate the value of a centralized and finely tuned app store. Yet Android market share has climbed despite Jobs' claims about the size of its Marketplace and overall fragmentation.
One of the reasons for Android's rapid ascent has been the sheer number of devices entering the marketplace. That same proliferation hasn't happened on the portable media player side of the equation, but if the Samsung Galaxy Player 50 is the first of many devices, what happened in the smartphone realm could conceivably begin to replicate itself in media players. And then Apple, despite having recently refreshed its iPod line, will have yet another battle royale on its hands.
Samsung Galaxy Player 50 ad on YouTube


Source: Samsung, YouTube
(Click to play)
Availability
The Samsung Galaxy Player 50, sold as the Samsung Galaxy YP-G50EW Blanc 16 Go, is available now for 249 euros (about $346) with 16GB and 199 euros (about $276) with 8GB, at Material.net. The Materiel.net page for the player may be found here.
The Samsung Hub story may be found here.
Nicholas Kolakowski is a regular contributor to our sister publication eWEEK.
---
This article was originally published on LinuxDevices.com and has been donated to the open source community by QuinStreet Inc. Please visit LinuxToday.com for up-to-date news and articles about Linux and open source.