Aug 9, 2011 — by Eric Brown — from the LinuxDevices Archive — 10 views
Atmel announced five new versions of its ARM926-based SAM9 family of Linux- and Android-ready embedded processors — now featuring $6 pricetags and a new soft modem from Conexant. The 400MHz SAM9G15, SAM9G25, SAM9G35, SAM9X25, and SAM9X35 processors feature 100mW consumption plus support for DDR2 and NAND flash memory, and some models offer LCD touchscreen support and CAN interfaces.
The latest SAM9Gxx processors and CAN-ready SAM9Xxx devices target applications in industrial and building control, HVAC, Point of Sale (PoS) terminals, printers, medical devices, smart grid, and other HMI and M2M devices, says Atmel.
The processors appear to be slightly stripped-down variations of recent SAM9 processors such as the newly Android-compatible SAM9G45 and SAM9M10 or the encryption-enabled SAM9G46 and SAM9M11. They offer a smaller cache, less robust memory support, and no video decoding, among other particulars.
Yet, they do offer a few novelties. All five devices feature soft modems based on Conexant Systems' CX20548 SmartDAA technology. This is said to lower the bill of materials (BOM) by eliminating external hardware components, says Atmel. Software-based modems are used in applications that require a publicly switched telephone network (PSTN) line, including PoS terminals, alarm systems, and telecare, says Atmel.
In addition, Atmel's first two SAM9Xxx models offer CAN support, which has been missing from several recent mainstream SAM9 processors. (CAN has been available on some earlier models, including the circa-2008 SAM9260V1.)
Like the earlier SAM9G45, SAM9M10, and their encryption-ready variants, the new models offer an ARM9 core clocked at up to 400MHz. However, the five new chips supply just 16KB each of I and D cache memory, compared to the earlier 32KB each, and the 36-channel DMA is here replaced with 21-channel DMA, according to Atmel. Unlike the earlier models, there is a single external memory bus interface instead of two, and 32KB SRAM instead of 64KB.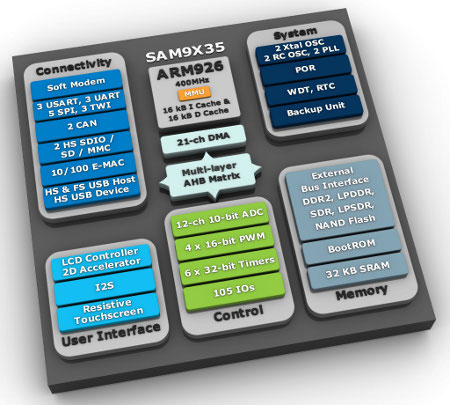 Block diagram for top-of-the-line SAM9X35 — the SAM9G35 diagram is identical except for the lack of the CAN interfaces
(Click to enlarge)
While the new SAM9G15, SAM9G25, SAM9G35, SAM9X25, and SAM9X35 are touted for replacing SDRAM with DDR2 memory and featuring NAND flash support, the SAM9G45 and SAM9M10 also appear to have done the same. The new models also, however, offer NAND with 24-bit ECC "for reduced system cost," says Atmel.
The earlier SAM9G45 and SAM9M10 offer multimedia features missing from the new models, including a video decoder, AC97 audio codec, and camera interface. On the other hand, the LCD controller available on three of the new models is said to be "advanced," with enhancements including overlays, alpha blending, image scaling, rotating, and color space conversion. 2D hardware acceleration helps offload the CPU on these models, says Atmel.
Other I/O seems to be more or less equal, with highlights including three USB host/device ports (see spec sheet below).
The major differences between the five processors relates primarily to LCD displays and CAN. The SAM9G25 processor appears to be identical to the SAM9G35 except that it lacks its LCD controller and resistive touch support. It also adds one more UART, for seven total. The SAM9G25 is also the only model available in a 247-pin TFBGA package, in addition to the standard 217-pin LFBGA package used by the other processors.
The SAM9G15, meanwhile, appears to be identical to the SAM9G35 except for its lack of an Ethernet controller. It offers similar LCD touchscreen support.
The SAM9X35 appears to be identical to the SAM9G35 except that it adds CAN support. The SAM9X25, meanwhile, is much the same as the SAM9X35, offering dual CAN interfaces, but it lacks the LCD controller and resistive touch support and adds a second Ethernet port. Both the X models also offer a seventh UART.
As is typical of SAM9 processors, the latest batch is promoted for its low power consumption. The devices are claimed to run at a maximum of 100mW.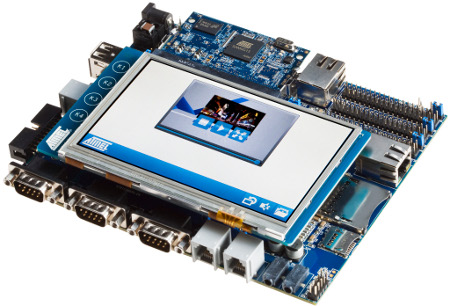 Evaluation board with LCD display for SAM9X35
(Click to enlarge)
Evaluation kits are available with free packages for Android, Linux, and Microsoft Windows, says Atmel. Devices are supported by third parties with a full range of development tools, RTOS, middleware, and support services, says the company. No details were offered on the evaluation hardware, although the company did post the photo above.
Features and specifications listed for the SAM9G15, SAM9G25, SAM9G35, SAM9X25, and SAM9X35 processors, with differences noted, include:
Processor — 400MHz ARM926 with MMU
Cache — 16KB I cache; 16KB 2 cache
Memory:

DDR/LPDDR2, SDRAM/LPSDR support
NAND flash support with 24-bit ECC
external bus interface
32KB SRAM
2 x SD/3MMC interfaces

Display/audio (SAM9X35, SAM9G35, and SAM9G15 only):

LCD controller
2D hardware accelerator
Resistive touchscreen controller
I2S (announced, but not in spec sheet)

Networking — 2 x Ethernet controllers (SAM9X25); 1 x controller (SAM9G25, SAM9G35, SAM9X35); no Ethernet (SAM9G15)
Other I/O:

3 x USB 2.0 Hi-speed, host/device
2 x SPI
3 x TWI (I2C)
7 x UART (SAM9G25, SAM9X25, SAM9X35); 6 x (SAM9G15, SAM9G35)
2 x CAN (SAM9X25, SAM9X35 only)
4 x LIN
SSC
ADC (12-ch., 10-bit, 440Ksps)
DIO (6 x out; 6 x in)
4 x PWM
6 x timers

Operating temperature — -40 to 185 deg. F (-40 to 85 deg. C)
Power — 1.8/3.3V I/O; 0.9 to 1.1 Vcc operating; 100mW maximum consumption; 32Khz RTC
Stated Jacko Wilbrink, director of ARM products for Atmel, "The new SAM9 devices are ideal host processors for applications requiring DDR2 and NAND flash support, a rich combination of wired and wireless communication interfaces plus advanced LCD support for a modern user experience."
Availability
The SAM9G15, SAM9G25, SAM9G35, SAM9X25, and SAM9X35 are available now in a 0.8mm ball pitch 217-ball BGA package. The SAM9G25 also ships in a 0.5mm ball pitch 247-pin BGA package. Pricing starts at $6.10 in 1,000-piece quantities.
More information about the SAM9G15, SAM9G25, and SAM9G35 may be found here, and more on the SAM9X25 and SAM9X35 may be found here.
A live webinar entitled "Technical Introduction to the New Atmel ARM926-based SAM9G15/G25/G35/X25/X35" is scheduled for 8 a.m. PT on September 20. Registration may be found on this Atmel webinar page.
---
This article was originally published on LinuxDevices.com and has been donated to the open source community by QuinStreet Inc. Please visit LinuxToday.com for up-to-date news and articles about Linux and open source.